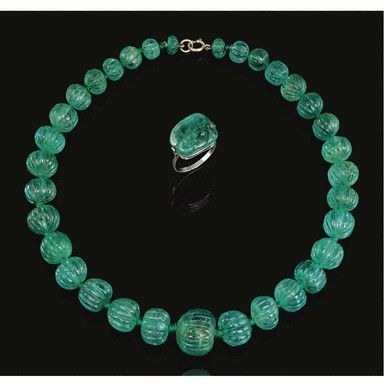 An important Indian emerald bead necklace and a ring, Late 19th Century - Sotheby's
Designed as a series of thirty-three graduated carved melon-shaped emerald beads, together with a ring set with a tumbled emerald bead, ring signed Cartier Londres, length approximately 455mm, ring size 68, Lot Sold: 457,000 CHF
FORMERLY PROPERTY OF "FLORENCE" LADY TRENT
LITERATURE: Cf: Cartier, Hans Nahelhoffer, Thames & Hudson, 2007 page 254 for an example of a Cartier necklace incorporating Indian carved emerald beads in the "style indien or hindou".
PROVENANCE: An emerald necklace by Cartier in the style 'indien et hindou', was given to Florence Lady Trent by her husband 'Jesse Boot of Nottingham', Lord Trent in the 1920s. The necklace offered here originally formed part of that original gift. The Cartier necklace was subsequently passed down by Lady Trent to her daughter Dorothy, who gifted it to her daughter Rosemary Bruce. Dorothy was married to Wilfred Bruce whose sister Katherine was married to the famous Polar explorer Captain Robert Scott.
JESSE BOOT, LATER LORD TRENT AND THE BOOTS CHEMIST EMPIRE
Renowned throughout Great Britain, Jesse Boot was an enterprising and shrewd entrepreneur who founded the Boots chemist empire in the Late 19th Century, a company to this day that has branches in towns and cities throughout Britain. It is one of the UK's largest companies with an annual turnover of billions of pounds, with interests in retailing, property management, pharmaceuticals in addition to the Boots Chemist branches. Today the company continues to support a wide range of philanthropic initiatives and maintains a close relationship with the city of Nottingham the company's humble birthplace.
Jesse Boot's ancestors for several generations worked the land as agricultural labourers in Nottinghamshire. Jesse's father John was to suffer the tragic consequences of the harsh life to befall many farm labourers in the early 19th century, losing his young daughter and first wife to croup and consumption.
Jesse's father John's second wife, was Mary Wills, the daughter of a Nottingham lace book keeper, Jesse, their first child was born on 2nd June 1850.
John attained his interest in herbal medicine from his mother, who ran a local shop administering herbal remedies to the sick, an interest that he was to pass on to his young son Jesse. With the assistance of his Father-in-Law John Boot opened the British and American Botanic Establishment at 6 Goose Gate in Nottingham, where they gained strong local support from the Methodist community, thus laying the foundation for one of the largest pharmaceutical empires.
John's health began to deteriorate and after a succession of illnesses he died in 1860 at the age of 45, leaving Mary and his two young children Jesse and Jane to run the family business. When Jesse left school at 13 he embarked on a life dedicated to long hours helping his mother run the family shop, leaning from his mothers shrewd business acumen. By the age of 21 he became a partner in the firm which now traded under the name of Mary and Jesse Boot, Herbalist.
With an eye to improve business Jesse would place advertisements in local trade directories to gain the edge over their competitors, using testimonials from grateful customers, as well as cutting costs to a minimum. Unlike his rivals Jesse sold his medicines at the lowest prices, buying in bulk and insisting on cash rather than credit payments. In time his shop held over 2000 different articles, moving away from the traditional herbalist in favour of more proprietary medicines. In 1881 Jesse took out a lease on a larger shop and employed a local architect to design a completely new shop. By Easter 1883 all the alterations where completed and Jesse established the business as a private company, Boots and Company Limited. The new shop was a great success renowned for it inventive window displaysof Seltzogenes on one occasion and sponges on another, as well as the pioneering attraction of a hydraulic passenger lift
With the Goose Gate shop firmly established Jesse's plans turned to expansion, and he soon began to buy up vacant properties throughout Nottingham and fitting them out in a characteristic style. With a penchant for business he was renowned for attracting publicity to his shops, by continuing to buy his stock in bulk and sell at significantly reduced prices. Soon Jesse began to open branches in towns and cities throughout Great Britain. With the success though came a life of "drudgery and monotony" as Jesse continued to maintain an active role in his ever expanding business empire, which inevitably began to take its toll on his health, suffering from a breakdown in 1885. Such was his poor health that Jesse took a recuperating holiday in Jersey, where the seclusion, scenery and climate proved the ideal cure to his ill health. At the small Methodist chapel in St Helier he was introduced to Florence Rowe, daughter of William Rowe who ran a local book shop and stationer. With her bright vivacious personality and her interest in entertaining and the arts she was the ideal contrast to Jesse's life which had hitherto revolved around his narrow world of business and immediate family and friends. Soon a holiday romance blossomed, and they where married the following year. Their first child John was born on the 19th January 1889 followed by Laurie who died in infancy and two daughters Dorothy and Margery.
Jesse retuned to work with new vigour and with the help and flair of his new wife he planned yet more Boots branches. In 1892 he opened a new shop in the centre of Nottingham which combined both Jesse's business acumen and Florence's artistic flair. Selling books, stationary, toiletries, and perfumes laid out in specially designed mahogany counters, the new shop boasted the use of electricity, bathing the store in light during the long winter months. By combining their talents Jesse and Florence had produced a shop that was to become the model for the future Boots department stores
In his later years Jesse devoted increasingly more time along with his wife to philanthropic works, ploughing money into a number of special projects in and around the city of Nottingham helping rebuild the Albert Hall in Nottingham, donating £5000 to a new organ and building the Dorothy Boot Homes for Crimean War and Indian Mutiny veterans. In recognition for these works and his devotion to the city of Nottingham he was knighted in 1909. After the Great War, the burden of running the company became too much and Jesse decided to enter into negotiations with the American Louis Liggett head of the United Drug Company, to sell the Boots empire. Amidst a storm of protest Jesse decided to sell against the judgement of his wife Florence and son John. However the one concession was that John was found a managerial position and in close collaboration with Liggett began to take on a greater interest in the company.
During the 1920s Jesse devoted increasingly more time to the building of a new campus for the University College of Nottingham, as well as spending more time in Jersey due to his increasingly poor health. The new University buildings where officially opened by George V and Queen Mary in 1928. With his failing health Jesse died on the 13th June 1931 at the age of 81, three years before his son John was able to bring Boots back into British control from Louis Liggett.
Sotheby's. Magnificent Jewels, Noble Jewels and Jewels from the Collection of Lily Marinho. Geneva | 15 May 2008 - www.sothebys.com