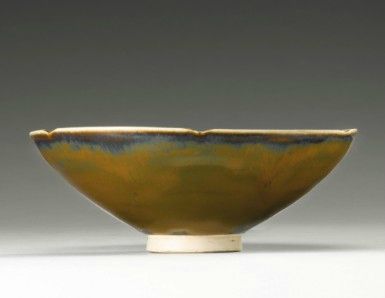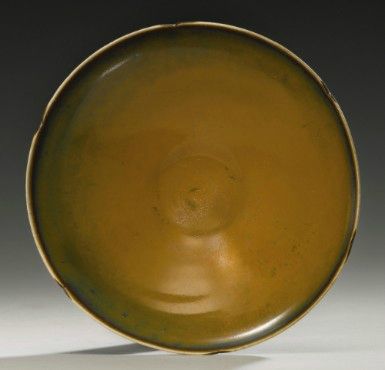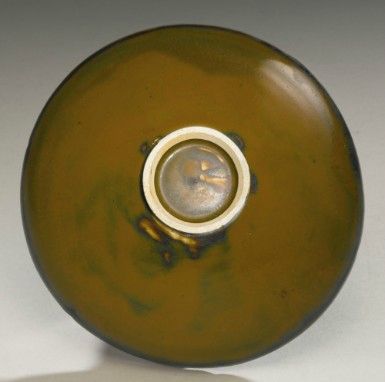 A 'Ding' persimmon-glazed lobed bowl, Song dynasty - Sotheby's
finely potted of wide conical form, the gently rounded sides flaring up from the short, slightly splayed footrim to the elegant hexa-lobed rim, evenly covered with a lustrous russet-brown glaze, the glazed on the interior transforming to a darker brown in a narrow section below the drained rim, repeated on the exterior, the russet glaze variegated with patches of black-brown near the foot, the unglazed footrim revealing the fine white body. Diameter 6 5/8 in., 17 cm - Estimation: 80,000 - 120,000 USD
NOTE: Ding lobed bowls covered with this lustrous russet-brown glaze are highly prized for their discerning craftsmanship which draws inspiration from the beauty of nature in both its lobed form and colour. Referred to in literature as soybean or persimmon glaze (shi se you), as well as red or purple (zi), bronze purple (zi jin), and caramel (jiang se you), such coloured bowls were made by a number of north-Chinese kilns. However the pieces made at the official Ding kilns located at Quyang in Ding county, Hebei province, are distinguished as the most exceptional and rare by their particularly fine near-white body exposed at the foot and visible through the glaze at the rim.
A Ding bowl of related form and glaze, from the Chang Foundation, is illustrated in James Spencer, Selected Chinese Ceramics from Han to Qing Dynasties, Taipei, 1990, pl. 28; another in the Freer Gallery of Art, Washington DC, is published in Oriental Ceramics. The World's Great Collections, vol. 9, Tokyo, 1981, pl. 62; and a third example isincluded in Chinese Ceramics from the Museum Yamato Bunkakan Collection. Illustrated Catalogues Series, vol. 7, Nara, 1977, pl. 57. Closely related bowls also include one from the Muwen Tang collection, included in the exhibition Song Ceramics from the Kwan Collection, Hong Kong Museum of Art, Hong Kong, 1994, cat. no. 23, sold in our London rooms, 12th November 2003, lot 9; and another sold at Christies New York, 19th March 2008, lot 542. Compare also a bowl of this type, but with a plain rim, sold in our London rooms, 13th November 2002, lot 84.
The technique of producing this russet-brown hue on Ding wares, reminiscent of brown lacquers of the Northern Song dynasty, is worth noting. The color is in fact a film that was produced when the dark brown glaze was over-saturated with iron: the excess iron crystallizes out at the surface during firing and cooling (see Monique Crick, 'The Art of the Song Potters – Simplicity, Elegance, and Technical Perfection', The Monochrome Principle. Lacquerware and
Ceramics of the Song and Qing Dynasties, Museum fur Lackkunst, Munich, 2008, pp 59-60).
Sotheby's. Fine Chinese Ceramics & Works of Art. New York | 19 mars 2013 - www.sothebys.com