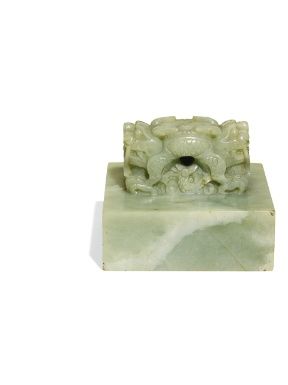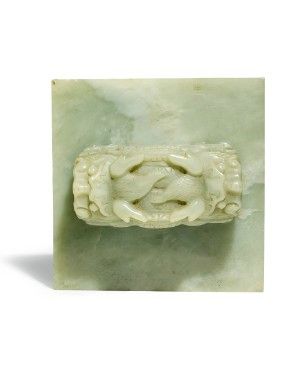 A Large Imperial Celadon Jade Seal. Qing Dynasty, Seal Of Empress Dowager Cixi (1835-1908). Photo Sotheby's
of large square form, surmounted by a well-carved pair of addorsed dragons, each powerfully carved with piercing eyes and nostrils flaring above curling whiskers and clenched mouths bearing sharp fangs, the two scaly bodies tightly intertwined and crouching on the haunches, pierced through the centre with an aperture, the square seal deeply carved with the characters Yikun Gong yulan (Imperially Appreciated at the Yikun Palace), the stone of light green tone with natural veining; 12.7cm., 5in., wide. Estimate: 40,000 - 60,000 GBP
PROVENANCE: Acquired or by descent to Sir Oswald Birley circa 1920-30;
thence by descent
EXHIVITED: Rhoda Koenig, 'Top Dog', The World of Interiors, December 1996, illustrated on a table in the Dining Room, p.71
NOTE: The present imperial seal is carved in relief with the five characters Yikun gong yulan which may be translated as 'Imperially Appreciated at the Yikun Palace'. A similar seal, which is of the same form, size and material to the present example and is similarly surmounted by a pair of addorsed scaly dragons each beast powerfully fashioned with flaring nostrils and menacing teeth, can be found in the Fitzwilliam Museum, Cambridge. The Fitzwilliam seal, while bearing the same five characters, is carved in intaglio script (yinwen), confirming that seals of this type were made in sets. See the Fitzwilliam seal illustrated in James C.S. Lin, The Immortals Stone, Chinese Jades The Yikun Palace, located in the Western section of the Forbidden City in Beijing and part of the Six Western Palaces (Xiliu gong), historically served as the accommodation for empresses and concubines from the Ming dynasty (1368-1644) to the Qing period (1644-1911). During the late Qing it was rebuilt and linked to Empress Dowager Cixi's favourite residence complex, the Chuxiu Palace. After the death of the Xianfeng Emperor in 1861, Cixi's son was crowned emperor and she was awarded the title 'Honourable Mother Empress Dowager' (Shengmu huangtaiho), and given the honorific name 'Cixi'.
Cixi swiftly took over the management of state affairs, albeit from behind a screen, and enjoyed absolute political power, ruling the nation for the next 48 years. Her seals, including the present example, set her apart from other empresses and concubines, and serve as important documentary proof of her prevailing status in the Qing court. While an unusually large number of seals were made while she was in power, those that are identifiable and directly attributable to her, as this seal, are limited in number.
For further examples of imperial seals belonging to Cixi, see one made for the Tihe Palace, sold at Sotheby's Paris, 18th December 2008, lot 7, from the collection of Emile Guimet; and another, of rectangular form bearing the inscription Lijing xuan yulan (Imperially Appreciated at the Lijing Pavillion), illustrated ibid., cat. 83a,b and c.
Sotheby's. Mark Birley: The Private Collection. London | 21 Mar 2013 - www.sothebys.com