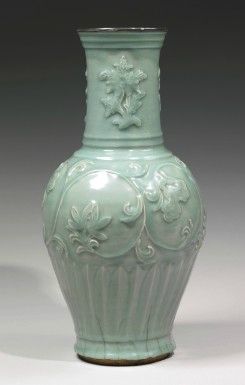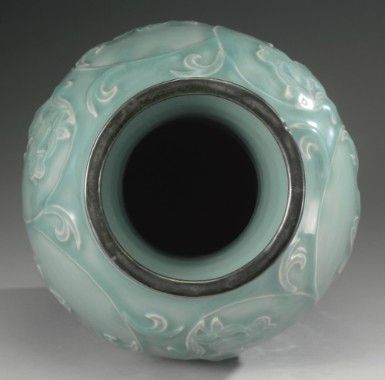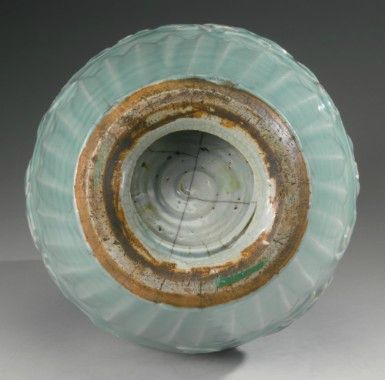 A Rare Molded 'Longquan' Celadon Vase, Yuan Dynasty - Sotheby's
robustly potted, of large baluster shape with an ovoid body rising to a tall cylindrical neck, the shoulders crisply molded with scrolling lotus blossom and foliage borne on a continuous undulating stem, set between a neck decorated with three detached sprays of chrysanthemum blossoms, and carved overlapping upright leaves skirting the foot, covered overall in a rich unctuous bluish green glaze thinning to a pale gray, the rim fitted with a silver band. Height 18 1/2 in., 47 cm - Estimation: 100,000 - 150,000 USD
PROVENANCE: Collection of Mrs. S.K. de Forest, New York.
Collection of Warren E. Cox, New York.
Sotheby's New York, 22nd February 1973, lot 196.
Sotheby's New York, 21st September 2006, lot 99.
EXHIBITED: Exhibition of Early Chinese Pottery and Sculpture, Metropolitan Museum of Art, New York, 1916, cat. no. 256.
LITTERATURE: Warren E. Cox, The Book of Pottery and Porcelain, Vol. 1, New York, 1945, p. 144, pl. 45.
NOTE: Very few vases of this type have glazes this exceptional in color. It is also rare to find molded lotus flowers as opposed to peonies. Compare two vases with their mouths reduced and decorated with peonies in the Topkapi Saray Museum, illustrated in Regina Krahl, Chinese Ceramics in the Topkapi Saray Museum, Vol. 1, London, 1986, nos. 204 and 205. For a complete vase of this type in the Palace Museum, Beijing, see Longquan qingci, 1966, pl. 41. Smaller and simpler examples have been found on a shipwreck off Sinan, Korea, datable to about the third decade of the 14th century, included in the Special Exhibition of Cultural Relics found off Sinan Coast, Seoul, National Museum of Korea, 1977, cat. pl. 23.
Longquan vases with molded and applied decoration first appeared in the late Song Dynasty and were produced in large quantities in the Yuan. They were assembled in sections and instead of having a base, the bottom section was closed with an inverted saucer-shaped piece of clay. Compare a similarly shaped yen-yen vase in the Percival David Foundation, London, inscribed with the date corresponding to 1327, illustrated in Margaret Medley, Yuan Porcelain and Stoneware, London, 1974, pl. 58.
Sotheby's. Fine Chinese Ceramics & Works of Art. New York | 19 mars 2013 www.sothebys.com