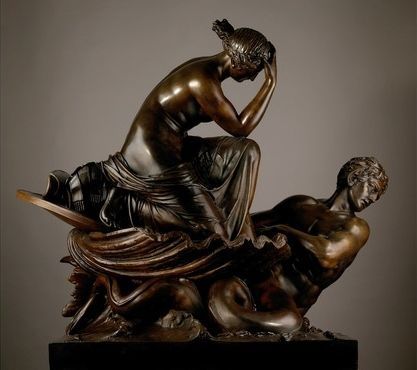 William Theed the Elder (1764-1817), Thetis returning from Vulcan with the armour of Achilles. Bronze, cast, chased and patinated, on an integral rectangular plinth. Height: 128 cm; width: 120 cm; length: 143 cm.
LONDON.- For over a year, Tomasso Brothers, the internationally renowned dealers in European sculpture, paintings, furniture and the decorative arts, has been searching for an elegant space in London . Dino and Raffaello are now delighted to announce that from 1 May 2013 they can be found at their new gallery at 12 Duke Street , St James's. Established in 1993 and based at Bardon Hall, Leeds, Tomasso Brothers is pleased to also have a presence in the heart of London 's traditional art market where they will showcase exciting pieces from their extensive portfolio.
The two Tomasso brothers are especially renowned for their expertise in European sculpture and boast a number of the world's greatest museums amongst their clients. Recent sales include a major bronze to the Metropolitan Museum of Art, New York, Thetis returning from Vulcan with the armour of Achilles by William Theed the Elder (1764-1817), which was unveiled at the inaugural Frieze Masters in October 2012. This remarkable, almost life-size, bronze depicts the 'divine Thetis of the silver feet', most famous of the Nereids in Homer's Iliad, kneeling by the shield of her son Achilles with the hero's armour in a giant cockle shell.
This spectacular sculpture, described by Sir Timothy Clifford as 'undoubtedly Theed's most ambitious work', was almost certainly originally supplied to the author, philosopher, interior designer and art collector, Thomas Hope (1769-1831) for Duchess Street, London, or his country house Deepdene in Surrey. William Theed was born in London and entered the Royal Academy Schools in 1786. He went to Italy in 1790, returning in 1796. He began his artistic career as a painter but was befriended by the sculptor John Flaxman whilst in Rome and took up sculpture. Flaxman's designs for Homer's Iliad clearly made a powerful and lasting impression on the young Theed.
Dino Tomasso said: 'It is hugely gratifying when such a superb sculpture ends up in one of the world's leading museums'. Dino and Raffaello Tomasso take great pride and pleasure in helping connoisseurs and museums in Europe and America to enhance their collections. In addition the company has promoted and supported through loans and exhibitions major international institutions such as the Fitzwilliam Museum , Cambridge , the Centro Internazionale, Carrara , the National Gallery, Prague , and the Kunsthistorisches Museum , Vienna . Most recently they were one of the sponsors of the landmark show Bronze at the Royal Academy of Arts, London , in 2012.
Tomasso Brothers will be exhibiting at TEFAF, 15 to 24 March 2013, Stand 165, Masterpiece London, 27 June to 3 July 2013, Stand C2, and also joining Master Drawings and Sculpture Week from 28 June to 5 July 2013.