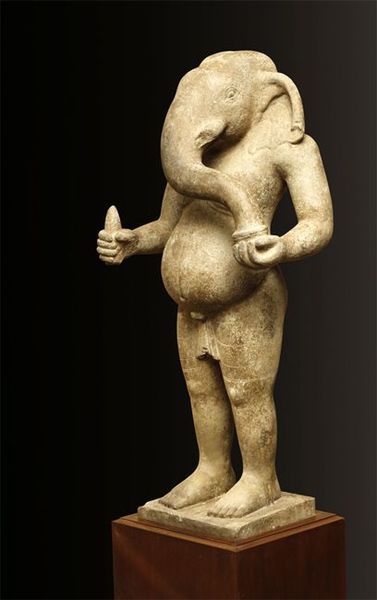 Ganesa. (Ganesha). Art pré-angkorien, ca 7°- 8° siècle. Photo Cornette de Saint Cyr Paris

Grès. H. 88,5 cm avec tenon. Accidents, restaurations, et manques visibles. Estimation : 50 000 / 80 000 €
Le dieu à tête d'éléphant est représenté debout, les oreilles déployées, les deux mains en avant de part et d'autre d'un abdomen rebondi, maintenant à droite un radis (ou la pointe de sa défense brisée), et à gauche un modaka, (bol de gâteaux) dans lequel vient plonger sa trompe.
Les jambes potelées et l'abdomen rebondi constituent un écho aux iconographies archétypales indiennes. Un classique sampot court est noué sous la protubérance abdominale. Deux tenons de renfort relient les bras à l'abdomen.
Son corps est totalement dépourvu de parures comme cela semble être l'usage durant la période préangkorienne.
Il faut sur cette oeuvre noter le talent du sculpteur qui a parfaitement su synthétiser et réunir les éléments anthropomorphes et zoomorphes, avec un rendu exceptionnel du crâne, des yeux et de la trompe éléphantesques.
La rondeur générale des formes exprime totalement les notions de tranquillité, d'aisance et de protection associées à la divinité.
Le style particulier de cette sculpture, permet de la rapprocher d'un Ganesa assis du Musée de Phnom Penh (inv. K40) découvert en 1920 à Bassak, district de Romduol, province de Svay Rieng en 1920, et daté des 7° - 8° siècles, et d'un autre conservé au Musée de Long An au Vietnam (inv. LG87 LA93 DA56) découvert à Loc Ciang province de Long An.

Références : - Catalogue de l'exposition "Les Ganesa du Musée National", Phnom Pen 2000
- Catalogue de l'exposition "Arts of Ancient Viet Nam" Museum of Fine Arts de Houston et Asia Society 2009-2010

Provenance : - Collection privée.
- Acquis comme provenant d'une ancienne collection constituée au Vietnam durant la période coloniale.
Cornette de Saint Cyr Paris. Mardi 26 mars 2013. Hôtel Salomon de Rothschild, Petit Salon - 11, rue Berryer - 75008 Paris. Expert : Jean-Luc ESTOURNEL. Tel. : +33 6 09 22 55 13. Commissaire-priseur : Bertrand Cornette de Saint Cyr. Tel. : +33 1 47 27 11 24