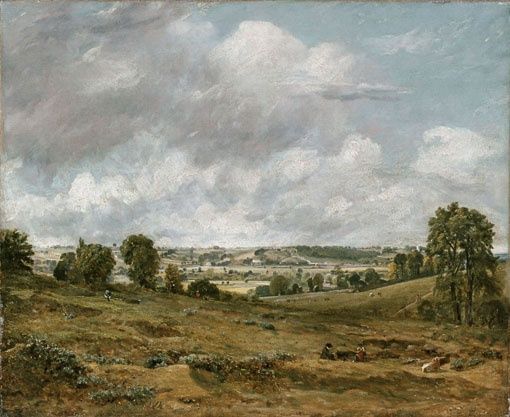 John Constable, Blick von East Bergholt auf Dedham Vale, um 1815, Öl auf Leinwand, 45,6 x 55,1 cm, Bayerische Staatsgemäldesammlungen München, Neue Pinakothek © bpk | Bayerische Staatsgemäldesammlungen

DRESDEN.- For the conception and preparation of this exhibition Prof. Dr. Ulrich Bischoff, Director of the Galerie Neue Meister, enlisted the support of a renowned co-curator: Luc Tuymans (*1958), one of the most influential contemporary painters. This Belgian artist not only stands out on account of his impartial way of viewing art; for a number of years now he has also taken on the role of curator. John Constable (1776–1837), Eugène Delacroix (1798–1863), Caspar David Friedrich (1774–1840) and Francisco de Goya (1746–1828) were vital in shaping modern art at the threshold of the 18th to the 19th century and they had a formative influence on the age of Romanticism in Europe. Their outstanding paintings continue to serve as sources of inspiration and visual instruction for the generations of artists that have followed in their wake.
In this special exhibition, Luc Tuymans and Prof. Dr. Ulrich Bischoff trace the influence of these four exceptional artists by presenting paintings by Paul Cézanne (1839-1906), Adolph Menzel (1815-1905), Édouard Manet (1832-1883), Mark Rothko (1903-1970) and Gerhard Richter (* 1932) alongside masterpieces of the Romantic period. Works by 16 artists are presented in sometimes surprising combinations, thus enabling historical references and contexts spanning some 200 years of art history to be explored from new perspectives.
The idea at the core of the exhibition is to present the museum as both an artistic workshop and a source of inspiration. The curators demonstrate that art does not come into being solely as the result of a creative act in the artist's studio, but can often be traced back to the artist's direct engagement with freely chosen models from art history.
Works on loan from international institutions including the Prado (Madrid), the Louvre (Paris), the Victoria & Albert Museum (London), the Statens Museum for Kunst (Copenhagen), the Metropolitan Museum of Art (New York), the Art Institute of Chicago, the Kunstmuseum Basel, the Bayerische Staatsgemäldesammlungen in Munich, the Staatliche Museen zu Berlin, the Hamburger Kunsthalle, and from private collections, will be shown alongside works from the holdings of the Galerie Neue Meister.
Eugène Delacroix, Verwundeter Räuber (Brigand blessé) - A Mortally Wounded Brigand (Brigand blessé), um 1825, Öl auf Leinwand, 32,7 x 40,8 cm, Kunstmuseum Basel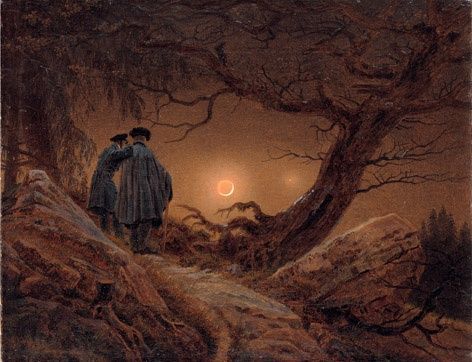 Caspar David Friedrich, Zwei Männer in Betrachtung des Mondes, um 1819/20, Öl auf Leinwand, 35 x 44,5 cm, Galerie Neue Meister, Staatliche Kunstsammlun-gen Dresden © Staatliche Kunstsammlungen Dresden, Foto, Jürgen Karpinski
Francisco de Goya, Kleine Riesen (Las gigantillas) - Little Giants (Las gigantillas), 1805, Öl auf Leinwand,137x104 cm, Museo Nacional del Prado © Museo Nacional del Prado – Madrid (Spain)
Max Liebermann, Der Chirurg Ferdinand Sauerbruch, The surgeon Ferdinand Sauerbruch, 1932 Öl auf Leinwand, oil on canvas, 117,2 x 89,4 cm Leihgabe Hamburger Kunsthalle © bpk | Hamburger Kunsthalle, Foto Elke Walford
Max Ernst, Die schwankende Frau, 1923, Öl auf Leinwand, 130,7 x 97,5 cm, Kunstsammlung Nordrhein-Westfalen, Düsseldorf © VG BILD-KUNST, Bonn 2013, Foto Walter Klein, Düsseldorf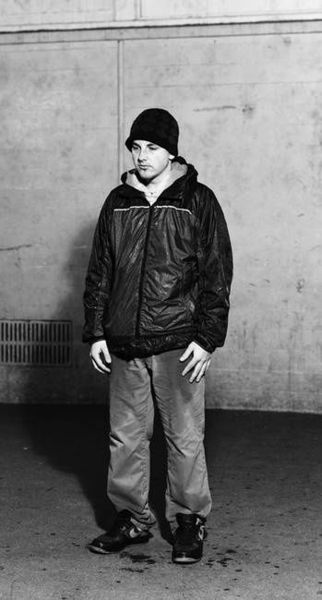 Jeff Wall, Young Man Wet with Rain, 2011 Silbergelatineabzug, silver gelatine print, 284,16 × 158,75 x 6,35 cm © Courtesy of the artist and Galleria Lorcan O'Neill, Rom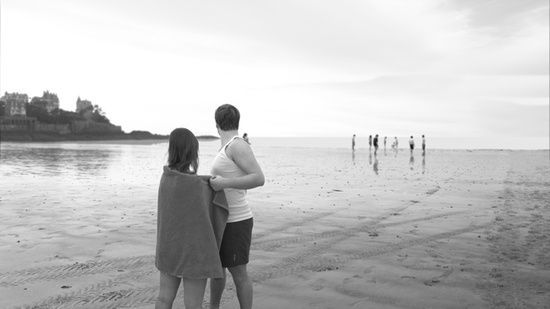 David Claerbout, The Quiet Shore, 2011 (Still), Einkanal-Videoprojektion, s/w, ohne Ton, 36 Min. 32 Sek., Loop, Musée d'Art moderne de la Ville de Paris, Paris © VG BILD-KUNST, Bonn 2013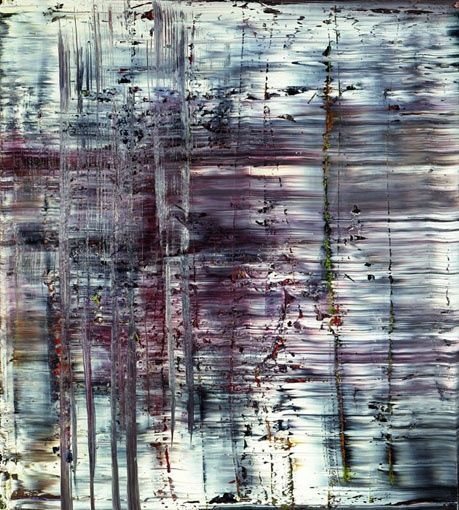 Gerhard Richter, Abstraktes Bild (722-3), 1990, Öl auf Leinwand, 200 x 180 cm, Schenkung des Künstlers, Galerie Neue Meister, Staatliche Kunstsammlungen Dresden © Gerhard Richter 2013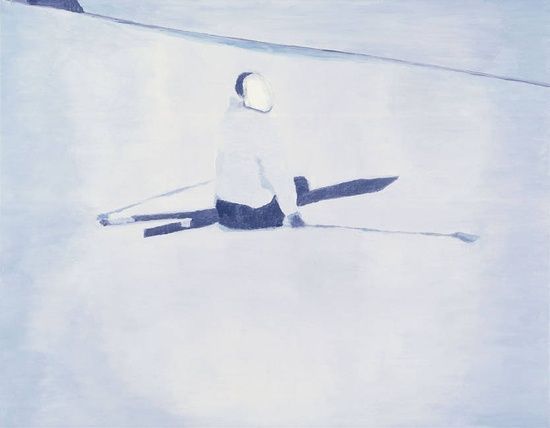 Luc Tuymans, Der Architekt, 1997/98, Öl auf Leinwand, 113 x 144,5 cm, Galerie Neue Meister, Staatliche Kunstsammlungen Dresden, Leihgabe der Gesellschaft für Moderne Kunst in Dresden e.V., Foto Elke Estel, Hans-Peter Klut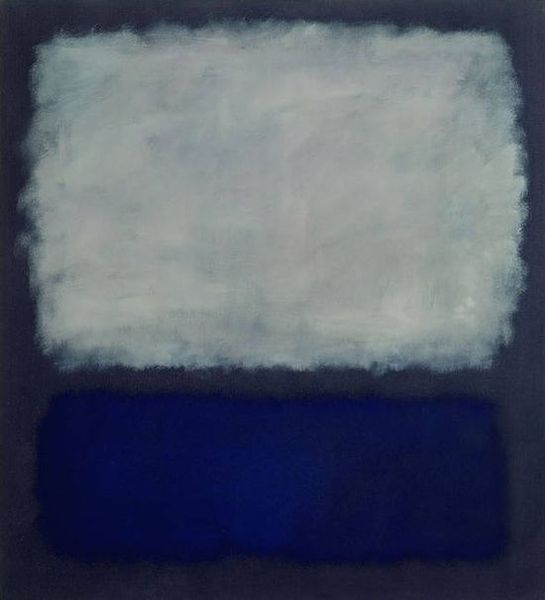 Mark Rothko, Blue and Gray, 1962, Öl auf Leinwand, 193 x 175 cm, Anfam 723, Fondation Beyeler, Riehen/Basel, Sammlung Ernst und Hildy Beyeler, Foto: Robert Bayer, Basel © Kate Rothko Prizel & Christopher Rothko/ VG-BILDKUNST, Bonn 2013
Caspar David Friedrich, Das Große Gehege bei Dresden, 1831/32, Öl auf Leinwand, 73,5 x 102,5 cm, Galerie Neue Meister, Staatliche Kunstsammlungen Dresden © Staatliche Kunstsammlungen Dresden, Foto, Jürgen Karpinski