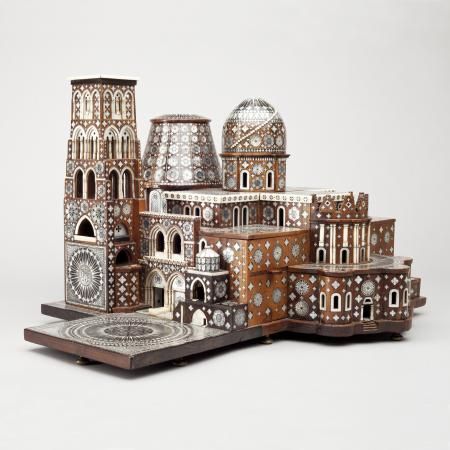 A model of the church of the Holy Sepulchre, Jerusalem, 17th century.
This olive wood model is intricately inlaid with mother-of-pearl and bone and has numerous removable sections which reveal the detailed interior of the Church. These highly prized exquisite models were made for wealthy pilgrims in the Holy Land. Size: Length 58 cm width 89 cm height 29.5 cm (22.75 x 19.25 x 11.5 in)

Examples: The Royal Danish Kunstkammer, V&A, London, the Soane Collection in the British Museum.

Literature: The Royal Danish Kunstkammer 1737 B. Gundestrup
The Architectural History of the Church of the Holy Sepulchre at Jerusalem, Robert Willis, 1849
The Church of the Holy Sepulchre, Biddle, Avni, Seligman & Winter, New York 2000

Peter Petrou. The 41st Olympia International Art & Antiques Fair (6-16th June)