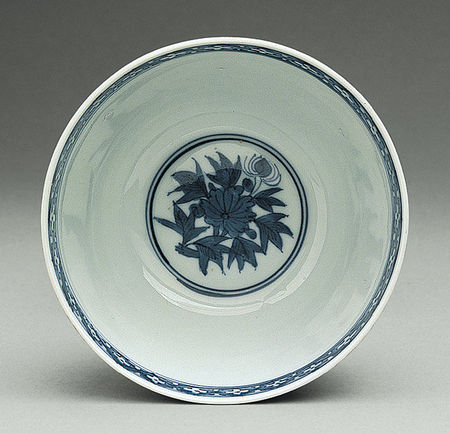 Covered cup, ca. 1565–70. Chinese with English mounts. Hard paste and silver gilt. H. 7 3/8 in. (18.7 cm). Gift of Irwin Untermeyer, 1968 (68.141.125a,b). © 2000–2013 The Metropolitan Museum of Art
Six bowls of this type were recorded at Schloss Ambras in the Austrian Tyrol in 1596, five marked with a seal translated as "fine vessel for the rich and honorable." Our cup, with its sober mounts by an identified English silversmith, corresponds closely to the description of one given to Queen Elizabeth I in 1582.
The outside of the bowl was originally covered with finely drawn gold decoration; although now almost entirely lost, it is still a dramatic contrast to the blue and white interior. This style of painting in gold on a colored ground was produced in the mid-sixteenth century primarily for the Japanese market, where it was termed kinrande ("gold brocaded").