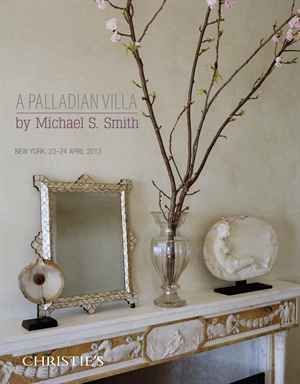 NEW YORK, NY.- Christie's presents the two-day sale of A Palladian Villa by Michael S. Smith taking place 23-24 April. Encompassing over 450 lots, the sale will include contemporary art, English furniture, Old Master paintings, Chinese works of art and antiquities from a remarkable private property designed by Michael S. Smith, one of the most venerated figures in interior design. The inspiration for the design, which is the subject of Smith's upcoming book Building Beauty: The Alchemy of Design*, published by Rizzoli New York, was drawn directly from the architecture of the hous: e, a Palladian villa overlooking the Pacific Ocean. This concept allowed Smith to create a home that was informed by a classical sensibility but within a modern context, filled with extraordinary art and furnishings that span the past 500 years.
Sean Scully (B. 1945), Dead Sea, 1989 (Estimate: $700,000-900,000). Photo: Christie's Images Ltd 2013.
signed 'SCULLY' (three times on the reverse), oil on canvas, 96 1/8 x 72 x 5½ in. (244.2 x 182.9 x 14 cm.). Executed in 1989.
Provenance: Collection of the artist.
Galerie Karsten Greve, Cologne.
Private collection, London, 1990.
Anon. sale; Sotheby's, London, 23 June 2004, lot 35.
Acquired at the above sale by the present owner.
Literature: Sean Scully, exh. cat., Bologna, Villa della Rose, March-September 1996, p. 11 (illustrated).
Exhibited: Cologne, Galerie Karsten Greve, Sean Scully, December 1989-February 1990.
In Dead Sea, Sean Scully paints thick, textured bands of black and pale grey, rhythmically organized around a central rectangle of deep red. Scully is best known for his monumental works in oil, and Dead Sea gains its vast height from a vertical diptych format. The artist also composes the work with one of his signature inserts, painted in vivid brick red, conflating illusionistic and tangible space. Drawing on Piet Mondrian's architectonic grid and Rothko's luminous chromatic harmonies, Scully's work reconciles architectonic form with expressive gesture, vivid red with subdued grey-scale. Here he shows his painterly style for which he is best known: with a hand-drawn grid, he abandons precise delineation for a looser, wavering line, and blends layers of color to create an evanescent composition.
From the beginning of his artistic career, Scully was influenced by the traditions of Abstract Expressionism. The powerful and mystical Dead Sea, whose permutations of elemental bands of vertical and horizontal lines finds systemic power and rhythm. The signature motif came to him on his influential trip to Morocco in 1969. There, the artist found inspiration in the geometric patterns of local, hand-dyed cloth and the faded and fragmented facades of the buildings. Like a lavish painted patchwork, Dead Sea possesses the graphic clarity of Mondrian, but aligns with Rothko's meditative tone and layered color. Like Rothko, Scully is above all, a gestural painter; in Dead Sea, his paints with varied brushstrokes to create a luxuriant painted surface, tracing his movements across the canvas, with lush, worked-over paint. Despite its resolute abstraction,Dead Sea calls to mind the poetic compositions of Giorgio Morandi, as both display subdued, chalky pigments, strong contrasts of light and dark and deep, enigmatic emotional charge. Like his Italian predecessor, Scully paints his 1989 work with a thoughtful consideration of space, light and beauty.
A George II Giltwood Mirror Circa 1740 (Estimate: $30,000-50,000). Photo: Christie's Images Ltd 2013. The shaped beveled plate surmounted by a laurel-crowned mask and flanked by two dragons, the sides carved with flowering foliage above an apron centered by a shell; 58 in. (147.5 cm.) high, 39 in. (99 cm.) wide.
Provenance: Niall Hobhouse Esq., Hadspen House, Castle Cary, Somerset; Sotheby's, Hadspen, 29-31 May 1996, lot 18.
The John Hobbs Collection Part II; Phillips, New York, 22 October 2002, lot 14.
This grand mirror encapsulates the naturalistic, highly individual designs frequently termed the 'French Picturesque Fashion' that prevailed in important commissions at the middle of the 18th Century. Its distinctive combination of reeds embellished with paired dragons and a laurel-crowned mask draws upon the designs of London cabinet-maker Matthias Lock (d.1765) and is derived from a 'sconce' pattern in his Six Sconces, 1744, pl. 4. (M. Snodin ed, Rococo; Art and design in Hogarth's England, London, 1984, pl. XIII and L4). A related mirror by Lock was supplied to the 2nd Earl Poulett for the Tapestry Room at Hinton House, Somerset (c.1735) now in the Victoria and Albert Museum, London (D. Fitz-Gerald, Georgian Furniture, 1969, pl.40).

Alfred Leslie (B. 1927), #62, 1959 (Estimate: $150,000-200,000) Photo: Christie's Images Ltd 2013.

signed, titled and dated 'alfred leslie #62 1959' (on the reverse), oil on canvas, 60 x 66 in. (152.4 x 167.6 cm.). Painted in 1959.
Provenance: Martha Jackson Gallery, New York.
Allan Stone Gallery, New York, 1977.
Private collection, San Francisco, 1981.
Allan Stone, New York.
His sale; Sotheby's, New York, 23 September 2011, lot 44.
Acquired at the above sale by the present owner.
Exhibited: Mexico City, Instituto Nacional de Bellas Artes, Museuo Nacional de Artes Plásticas, Segunda Bienal Inter Americana, 1960.
New York, Allan Stone Gallery, Alfred Leslie: Expressing the Zeitgeitst, October-December 2004, p. 18 (illustrated in color).
"Leslie's work has an indisputable signature: the architecture, the wielding of the loaded brush, and the consistently present double vertical bands. Whether it is a large oil on canvas or a miniature collage, his work is immediately identifiable. Leslie has the ability to impart scale much like Willem de Kooning and Franz Kline. His small works have great scale and his large works project an even grander sense of scale. This combined with Leslies color sense creates a body of work that epitomizes the power and dynamic of postwar American abstract painting."
A. Stone quoted in Alfred Leslie: Expressing the Zeitgeist , exh. cat., Allan Stone Gallery, 2004, p. 4.

#62 perfectly exemplifies the vigor and intensity that Alfred Leslie brought to his abstract series. Leslie throughout his career has explored a uniquely aesthetic tenet all his own. In addition to his involvement with the avant-garde film and literary ventures, Leslie's direct and gestural abstraction remain arguably beyond the efforts of his older Abstract Expressionist contemporaries, Pollock, Rothko, Newman and Reinhardt.
In #62, the painterly double vertical stroke on the lower left quadrant is Leslie's tribute to Barnett Newman's zips or Mark Rothko's rectangles. Leslie's large painted abstract canvases are related to his earlier collage works. Perhaps inspired by his experiences in assembling collages, Leslie often divided his canvases into painted quadrants, imbuing them with diverging colors and painterly gesture. Allan Stone referred to a "classic dialogue" in Leslie's work, established through a contrast between expansive geometrical scheme and luminous splashes of color. Each one of these compartments of paint stacked next to each other is a lyrical and profound composition in its own right, and together they form an exuberant and timelessness masterpiece.
The De Trafford 'Shrub' Carpet Khorossan, Northeast Persia, Seventeenth Century (Estimate: $30,000-50,000) Photo: Christie's Images Ltd 2013.
Approximately 18 ft. x 14 ft. 4 in. (549 cm. x 437 cm.)
Provenance: The de Trafford Collection; Christie's, London, 3 March 1994, lot 27.
Anonymous sale; Christie's, New York, 30 June 2004, lot 50 [unsold].
Anonymous sale; Sotheby's, New York, 16 December 2005, lot 272.
Literature: The Bernheimer Family Collection, Christie's, London, 14 February 1996, p. 78.
Seventeenth-century carpets from Khorassan are known for their extraordinary quality and beauty. Both the fine materials used in its creation-soft fleecy pile and beautifully dyed wool-and the skill demonstrated in the delicate drawing of the design make this carpet a superb example of its type. The palette is a subtle, harmonious combination of peach, light green, and blue wool, the field a complex arrangement of flowers, including unusual and dramatic flame-like cypress trees, tulips, weeping willows, and the 'shrubs' or floral sprays that often identify this type of carpet. One unusual feature is the central medallion discontinuous with the rest of the field design. In her article 'Khorasan Shrub Carpets' (Hali, vol. 125 pp. 77- 85), Christine Klose discusses the present carpet as the representative example of the 'shrub-tree' carpets in the shrub carpet group (subtype 1B). She identifies several distinctive features, including perfectly resolved borders, a distinctive pale orange field color, pointed trees, flowering stem and cypress border and a small central medallion.
Although showing signs of the wear of time, the carpet in its present state evokes much of its original beauty and exemplifies the faded grandeur of the Persian Empire.
Hubert Robert (Paris 1733-1808), The Catafalque of Pope Benedict XIV in Saint Peter's, Rome (Estimate: $200,000-300,000) Photo: Christie's Images Ltd 2013.

oil on canvas; 23 x 18¼ in. (58.4 x 46.3 cm.)

Provenance: Anonymous sale; Paris, 29 May 1912.
Madame Jacques Balsan.
Anonymous sale; Christie's, New York, 25 January 2012, lot 124.
Literature: R. Michel, Piranèse et les Français, 1740-1790, exhibition catalogue, Rome, 1976, p. 306, under no. 171.
M. Roland Michel, 'Review: "Light and Ruins: Fragonard and Hubert Robert in Rome"', Master Drawings, XXIX, no. 4, 1991, pp. 430-435.
Exhibited: New York, La Banque Continentale, Madame Balsan's Collection of Paintings, 21 October-10 November, 1966, no. 10.
Rome, Villa Medici, J.H. Fragonard e H. Robert a Roma, 6 December 1990-24 February 1991, pp. 60-61, 82, no. 9, plate II (entry by C. Boulot and J.P. Cuzin).
In July 1754, Robert was among the 47 people to arrive in Rome in the entourage of the newly appointed French Ambassador Etienne-François, Comte de Stainville, in whose household his parents had been employed. Under the protection of the future Duc de Choiseul, Robert was given a place as a pensionnaire at the French Academy, then housed in the Palazzo Mancini on the Corso. He would remain in Rome for the next eleven years.

In addition to painting capricci of the ancient world inspired by Panini (his teacher), Robert produced sharply observed views of modern Rome that captured in an original manner the casual coexistence of contemporary life with the monumental remnants of the antique and Renaissance worlds that is such a striking feature of Rome. The Sculptor in Saint Peter's (c. 1758; Musée du Petit Palais, Paris) depicts a sculptor carving a monumental marble statue in a niche in the famous Basilica, suspended on scaffolding high above the confessional box, around which mill various pilgrims, tourists, beggars and a dog. A magnificent pair of paintings, The Colonnade and Gardens of the Villa Medici and The Remains of the Palace of Pope Julius (1759; Private Collection, New York) depict famous palaces and popular tourist sites of Renaissance Rome. The appeal of Robert's paintings lay in the contrast between the humbleness of the everyday events that he presents and the soaring grandeur in which he sets them.
The Catafalque of Pope Benedict XIV in Saint Peter's in Rome is among the earliest and finest of this group of paintings. Its figures are characteristically vivid but abbreviated, with Swiss Guards, exotic tourists, colorfully dressed local peasants, and men of the church making their way beneath a cloud of incense to the funeral bier to pay their final homage to the pontiff. It was executed with the speed and broad manner of an oil sketch, in luscious, fatty strokes of pigment, and like the previously mentioned paintings, it attends closely to conveying the particular atmosphere and effects of daylight in its specific setting -- in this instance, the towering interior of the great Vatican basilica. It reproduces with deceptively simple means, but to amazing effect, the drama, solemn grandeur and ritualized pomp of a papal funeral.

The 83-year-old pope died on 3 May 1758, having led the Church for almost eighteen years. Plans were immediately drawn up for his funeral, and Robert presumably started his painting within the week. A wash drawing by the artist that lays out his design for the painting is the Bibliothèque Municipal de Besançon. This sketch approaches the scene from the same low angle that Robert would also employ in the painting, emphasizing the soaring height of the coffered ceiling of the church. In both, the figures are dwarfed by the building and the catafalque. However, that monument is even more massive and overwhelming in the study, and it takes a somewhat different form, with buttress-like projection at its sides, than it would in the final painting. The crest of the Lambertini, the aristocratic Bolognese family into which the pope was born, surmounts the monument. The actual bier was a form of ephemeral architecture, like a theatre set, built for the funeral only, to be disassembled and removed when the ceremonies were over. It may be, therefore, that Robert made his drawing before the catafalque was completed and he was forced to imagine some of the elements still under construction. In any event, Marianne Roland Michel has demonstrated that the catafalque was no fantasy of the artist (as has been suggested, see Rosenberg & Cuzin, op. cit.), citing a contemporary account of the funeral in the Diario ordinario, detailing the pedestals at the corners of the bier "painted in 'antique green', and of the catafalque pedestal, decorated with bas-reliefs and topped by a pyramid of granite, with a historicized, winged cartouche," precisely as Robert renders it in his evocative painting.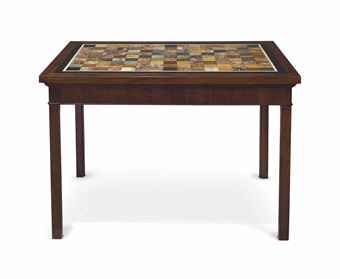 A George III Mahogany and Specimen Marble Center Table, Late Eighteenth Century (Estimate: $40,000-60,000) Photo: Christie's Images Ltd 2013.

the top with inset marble panel with specimen marbles, including lapis, brocatelle, quartz, verde antico, porphyry and Egyptian alabaster, above a plain frieze on chamfered square legs; 33 in. (84 cm.) high, 49 7/8 in. (126.5 cm.) wide, 33¼ in. (84.5 cm.) deep
Provenance: The specimen slab almost certainly acquired by Jonas Brooke (d. 1784) for Mere Hall, Knutsford, Cheshire while on The Grand Tour.
The base almost certainly commissioned by his brother, Thomas Brooke (d. 1815).
Thence by descent at Mere Hall to Mrs. Helen Langford-Brooke (d. 1993). Mere Hall, Knutsford, Cheshire; Christie's house sale, 23 May 1994, lot 60.
Anonymous sale; Christie's, London, 1 July 2004, lot 115.
Literature: The 1840 Inventory of Mere Hall, Cheshire: listed in The Hall as 'Ditto [mahogany side table] with top inlaid with specimens of Italian marble.'