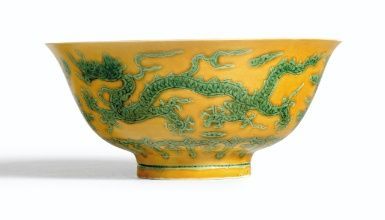 A rare yellow and green 'dragon' bowl. Mark and period of Jiajing - Sotheby's
the deep rounded sides rising from a slightly flared foot to an everted rim, brightly decorated around the exterior with two five-clawed dragons striding among stylized clouds in pursuit of a 'flaming pearl', their writhing scaly bodies emitting flames, above a band of petal lappets and a single-line fillet encircling the foot, all incised with elaborate details, picked out in bright green enamel and reserved on deep yellow ground, the interior and the base left white, the base inscribed in underglaze blue with a six-character reign mark within a double ring; 17.1 cm., 6 3/4 in. Estimation: 2,700,000 - 3,500,000 HKD
PROVENANCE: Sotheby's London, 8th/9th July 1974, lot 247.
Christie's London, 12th December 1977, lot 150.
Christie's London, 8th December 1986, lot 329.
EXHIBITED: Evolution to Perfection. Chinese Ceramics from the Meiyintang Collection/Evolution vers la perfection. Céramiques de Chine de la Collection Meiyintang, Sporting d'Hiver, Monte Carlo, 1996, cat. no. 129.
LITTERATURE: Regina Krahl, Chinese Ceramics from the Meiyintang Collection, London, 1994-2010, vol. 2, no. 696.
NOTE: Dragon designs in this yellow-and-green colour scheme were already experimented with at the Jingdezhen imperial kilns in the Yongle period (1403-24), but this colour combination became popular only in the Zhengde reign (1506-21).
For a small ewer and dish with this design excavated from the Yongle stratum of the Ming imperial kiln site see Imperial Porcelain of the Yongle and Xuande Periods Excavated from the Site of the Ming Imperial Factory at Jingdezhen, Hong Kong Museum of Art, Hong Kong, 1989, cat. nos. 28 and 29. In the Zhengde period ewers, slop bowls (zhadou), dishes, and bowls of different shapes were made in this design; compare a Zhengde bowl in the Koger collection, illustrated in John Ayers, Chinese Ceramics. The Koger Collection, London, 1985, pl. 73; and the zhadou in the Meiyintang collection, illustrated in Krahl, op.cit., vol. 4, no. 1682.
Another bowl of this design, of Jiajing mark and period, from the collection of Sir Frank A. Swettenham and later the collection of K.R. Malcolm, sold in our London rooms, 7th November 1946, lot 104, is illustrated in Soame Jenyns, Ming Pottery and Porcelain, London, 1953, pl. 90A, and rev. ed. 1988, pl. 169; one from the collections of Edward T. Chow and T.Y. Chao was sold twice in these rooms, 25th November 1980, lot 38, and 19th May 1987, lot 259.
Sotheby's. The Meiyintang Collection, Part V - An Important Selection of Imperial Chinese Porcelains. Hong Kong | 08 avr. 2013 - www.sothebys.com