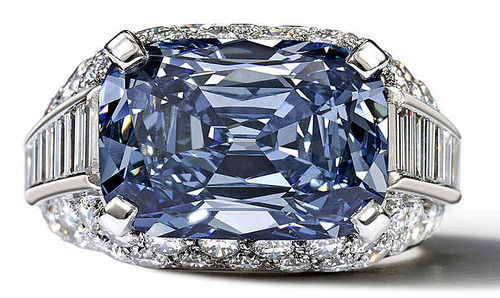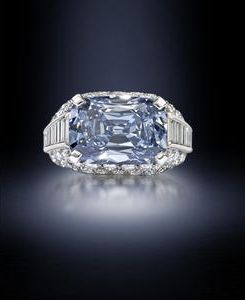 An important fancy deep-blue diamond 'Trombino' ring, circa 1965. Photo courtesy Bonhams
The cushion-shaped fancy deep-blue diamond, weighing 5.30 carats, set horizontally within a mount pavé-set with brilliant-cut diamonds and courses of baguette-cut diamonds, remaining diamonds approximately 2.00 carats total, signed Bulgari, ring size I, Bulgari pouch. Estimate: £1 million - 1.5 million (€1.2 million - 1.8 million)
Accompanied by a report from GIA stating that the 5.30 carat diamond is fancy deep blue, natural colour, VS2 clarity. Report number 1156118343, dated 30 November 2012.

Blue diamonds are extraordinarily rare. Over the past ten years fewer than thirty blue diamonds over five carats have appeared at auction worldwide. If you compare this with the tens of thousands of colourless or "white" diamonds that have been sold in the same period, one can appreciate the excitement the appearance of a previously unrecorded blue diamond generates when it appears on the auction market. The blue diamond offered here, weighs 5.30 carats, and has never been offered at auction before.

The blue colour in the diamond is caused by trace elements of boron, classing it as Type IIb. Boron causes blue diamonds to become semi-conductors of electricity and the blue colour intensifies when the diamond is warm. Type IIb diamonds can also phosphoresce under short-wave UV light and glow red for several seconds.

The famous historic blue diamonds – the Hope, the Wittelsbach-Graff (previously the Wittelsbach) and the Tereschenko – are also Type IIb and are believed to have come from the legendary Golconda mines in India, an area that also yielded diamonds of purest white. Ancient Indian texts describe diamonds of grey to dark blue colour coming from the Pundra area. The common denominator of all Golconda diamonds, whether they are white or of fancy colour, is their high degree of transparency and liquid fire. This diamond certainly possesses these properties. Its flat, antique cut is also suggestive of an alluvial Golconda diamond.

The diamond is mounted in a "Trombino" ring made by Bulgari in the mid 1960s. Bulgari's appreciation of the beauty and rarity of natural coloured diamonds spurred the firm's buyers to become active in the Indian market during the 1950s and many ancestral diamonds that had belonged to maharajas and nawabs were bought. Also, during the 1950s, Bulgari purchased a fabulous collection of fancy-coloured diamonds from a French dealer who had been amassing the collection over many years and was justifiably proud of his valuable stock. Bulgari soon began to incorporate these coloured diamonds into contemporary jewels of the finest quality.

Bonhams is privileged to offer such an important antique blue diamond from this period of Bulgari's production.
Bonhams. 24 Apr 2013. London, New Bond Street. Fine Jewellery