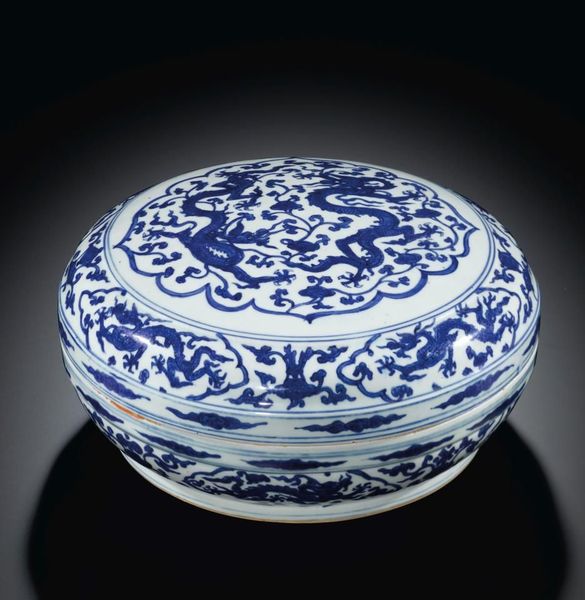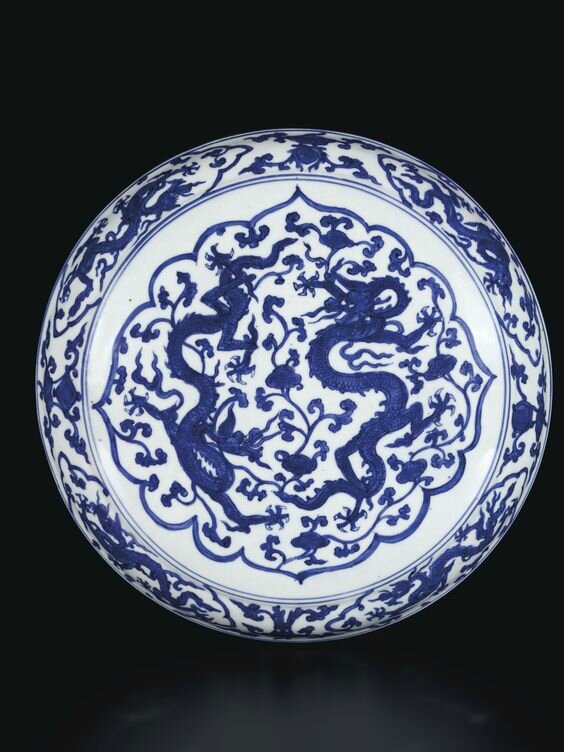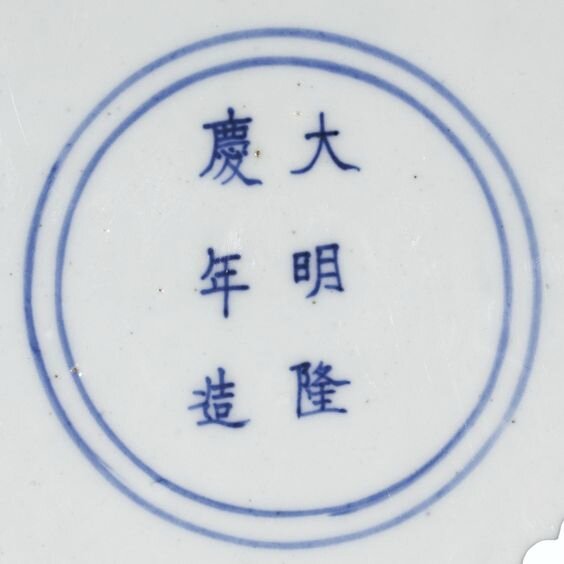 Lot 3005. A very rare large blue and white 'dragon' circular box and cover, Mark and period of Longqing (1567-1572); 32.7 cm., 12 7/8 in. . Estimate 4,000,000 - 6,000,000 HKD - Lot sold 7,240,000 HKD. Photo Sotheby's
of circular form, robustly potted, the domed cover with a slightly raised central panel and encircled by raised bands at the rims on both box and cover, all supported on a wide, slightly tapered foot, brightly painted overall in two tones of cobalt blue, the cover with a barbed medallion enclosing two confronting five-clawed dragons among lingzhi scrolls, one ascending the other descending, both with raised snouts and open jaws, their scaly bodies writhing amidst dense foliage, all within a double-line border, the sides decorated with eight barbed panels, four around the box and four around the cover, each enclosing a five-clawed dragon animated in a different stride among foliate lingzhi, divided by detached sprays of fungus supporting one of the 'Eight Treasures' (Babao), with the wish-granting pearl (baozhu), a coin (qian), the coral (shanhu), and a lozenge (fangsheng) on the cover, and an ingot (ding), a ruyi head, a rhinoceros horn (xijiao), and stylised chime (qing) on the box, the raised rim borders filled with swirling clouds between double lines repeated on the foot, the interior and the base left white, the thick footring and the inner rims left unglazed and fired brick red, the base inscribed in underglaze blue with a six-character reign mark within double circles.
PROVENANCE: Collection of the Idemitsu Museum of Arts, Tokyo.
EXHIBITED: In Pursuit of the Dragon – Traditions and Transitions in Ming Ceramics, Seattle Art Museum, Seattle, 1988, cat. no. 60.
LITTERATURE: Idemitsu Bijutsukan zōhin zuroku. Chūgoku tōji/Chinese Ceramics in the Idemitsu Collection, Tokyo, 1987, col. pl. 712.
NOTE: Porcelain pieces made at the imperial kilns at Jingdezhen during the brief six-year reign of the Longqing Emperor (r. 1567-72) and bearing his reign mark are extremely rare. Apart from the short reign period, imperial records mention severe flooding in the area around the imperial kiln site in Jingdezhen in the late 1560s and early 70s, causing great devastation and disruption to porcelain manufacture at the time. In fact, the whole reign period was devastated by natural disasters, extensive fires, earthquakes and floodings. Hence, Longqing mark and period wares are of historical importance and as Jessica Harrison-Hall notes in Ming Ceramics, London, 2001, p. 268, 'Items with Longqing reign marks are particularly valuable for dating as the reign period was so short. Few ceramics were produced compared to the years sandwiching it.'
Stylistically, Longqing wares are closely related to Jiajing and early Wanli pieces, with the deep blue glaze particularly attractive. Boxes, such as the present example, were made in different shapes, from compressed circular form to square, lobed, rectangular and ingot forms. They are highly esteemed not only for their rarity, but also for their skilful potting and for their glaze.
Only one other similar box and cover appears to be recorded, from the collections of Mr. and Mrs. Alfred Clark, Mr. K.R. Malcolm and Eskenazi, London, sold at Christie's Hong Kong, 26th April 1999, lot 549, and again, 7th July 2003, lot 645. The decoration of two sinuous five-clawed dragons amongst scrolling lingzhi may be seen on the cover of a square box, bearing a Longqing reign mark and of the period, formerly in the Franks collection and now in the British Museum, London, illustrated ibid., pl. 10:5, where on p. 271 it is suggested that the piece contained seals.
For examples of Longqing blue and white boxes decorated with the dragon motif, see a silver ingot-shaped piece, in the National Palace Museum, Taipei, published in Blue and White Ware of the Ming Dynasty, Book VI, Hong Kong, 1963, pl. 2; a double-lozenge form box included in Chinese Porcelain. The S.C. Ko Tianminlou Collection, Part I, Hong Kong, 1987, pl. 42; a seven-lobed box, formerly in the Percival David Foundation and now in the British Museum, illustrated in Margaret Medley, Underglaze Blue and Copper Red Decorated Porcelains, Section 3, London, 1976, p. 45, pl. A656, where it is mentioned that the piece is of unusually fine quality with the calligraphy of the mark exceptionally good. It is further noted, ibid., p. 45, that a companion piece may be found in the Boston Museum of Fine Arts. A further Longqing dragon box of circular shape, in the Palace Museum, Beijing, is included in Zhongguo taoci quanji [The complete works of Chinese ceramics], vol. 12 (part 2), Shanghai, 2000, pl. 178, together with a 'dragon and phoenix' box, pl. 180, from the court collection. Compare also a box finely painted with two five-clawed dragons chasing a flaming pearl, from the Toguri collection, sold in our London rooms, 9th June 2004, lot 20; and a square box with its pierced cover decorated with dragons, sold at Christie's Hong Kong, 28th April 1997, lot 679.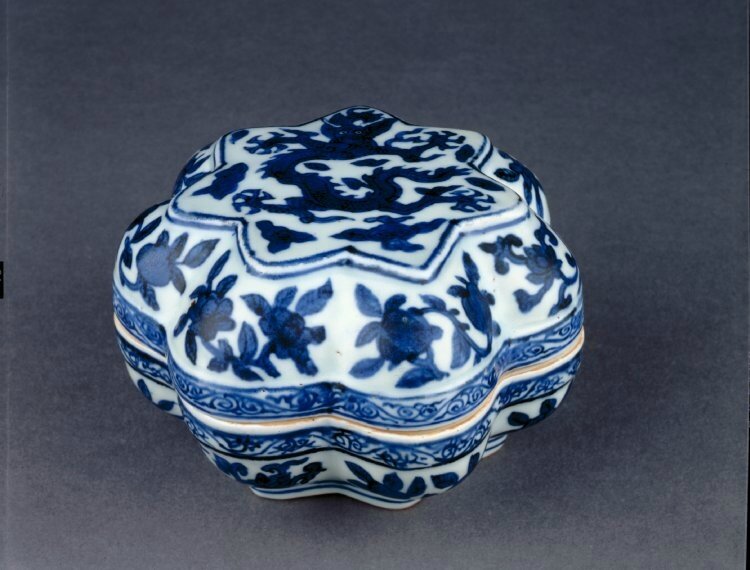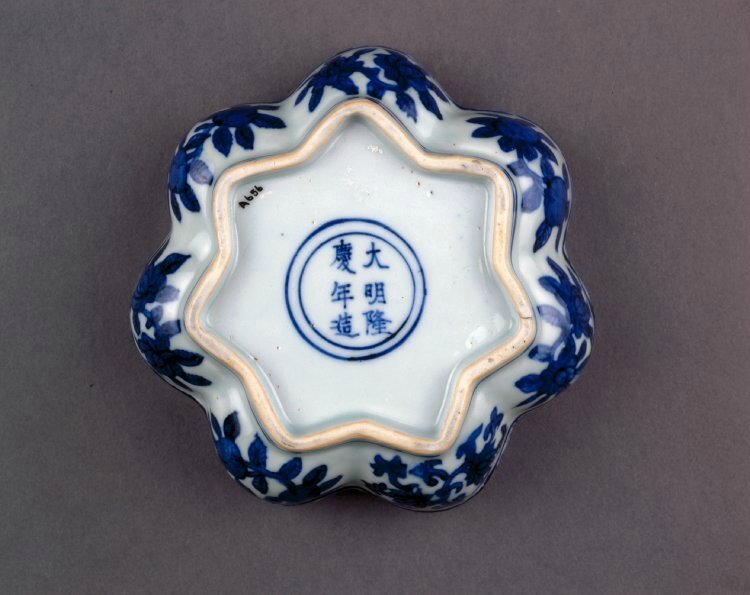 Lobed box with dragon, Ming dynasty, Longqing mark and period, AD1567–72. Porcelain with underglaze cobalt-blue decoration, Jingdezhen, Jiangxi province. 7,7 x 12,4 cm, Sir Percival David Foundation of Chinese Art, PDF A656 © Trustees of the British Museum
Sotheby's. Fine Chinese Ceramics and Works of Art. Hong Kong | 08 avr. 2013