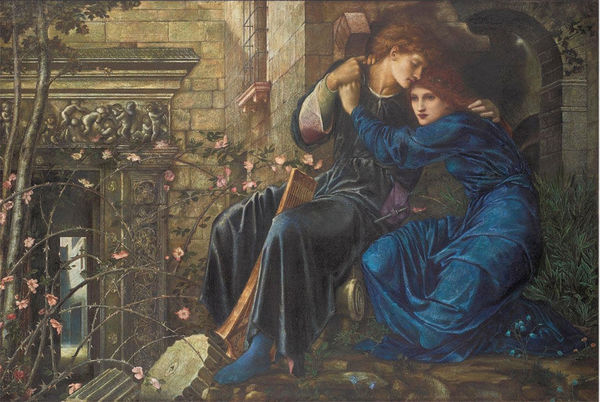 Sir Edward Coley Burne-Jones, Bt., A.R.A., R.W.S. (1833-1898), 'Love Among the Ruins'. Unseen for over 50 years, this rare, important Pre-Raphaelite masterpiece, is expected to realise £3 million to £5 million. Photo: Christie's Images Ltd 2013.
LONDON.- Christie's announced that they will offer a long unseen masterpiece by Sir Edward Coley Burne-Jones, Bt., A.R.A., R.W.S. (1833-1898) in the Victorian & British Impressionist Art sale on 11 July 2013 where it is expected to realise £3 million - £5 million.

Love among the Ruins is the most important work by the artist to come to auction since Laus Veneris was sold to the Laing Art Gallery in Newcastle in 1971, and the painting has not been seen in public for over fifty years. A highly-significant work in the artist's oeuvre, it has been much celebrated since it was first exhibited in 1873, at the Dudley Gallery in London. It went on to be shown at the Exposition Universelle in Paris in 1878, where it established the artist's international reputation, and was also shown at the exhibition which inaugurated the Birmingham Art Gallery in 1885-6 (the artist's hometown), the Royal Jubilee Exhibition at Manchester in 1887, an annual loan exhibition at the Guildhall, London, in 1892, and in the Burne-Jones's retrospective exhibition at the New Gallery, London later that year.
Harriet Drummond, Senior Director & International Department Head of British Drawings and Watercolours: One of the most important works by the artist ever to come to auction, 'Love Among the Ruins' is arguably the artist's most Italianate, most intensely romantic, beautiful, and significant work to remain in private hands. This work dates to the same period as Burne-Jones' celebrated Briar Rose series. We are proud to have been instructed to handle the sale which could set a new auction record for the artist.
Peter Brown: Department Head & Director of Victorian Pictures: The market for Victorian art has expanded and seen increased international bidding from the US, Russia and Asia. Following the success of the Pre-Raphaelite exhibition at Tate London, which has opened in Washington before it moves to Moscow in June 2013, there could not be a more propitious time to bring this picture to the market.
Julia Cartwright, Art Critic & Historian, 1892: One of the master's most perfect and beautiful creations.
Dating from 1873, this picture, whose title is taken from the Robert Browning poem of the same name, was created during perhaps the most fertile and inventive phase of his entire career. This was also the moment when his work was at its most Italianate and in Love Among the Ruins the Renaissance character of the architecture and the brilliant blue of the girl's dress clearly betray a vivid awareness of the Italian old masters.
This meditation on the eternal nature of love features Burne-Jones' mistress, Maria Zambaco. She was married to Demetrius Zambaco, a doctor practising among the Greek community in Paris, in 1861, and had two children; in 1866 she left him and returned to London, where, at the age of twenty-three, she was introduced to Burne-Jones, her senior by ten years. Never before in his rather sheltered life had Burne-Jones encountered such a passionate and elemental creature, nor could the contrast with his quakerish and high-minded wife have been more complete. The emotional turmoil undermined his health, which at the best of times was never robust; and in January 1869 matters took a tragic turn when his bid to end the affair led to Maria attempting suicide in the Regent's Canal. Maria posed frequently for Burne-Jones during these years, and her features, unlike those of many of his models, are easily recognizable in paintings and drawings. The nature of the subjects for which she modelled creates a strong impression that Burne-Jones was deliberately using his art to celebrate and immortalize their love.
Love Among the Ruins, which was last bought in 1958 for 480 guineas (£500), is now, well over a century since it was created, re-emerging to claim recognition as a work of unparalleled romantic intensity and true art-historical significance.