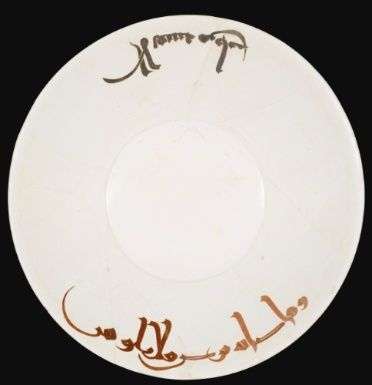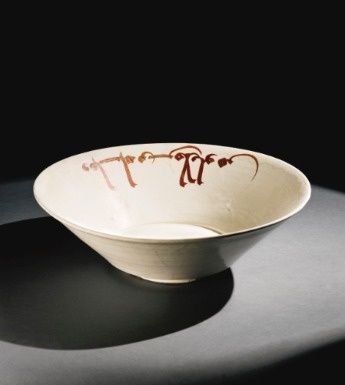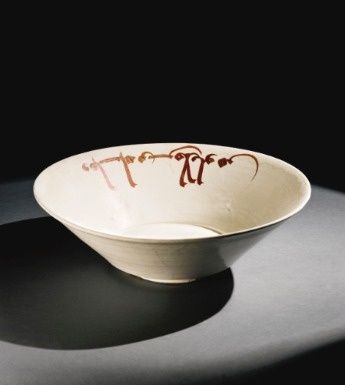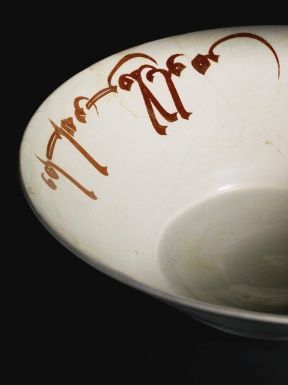 A monumental bichrome calligraphic pottery bowl, Nishapur or Samarqand, 10th Century - Sotheby's
the earthenware body of truncated conical form with straight flaring sides on a thin base, painted in black and red slip on a white slip ground under a transparent glaze, featuring two radial calligraphic inscriptions in the cavetto below the rim; 40.6cm. diam. 12.6cm. height. Estimation: 100,000 - 150,000 GBP
inscriptions: fa-asabahu baras fa-le a yalumann illa nafsahu man bata
'So he will be hit by leprosy and he does not have any one to blame except himself the one who spent the night (?) who did it at night? comes back ?'
Note: Notable for its monumental size and the painterly quality of its calligraphy, this dish can be associated with wares from Nishapur and Afrasiyab (old Samarqand), two renowned centres of production of fine slip-painted wares during the tenth and eleventh centuries. These early ceramics, decorated in thick coloured slips have been highly praised by scholars. Oliver Watson describes them as "astonishing […] the telling use of empty space, and the subtlety of the
rhythm and weight of the calligraphy put them, in spite of their humble materials, into an artistic class higher than any ceramic so far discussed" (Watson 2005, p.205).
The calligraphic decoration on the present bowl can be compared to that on a large bowl now in the al-Sabah Collection, Kuwait (inv. no. LNS 123 C), attributed to Nishapur or Samarqand, tenth century, that was also designed with an elegant Kufic line around the rim, painted in black with interspersed red letters (illustrated in Watson 2005, pp.206-207).
This dish recalls Arthur Lane's observation: "Their beauty is of the highest intellectual order; they hold the essence of Islam undiluted" (Lane 1947, p.18).
This lot is accompanied by a thermoluminescence analysis report confirming a circa 10th century date of manufacture.
Sotheby's. Arts of the Islamic World. London | 24 avr. 2013 www.sothebys.com