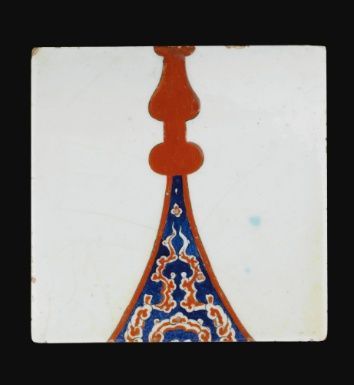 A Rare Iznik Polychrome pottery Tile, Turkey, circa 1575 - Sotheby's
of square form, decorated in underglaze cobalt blue and relief red with a design of cloud-band motifs within an architectural finial form set against a white background, two old collection labels to reverse: 'No. 977, coll. Charles J. Kelekian', 'No. 161, 1K'; 27 by 27cm. Estimation: 80,000 - 120,000 GBP
PROVENANCE: Ex-collection Charles J. Kelekian, Paris
NOTE: This tile is exceptional for its stark, monumental design. The shape of the central design, which is pyramidal at the base leading up to a bulbous neck and tulip-shaped top, is evocative of the skyline of the Ottoman city, particularly Istanbul. Similar shapes in metal also appear, such as a gilt-copper (tombak) finial sold in these rooms on 24 April 2012, lot 101 (fig.1), the form of which would have been used to crown many of the architectural glories of the Ottoman Empire.
Also noteworthy are the elongated cloud-bands, or s-cloud motifs that decorate the interior of the design on this tile. Initially influenced by Chinese models that became available through the acquisition of porcelain and other goods, particularly from the Yuan and early Ming periods, these were re-interpreted by Iznik potters and took on new decorative functions.
The cloud-band motifs on the present tile, which are painted in a raised red bole with a white border against a cobalt blue ground, are the result of a complex process requiring multiple firings, and exemplifying the mature style of Iznik pottery of the third quarter of the sixteenth century.
Sotheby's. Arts of the Islamic World. London | 24 avr. 2013 www.sothebys.com