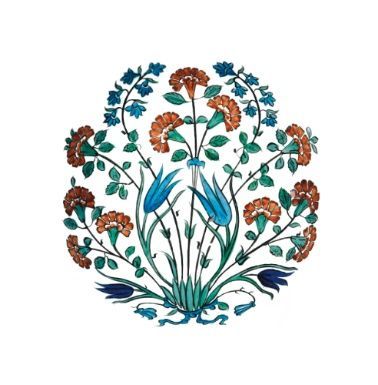 An Iznik polychrome pottery dish, Turkey, circa 1560 - Sotheby's
With a bracketed rim, decorated in underglaze red, cobalt blue, grey-green and black outline with a near-symmetrical design of chrysanthemum stems intermixed with tulips and hyacinth all issuing from a leafy tuft with a beribboned base, the rim with paired tulips, alternately in red and blue, on a ground outlined with a radiating petal design, the reverse with rosettes and three-petalled motifs alternately, the base applied with a circular label inscribed "JEAN LAGONICO 33", a rectangular label with a red stripe inscribed "M", a small scalloped label inscribed "1615", and a brown label inscribed "2"; 30.2cm. diam. Estimation: 50,000 - 70,000 GBP
PROVENANCE: The Lagonico Collection, sold Sothebys Monaco, 7th July 1991, lot 47.
LITTERATURE: Carswell 1998, p.77, no.51.
NOTE: This is an important example of an early polychrome dish. It dates from the earliest years of the use of red at Iznik, a development which is thought to have occurred during the last years of the reign of Suleyman the Magnificent (r.1520-66). At its inception, the red was applied in a thinner manner and hence took on a more orange-red appearance after firing. This occurs on a mosque lamp in the Victoria and Albert Museum which, since it was made for the mosque built for Suleyman, the Suleymaniye, has been assumed to date to just before 1557, the date of the mosque's inauguration (Atasoy and Raby 1989, p.224 and no.377). By comparison, this dish can be dated to the same period or very slightly later and still within this brief and somewhat experimental stage. Other elements which confirm the transitional nature of the decoration of the dish are its grey-green foliage, a colour more familiar in the so-called 'Damascus' wares of the mid-sixteenth century. Furthermore, the design itself is also from an earlier period, imbued with a spirit that John Carswell termed "the fantasy of the 1550s" (Carswell 1998, p.78). Along with this dish, he mentions two further dishes which together form a group characteristic of this moment in the evolution of Iznik pottery. Of these two other dishes, one is now in the Metropolitan Museum of Art and the other is in the Musée de la Renaissance, Ecouen (ibid., p.76).
Sotheby's. Arts of the Islamic World. London | 24 avr. 2013 www.sothebys.com