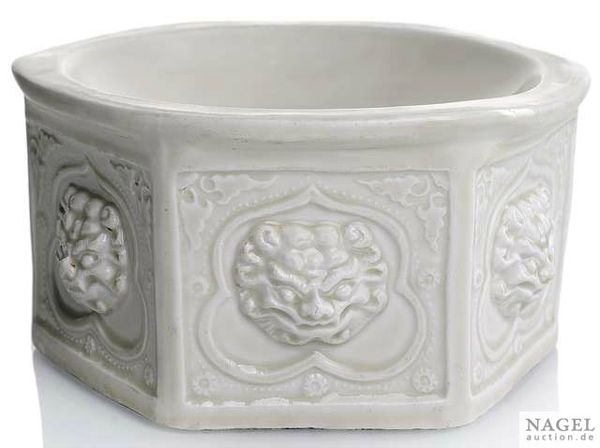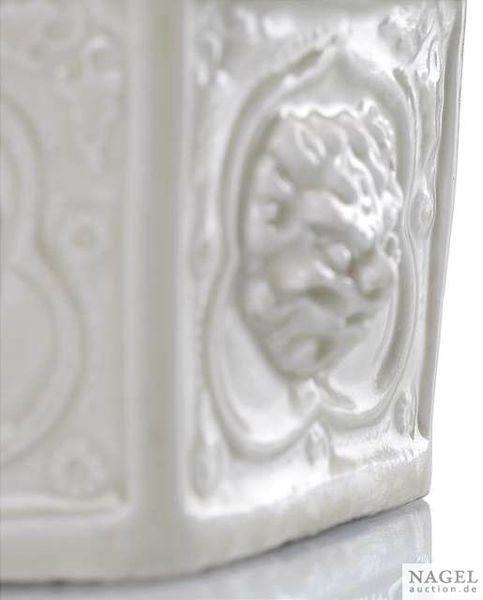 A fine and very rare xingyao washer or mortar, China, Song dynasty. Photo Nagel Auktionen
D. 21,2 cm - Estimate 30000/50000 €
The vessel is closely related to the fine Xing wares excavated from Sui and Tang dynasty sites in the Hebei province. Sherds from these sites included an example bearing similar lion masks to those seen on the current mortar.
Such a sherd was displayed by archaeologists in association with a paper by Chen Yaocheng et al. 'A Study of Xing fine white porcelain of Sui and Tang Dynasties' published in Proceedings of 1989 International Symposium on Ancient Ceramics, Research Society of Science and Technology of Historical Ancient Ceramics/Shanghai Institute of Ceramics, Shanghai, 1989, pp. 221-28.
These fine Xing wares were discovered on the eastern side of Taihang hill, in the north-west Neiqui county, Hebei province, and it was in this region that fine Xing wares continued to be made in the Five Dynasties and Northern Song periods.
An octagonal white vessel described as a brush washer, now in the Henan Museum, was excavated at Luoyang in 1960 and is illustrated in Henan Wenwu Qinghua, Cang pin juan, Wenxin chubanshe, 1999, p. 148. Although smaller in size than the current mortar, this excavated washer, which has been dated to the Northern Song period, shares a number of its design features. Both vessels have fierce animal masks applied in relief on each face of the octagon.
An hexagonal mortar, dated to the period AD 900-1000 and attributed to the Ding kilns, is illustrated in Toji Taikei, Heibonsha Series, vol. 37 - White wares, Tokyo, 1975, no. 57. This vessel also has a relief monster mask applied to each facet, placed within recessed, leaf-shaped, panels as with the present piece, bordered by leaf, flower and beaded decoration. This mortar, formerly in the Frederick M. Mayer Collection, and sold at Christie's London 24 June 1974, lot 30, was included in the inaugural exhibition Selected Masterpieces of the Matsuoka Museum of Art, Matsuoka Bijutsukan, Tokyo, 1975, no. 40, where it is dated to the Song dynasty and described as white porcelain, without a kiln attribution. However, the 1984 bilingual edition of the catalogue assigns it to Ding provenance.
Distinguishing Ding and Xing wares of this period is difficult, but in the light of recent excavations, it seems possible that the Matsuoka vessel is in fact a product of the Xing kilns.
A Northern Song white ware mortar, formerly in the de Forrest collection and now in the Percival David Foundation, shares with the current octagonal mortar a fine white body. The David mortar is illustrated in 'Illustrated Catalogue of Ting and Allied Wares, Percival David Foundation of Chinese Art', London, 1980, pl. IV, no. 17, where it is described simply as Northern white ware. The David Foundation mortar is of similar size to the current lot, it is circular and decorated with overlapping petals of a type seen on 10th century wares from the Ding kilns. In the 10th century fine white wares fired in a reducing atmosphere, using wood as fuel, were made both at the Xing and the Ding kilns.
Nagel Auktionen. 2013/05/08. http://www.auction.de/