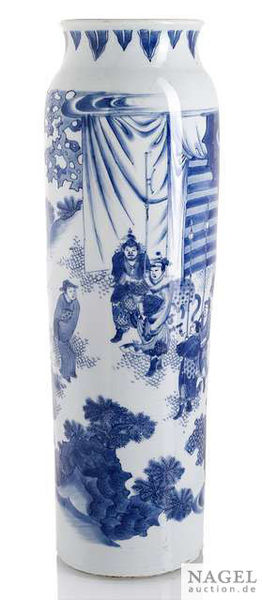 A rare blue and white 'rolwagen' with a scene from the Romance of the Three Kingdoms 'sanguo zhi tongsu yanyi', China, Chongzhen period, ca. 1640-50. Photo Nagel Auktionen
The slender cylindrical body is finely painted in cobalt of sapphire-blue tones depicting a scene from The Romance of the Three Kingdoms (Sanguo zhi tongsu yanyi) in which Li Su is persuading Lü Bu to submit to Dong Zhuo. Small glaze imperfection near the base. H. 46,5 cm - Estimate 20000/30000 €
The tall 'rolwagen', commonly known as an 'elephant's leg vase', has an unglazed flat base, a short neck and a slightly everted rim. It has a transparent glaze both inside and outside, white with a blue tinge. The glaze is shiny. Below the rim of its neck is a downward pointing banana leaf border of big leaves alternating with small leaves, the space between the leaves being well balanced.
As is typical of the Chongzhen period, the leaves are straight and quite realistic. The rolwagen's decoration is typical of the High Transitional period with its v-shaped ticks for grass, layered rocks with flowers growing out of them and the classic High Transitional back of rocks and clouds separating the two ends of the picture, running from the top to the bottom.
The main motif of the body is consistent with the Shunzhi period's great emphasis on narrative scenes, including the illustration of scenes from contemporary novels. Lü Bu's positioning on higher ground than Li Su tells us that the scene is taking place in Lü Bu's courtyard. The facial features of the characters are amiable and communicative as Li Su's two servants kneel before Lü Bu as Lü Bu's servants and bodyguard stand proudly around their master; the wind is shown through the movement of their robes. All around the courtyard are young pine trees and behind Lü Bu's tent is a large taihu rock. Beside it the sun shines above a young banana plant.
Property from an old German private collection

Nagel Auktionen. 2013/05/08. http://www.auction.de/