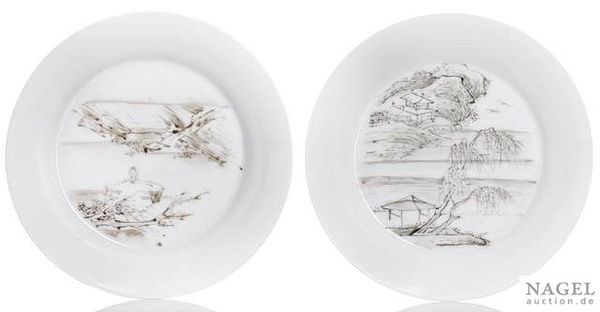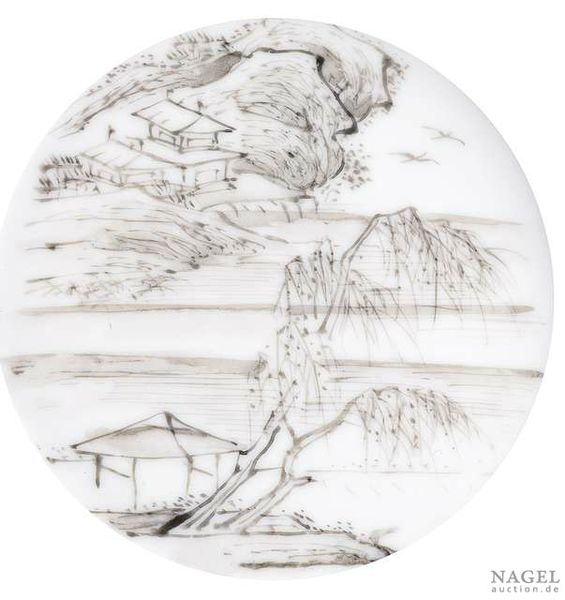 A fine pair of small grisaille-decorated dishes, China, underglaze blue Yongzheng six-character marks and period. Photo Nagel Auktionen
Each dish has slightly outward-curved flared sides, the interiors delicately painted in grisaille, one with a scholar holding a staff standing on a promontory, the other with pavillions on the shores of a lake and with a willow tree in the foreground - D. 9,7 cm. Estimate: 40 000/60 000 €
Provenance: Christie's New York, 29.3.2006, Lot 537
A similarly decorated pair of Yongzheng-marked bowls is illustrated in Splendour of the Qing Dynasty, Hong Kong, 1992, p. 333, pl. 200.
Another smaller pair of Yongzheng-marked pair bowls painted in the same style was sold at Sotheby's London, 20th June 2001, lot 18.
For other related Yongzheng-marked wares, see a large covered bowl and a brushpot from the Paul and Helen Bernat collection and now in the Museum of Fine Arts in Boston, illustrated in 'Oriental ceramics, The World's Great Collections', vol. 10, Tokyo, 1980, col. pls. 91 and 55 and a brushpot in the Shanghai Museum, illustrated in Chugoku Toji Zenshu, vol. 21, Kyoto, 1983, pl. 100.

Nagel Auktionen. 2013/05/08. http://www.auction.de/