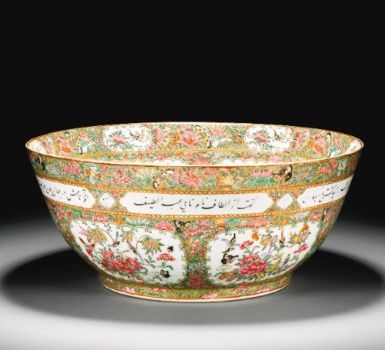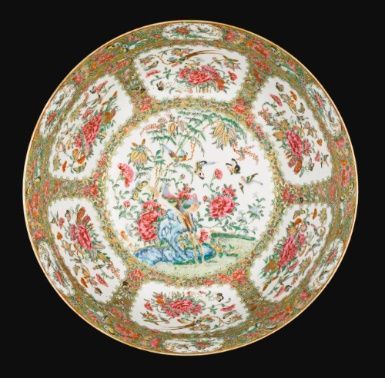 A Large Qing famille-rose porcelain bowl made for the Persian market, China, dated 1212 AH/1797-8 AD - Sotheby's
of deep round form with slightly flaring edges, decorated with bright, polychrome colours, featuring birds and butterflies in a landscape with roses and bamboos, the cavetto and band near the rim with six panels each comprising similar imagery, set against a background of butterflies within floral scenery, the exterior with similar decoration, including a row of calligraphic cartouches; 41cm. diam. 17cm. height. Estimation: 6,000 - 8,000 GBP
NOTE: inscriptions
In the long cartouches three Persian couplet in praise of the patron 'Abd al-Latif.'He, whose name is as well-known as the Sun
Is 'Abd al-Latif, deemed for the endless favours of God,
I talked to the bowl asking: Who gave you this clear disposition?
It said: The dust of the footsteps of the Khan of the time, 'Abd al-Latif.
I said: how did you become conspicuous in the world?
It said from the well-known name of 'Abd al-Latif'
In the small cartouches: Invocations to God:
O the Most Patient! O Gracious! O the Ever-Living! O the Self-Subsistent! O the All Forgiving! O the one who is Most
Ready to appreciate!'
In one of the two cartouches on the body:
'For the banquet of the one who has an exalted seat, the lord 'Abd al-Latif Khan, year 1212 (1797-8)'
'In the other cartouche:
'Under the supervision of Aqa Muhammad Husayn Shirazi'
If Muhammad Husayn is the scribe, he might be Muhammad Husayn Shirazi the nasta'liq calligrapher who was a poet
with the pen-name 'Ali and could have also composed the poem on this bowl. He died in 1247 (1831-2).
Sotheby's. Arts of the Islamic World. London | 24 avr. 2013 - www.sothebys.com