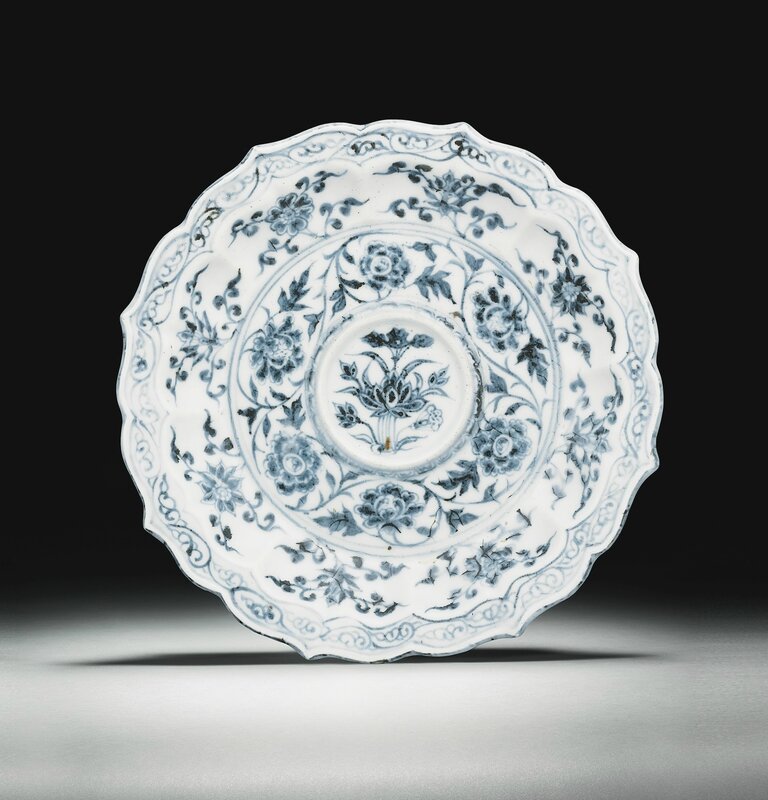 Lot 103. A rare blue and white cupstand, Ming Dynasty, Hongwu period; 19.5cm., 7 5/8 in. Estimation: 150,000 - 250,000 GBP. Lot sold 182,500 GBP. Photo Sotheby's 2013
of lobed octafoil form, the shallow rounded sides rising to a barbed everted rim divided into eight bracket foliations, moulded on the interior with a central raised ring and around the exterior with crisp radiating ridges dividing the lobes, finely decorated overall in shaded tones of cobalt accented with 'heaping and piling', the slightly recessed centre medallion with a leafy lotus spray, surrounded by six peonies wreathed by a foliate stem and eight sprigs of lotus around the cavetto, each carefully rendered with different blooms and fanciful curly foliage, the rim detailed with a classic scroll, the central ring picked out with pendent lappets, the exterior painted with petal lappets on each lobe, the recessed base and bevelled footring left unglazed.
NOTE: Cupstands of this flat dish shape with a raised ring in the centre were developed in the Yuan dynasty that replaced earlier, taller and often ring-shaped supports known from lacquer, silver and stoneware of the Song period. For the origins see a Song example in silver, with six barbed lobes and engraved with flowering branches around a central floret, illustrated in A Selection of the Treasure of Archaeological Finds of the People's Republic of China, Beijing, 1987, pl. 320.
Hongwu cupstands are known painted in both cobalt-blue and copper-red. They have a distinct shape that were crisply formed in twin moulds, creating a beautiful utilitarian object . Unfortunately, it is not known exactly what kind of cups they were made to hold, although a fragmentary cup together with a stand of this form, both painted in underglaze-blue, were included in the Chang Foundation exhibition Jingdezhen chutu Ming chu gaunyao ciqi/Imperial Hongwu and Yongle Porcelain Excavated at Jingdezhen, Taipei, 1996, cat. nos. 17 and 18. However, the small size of the cup appears ill proportioned compared to the solidly made stand, and furthermore, no other similar cups have been found extant. This would suggest that porcelain cupstands of this type may have been used together with drinking vessels of precious material that might not have survived.
It is unusual to find a cupstand of this type centred by a well-drawn lotus plant rather than a stylized sprig, although a stand of similar design was included in the Oriental Ceramic Society exhibition Jingdezhen Wares. The Yuan Evolution, The Chinese University of Hong Kong, Hong Kong, 1984, cat. no. 141. Compare another closely related stand, from the Charles Harrison McClintick estate, sold at Christie's Hong Kong, 20th March 1990, lot 516; one sold in our Hong Kong rooms, 27th April 1993, lot 35; and a further piece also sold in our Hong Kong rooms, 2nd November 1998, lot 348.
Compare also a blue and white stand painted with a chrysanthemum scroll motif, with the stems encircling the flowerheads and centred by a peony spray, included in the Kau Chi Society exhibition Ancient Chinese Ceramics, Hong Kong, 1981, cat. no. 61; and another included in the exhibition Ming Blue and White, Philadelphia Museum of Art, Philadelphia, 1949, cat. no. 24, together with a third example, cat. no. 25, decorated with a more open chrysanthemum scroll enclosing a many-petalled floret, both pieces from the collection of John Pope. See also a stand decorated with scrolling peonies, centred by a peony and enclosed by different flower sprays, from the collection of Gerald Reitlinger and now in the Ashmolean Museum, Oxford, included in the museum's exhibition Eastern Ceramics, Ashmolean Museum, Oxford, 1981, cat. no. 1.
Sotheby's. Fine Chinese Ceramics and Works of Art. London | 15 mai 2013