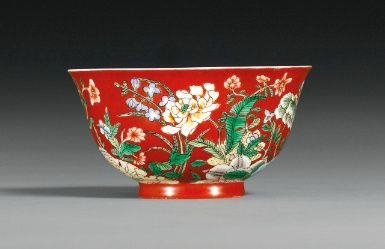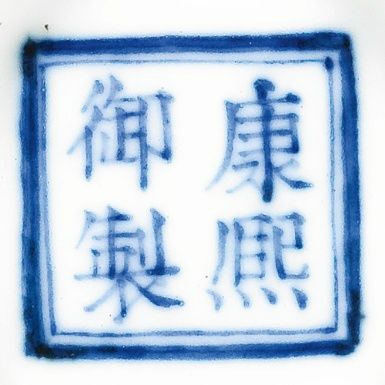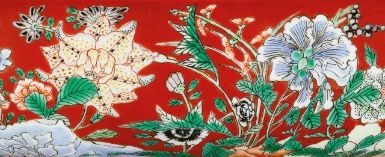 A fine and rare coral-ground famille-verte bowl, Kangxi, Yuzhi mark and period - Sotheby's
finely potted with rounded sides rising from a short foot to a gently flaring rim, the exterior richly and freely decorated with flowering blooms, including peony, lily, camellia, and crabapple, the luscious blooms picked out in shaded tones of blue, pale-yellow, lime-green and lavender, and encompassed by slender stems with a myriad of feathery leaves in two shades of green interspersed with tight and opening buds, all reserved against a rich coral-red ground, the interior and base glazed white, inscribed to the base with a four-character mark in underglaze-blue within a double-square; 11cm., 4 3/8 in. Estimation: 150,000 - 200,000 GBP
PROVENANCE: Christie's London, 8th June 1987, lot 86.
EXHIBITED: Kostbare Chinesische Keramik, Museum für Ostasiatische Kunst, Köln, 1965, cat. no. 143.
NOTE: The present bowl belongs to a small but well-known group of vessels that closely follow the design painted in the characteristic wucai palette of the Kangxi period, known in the West as the famille-verte. Although they bear a Kangxiyu zhi mark, which suggests a close relationship to the imperial court, they were decorated and enamelled at the imperial kilns at Jingdezhen in Jiangxi province. Reign marks in overglaze blue or pink enamel with the wording yu zhi (made for imperial use of …) following the reign name, rather than nian zhi (made in the year of …) are extremely rare and were enamelled in the imperial workshops, located in the Forbidden City in Beijing.
The design seen on this bowl continued to be popular throughout the Qing dynasty, and similar bowls are known with Yongzheng, Qianlong and Daoguang reign marks. Another bowl of this shape and Kangxi yu zhi mark, in the Shanghai Museum, is published in Wang Qingzheng (ed.), Kangxi Porcelain Wares from the Shanghai Museum Collection, Hong Kong, 1998, pl. 95; one in the Asian Art Museum of San Francisco is illustrated in He Li, ChineseCeramics. A New Standard Guide, London, 1996, pl. 653; a pair from the collection of Edward T. Chow and now in the S.C. Ko Tianminlou collection was included in the exhibition Chinese Porcelain. The S.C. Ko Tianminlou Collection, Hong Kong Museum of Art, Hong Kong, 1987, cat. no. 89, and sold in these rooms, 25th November 1980, lot 143; and a pair of closely related bowls, from the collections of Wah Kwong, T.Y. Chao and Meiyintang, was sold in our Hong Kong rooms, 7th April 2011, lot 4.
Similar bowls with Yongzheng yu zhi , Yongzheng nian zhi , as well as six-character Yongzheng and Qianlong reign marks are illustrated in The Tsui Museum of Art, Chinese Ceramics IV: Qing Dynasty, Hong Kong, 1995, pls. 158-60 and 166, together with an unusual example of a Kangxi yu zhi mark in pink enamel, pl. 123. A Daoguang example is published together with another Yongzheng yu zhi piece in Soame Jenyns, Later Chinese Porcelain. The Ch'ing Dynasty (1644-1911), London, 1951, pl. XLV
Sotheby's. Fine Chinese Ceramics and Works of Art. London | 15 mai 2013 - www.sothebys.com