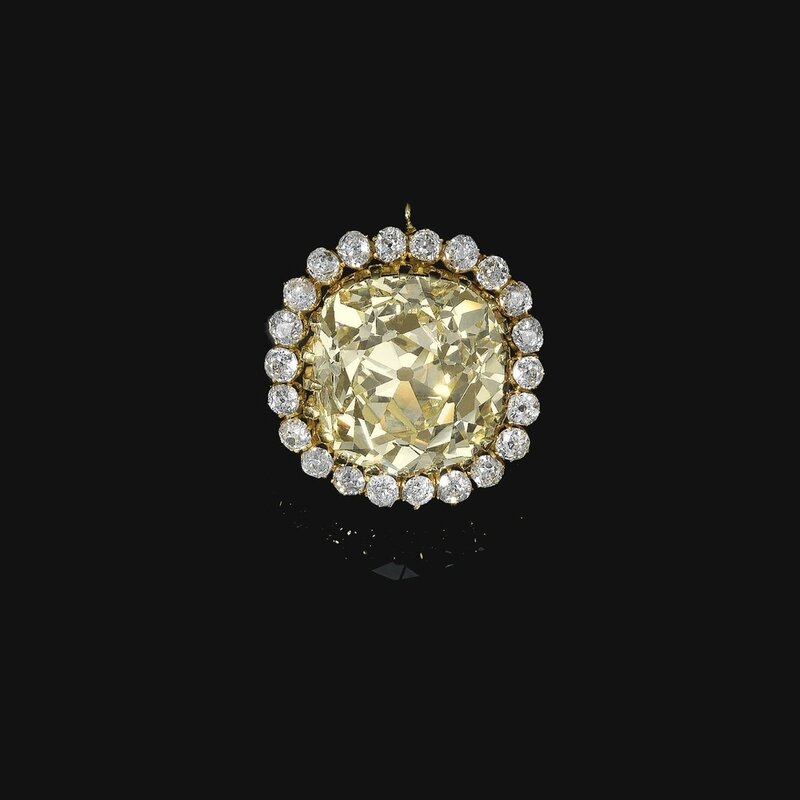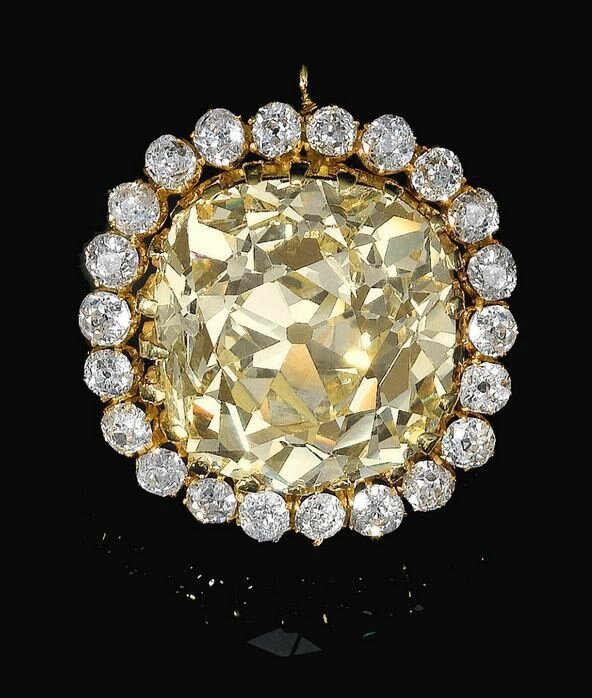 Lot 585. Formely in the private collection of his Late Imperial Majesty Sultan Ahmed Shah Qajar (B.1898-1930). A 74.53 carats Fancy yellow diamond and diamond jewel, late 19th century. Estimate: 1,310,000 – 1,680,000 CHF. Lot sold 2,853,000 CHF. Photo Sotheby's 2013.
The cushion shaped fancy yellow diamond weighing 74.53 carats, set within a border of similarly shaped diamonds.
Provenance: Sold by Sotheby's on the 13 of May 1983, the diamond was auctioned on behalf of the grandchildren of His Late Imperial Majesty Sultan Ahmed Shah Qajar. Part of his private collection, the diamond was handed down to his heirs through his will.
Note: Historical diamonds, steeped in a rich and varied history, are a rarity in today's market. This diamond formed part of the private collection of his Late Imperial Majesty Sultan Ahmed Shah Qajar, the seventh and last King of the Qajar dynasty of Persia (r. 1909-1925). Willed to his grandchildren and sold by them at Sotheby's in May of 1983, the jewel is a rare vestige of the Persian dynasty's great passion for gemstones.
There are many photographs of Ahmed Shah wearing the fancy yellow diamond affixed to an aigrette. Such jewels were immensely popular amongst the men of the Imperial family and would most certainly have been handed down to Ahmed Shah by his predecessors. His great grandfather, Nasser al-Din Shah Qajar (b.1831-1896), the first modern Persian monarch to visit Europe and something of a Renaissance man, was a great lover of diamonds and gemstones. Fascinated by Western culture, Nasser al-Din Shah showed a great interest in painting, photography, writing and poetry. He also demonstrated a great love for jewels and gemstones which manifested itself in the commission of several important works now in the National Treasury of the Jewels of Iran. A 'Globe of Jewels', a globe constructed from thirty-four kilograms of gold and 3'656 grams of gemstones is but one of these wonders. The oceans and seas laid out in emeralds, the lands and geographical lines in diamonds and rubies, the globe is said to have been constructed in order to not lose track of the thousands of loose stones in the treasury. So impressive is this collection of jewels that today, the national treasury uses the crown jewels as a reserve for their currency.
His late Imperial Majesty Sultan Ahmed Shah Qajar (b. 1898-1930), wearing the jewel affixed to his aigrette.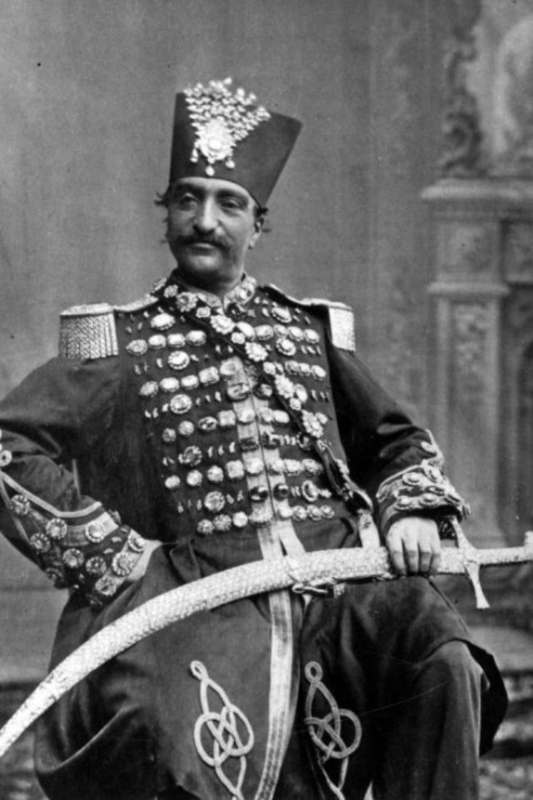 Portrait of Nasser al-Din Shah Qajar (b. 1831-1896)
Portrait of young Ahmad Shah Qajar, photograph from the Sahebqaraniyeh.
Young Ahmad Shah, the last Qajar king, at Majlis, parliament. He ascended the throne at the age of 11.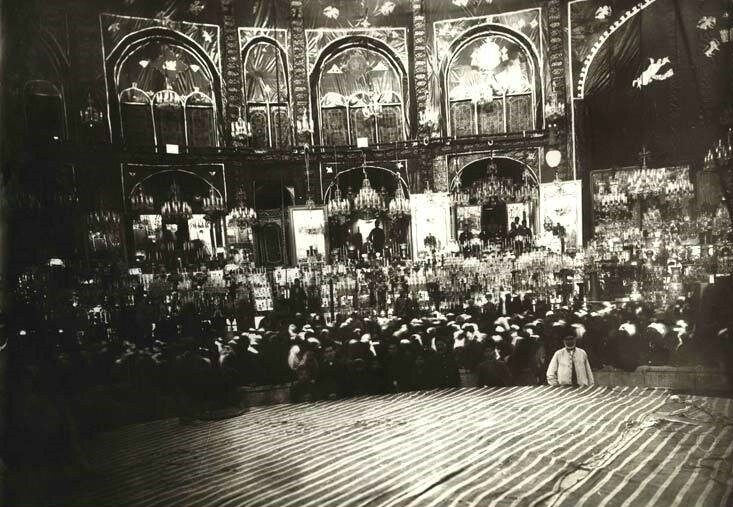 Parliament rooms, under the Qajar dynasty.
Sotheby's. Magnificent Jewels and Noble Jewels. Genève, 14 mai 2013