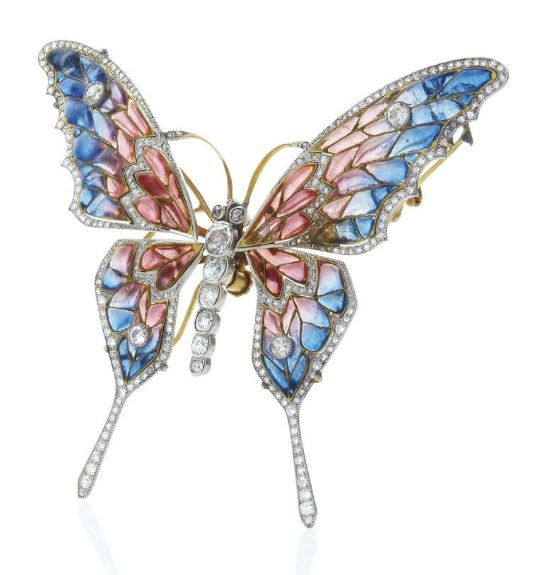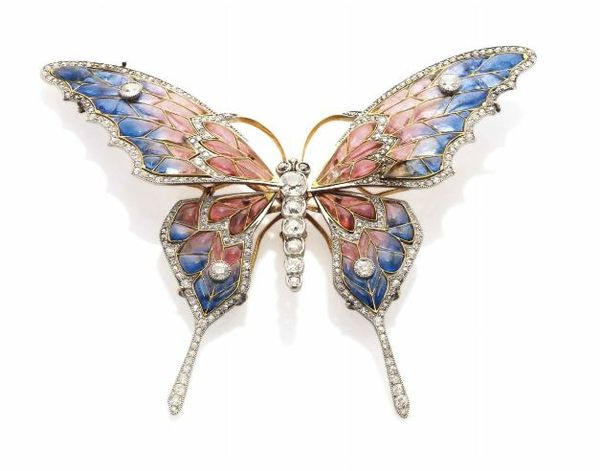 Broche Belle Époque émail et diamants, par Boucheron. Photo Christie's Image Ltd 2013
Figurant un papillon, le corps serti de diamants taille ancienne, les ailes en émail polychrome (éclats) rehaussées de diamants taillés en roses et d'un diamant taille ancienne, monture en or et platine (accidents),poids brut: 30.60 gr., dans son écrin, 1907. Accompagnée d'une lettre de la maison Boucheron. Estimate €10,000 – €15,000
Ce délicat papillon retrouvé dans les archives de la maison Boucheron a été réalisé en 1907.
Reprenant un des motifs de prédilection de l'Art Nouveau, le papillon est traité ici de manière naturaliste. Le dessin ainsi que l'attention portée aux couleurs et au mouvement nous rappelle que nous sommes plus proche du style Belle Epoque que de la stylisation symboliste de l'Art Nouveau.
En effet, l'émail posé en plique-à-jour met en valeur l'iridescence et le miroitement des ailes qui sont montées en trembleuses afin de suggérer le mouvement. La ligne de diamants en serti-grain vient rehausser la délicatesse des coloris.
La maîtrise de la pose des émaux est un des enjeux artistiques et techniques de la joaillerie de la fin du XIXème siècle. Cette spécialité exigeante révèle des artisans-joailliers de génie, comme Eugène Feuillâtre, Etienne Tourette ou André Thesmar pour ne citer qu'eux.
Armand Riffault, un des émailleurs favoris de Frédéric Boucheron, dépose son brevet "Perfectionnement dans l'application de l'émail transparent ou opaque avec les métaux" en 1867; celui-ci est amélioré puis racheté par Boucheron en 1878.
Si les émaux présents sur cette broche évoquent un travail d'une très grande qualité et minutie, on ne reconnaît pas néanmoins le travail de Riffault qui utilisait plutôt des couleurs primaires, denses, traitées avec un effet vitrail. Les couleurs sont ici plus poudrées dans un camaïeu de bleu-rose avec un fort effet d'iridescence. Il s'agit probablement d'un autre maître-émailleur virtuose ayant travaillé pour la maison Boucheron au début du XXème siècle.
This delicate butterfly found in the archives of the Maison Boucheron was created in 1907.
Echoing one of the favourite motifs of Art Nouveau, the butterfly is here interpreted in a very true-to-life style. The design, the attention to colour and dimension of movement remind us that we are closer to the style of the Belle Epoque than the Symbolist stylisation of Art Nouveau. The plique-à-jour enamel enhances the iridescent, shimmering wings, mounted en trembleuse to suggest movement. The line of grain-set diamonds further sets off the delicate colours.
Mastering enamel setting was one of the artistic and technical challenges of jewellery-making in the late nineteenth century. This demanding specialty revealed the true geniuses among jewellery craftsmen, such as Eugene Feuillâtre, Etienne Tourette, and André Thesmar, to name only a few.
Armand Riffault, one of Frédéric Boucheron's favourite enamellers, filed his patent for "Perfecting the application of transparent or opaque enamel with metals" in 1867, which was improved, then bought, by Boucheron in 1878.
While the enamel on this brooch demonstrates meticulous, top-quality work and attention to detail, we nevertheless do not perceive the hand of Riffault here, who preferred to use rather dense, primary colours applied in such a manner as to create a stained-glass effect. The colours here are in more pastel tones, shades of blue and pink with a striking iridescent effect. This is probably the work of another highly skilled master enameller who worked for the Maison Boucheron in the early twentieth century.
A BELLE EPOQUE ENAMEL, DIAMOND, GOLD AND PLATINUM BROOCH, BY BOUCHERON
Christie's. PARIS BIJOUX. 29 May 2013. Paris