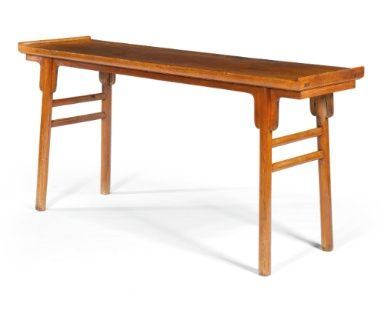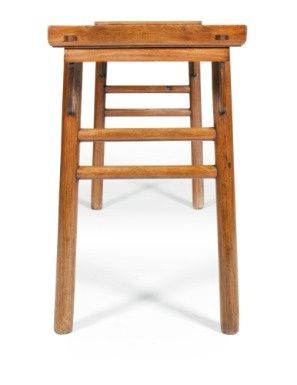 A rare huanghuali raised end table, qiaotouan, early 18th century - Sothebys
the long rectangular single-panel top set within a narrow frame with everted flanges at the ends, all above plain aprons joined to spandrels flanking the tops of the thick, rounded legs joined by pairs of stretchers; 175.1 by 83 by 50.5cm., 69 by 32 3/4 by 19 7/8 in. Estimation: 150,000 - 250,000 GBP
PROVENANCE: A Belgian Private Collection.
NOTE: Large tables of this design with a raised flange at the ends of the top are generally called qiaotou'an or 'raised end tables'. According to Craig Clunas in Chinese Furniture, London, 1988, p.51, such tables were employed in the domestic cult of ancestors, supporting flower vases, burners for incense and offerings for food and drink. They were also used in a secular context, set against walls as surfaces on which to display antiques or art objects. Fine tables of this type were made of the highest quality wood with a fine grain as craftsmen strove for the pure beauty of the grain and structural form. A 1616 edition of a woodblock illustration from the novel Jin ping mei (The Golden Lotus) shows a qiaotou'an of this type placed against a screen and used for displaying a single flower vase and other artefacts. The woodblock illustration is included ibid., p. 51.
Two related huanghuali tables, in the Victoria and Albert Museum, London, are published ibid., pls. 38-42; another, from the collection of Wang Shixiang and depicted with an unrolled handscroll, is included in Wang Shixiang, Classic Chinese Furniture – Ming and Early Qing Dynasties, London, 1986, pl. 8, where the author notes that tables of this type are ideal for studying a long handscroll. Compare also a table published in The Complete Collection of Treasures of the Palace Museum. Furniture of the Ming and Qing Dynasties (I), Hong Kong, 2002, pl. 122; another sold at Christie's New York, 22nd September 1987, lot 437; and a further example made in huanghuali and nanmu woods sold at Christie's New York, 19th September 2007, lot 144.
Compare also a large huanghuali table but with a straight top but similar recessed legs as seen on the present example, known as 'recessed leg painting table' or pingtou'an, sold in our New York rooms, 19/20th March 2013, lot 466; another of similar size, sold in our Hong Kong rooms, 5th October 2011, lot 2107; and a third example with a floating-panel top also sold in our New york rooms, 19th March 1997, lot 383, and again, 23rd March 2011, lot 671.
Sotheby's. Fine Chinese Ceramics and Works of Art. London | 15 mai 2013 www.sothebys.com