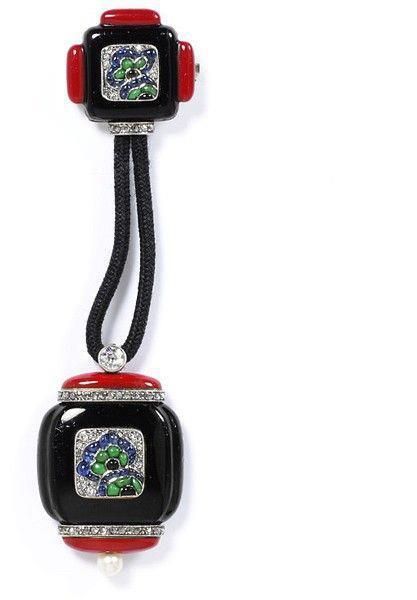 Jewelled watch hanging on a braided silk cord from a matching brooch, Lacloche Frères, Paris, 1920s. Given by the American Friends of the V&A through the generosity of Patricia V. Goldstein. M.170-2007. Victoria & Albert Museum © V&A Images.
The bold juxtapositioning of the red and the black in this watch shows the influence of Oriental lacquer on jewellery during the 1920s and '30s. The floating stylized flowers may also be inspired by Oriental art - in particular textile designs.

Lacloche Frères were amongst the profusion of jewellers on the rue de la Paix in Paris. Founded in Madrid in 1875 they also had branches in Saint-Sébastien, Biarritz, and from 1920 in London. One of their best-known pieces was the tiara made in 1930 for the Duchess of Westminster.