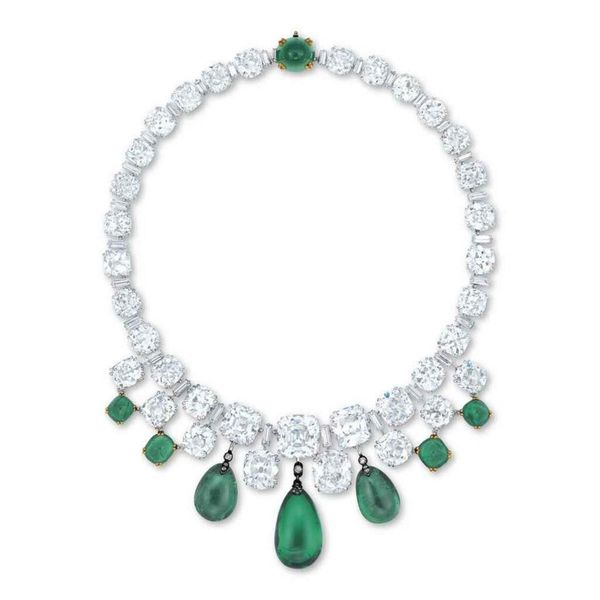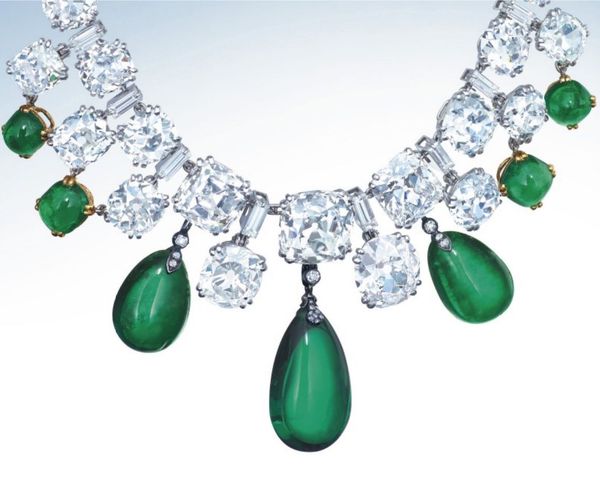 An Exceptional Emerald and Diamond Necklace. Photo Christie's Image Ltd 2013
Designed as a line of graduated old European and cushion-shaped diamonds alternating with baguette-cut diamonds, the front suspending a fringe of emerald drops, flanked by cabochon emeralds, accented by a sugarloaf emerald clasp, mounted in platinum and 18k yellow gold, 39.5 cm long, with French assay marks for platinum and gold, in grey suede Boucheron case. Estimate HK$24,000,000 – HK$40,000,000

Mounted by Boucheron
Accompanied by report no. 66682 dated 11 February 2013 from the SSEF Swiss Gemmological Institute stating that the emeralds weighing approximately 105.00 carats total is of Colombia origin, with no indications of clarity modification and minor to moderate amount of oil in fissures; also accompanied by an appendix stating that the natural emerald necklace possesses characteristics which merits special mention and appreciation. The emeralds of highly impressive size show a well saturated green colour, well matching with each other. The most outstanding of these emeralds is the centre stone, as it shows excellent purity, very rarely seen in emeralds. Microscopic examination revealed inclusions, which represent the hallmarks of Colombian emeralds from the famous mining areas as Muzo, Coscuez, and Chivor, all located in the green foothills of the Cordillera Oriental in the Colombian Andes. Its saturated green colour is due to a combination of well-balanced trace elements in the stone, typical and characteristic for the finest emeralds of Colombia. Fissures in emeralds are commonly filled with a colourless substance to enhance their clarity. The fact that the largest emerald shows no indications of clarity modification is adding to its exceptional quality. Assembling a set of natural emeralds from Colombia of this size and quality is very rare. In combination with the design using large diamonds, this necklace certainly can be considered a very exceptional treasure.

Christie's. HONG KONG MAGNIFICENT JEWELS. 28 May 2013. Convention Hall