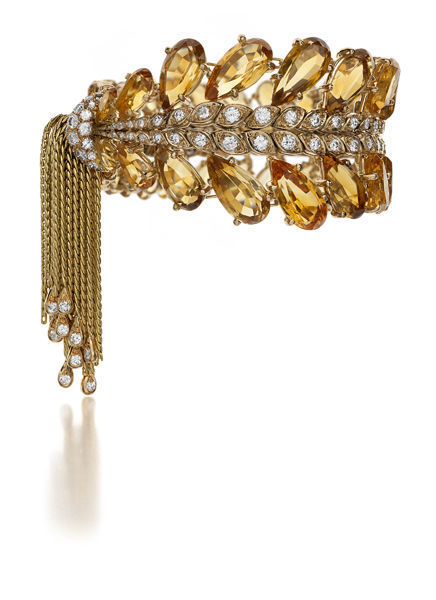 A Citrine and Diamond Suite by Sterle, Paris, Circa 1950. Photo courtesy Siegelson
A demi-parure comprising a necklace and bracelet, the graduated necklace designed as a wreath of leaves set with pear-shaped citrines, the spines set with single-cut and round diamonds, the bracelet of similar design enhanced by a gold link tassel accented by round diamonds at the terminals; mounted in 18-karat yellow gold, with French assay marks. Round diamonds, total weighing approximately 11 carats. Necklace numbered 2444; bracelet signed Sterlé Paris and numbered 2445. Measurements: necklace 15 inches; bracelet circumference 6 1/4 inches

Literature: cf. Jutheau, Viviane. Sterlé Joaillier. Paris: Editions Vecteurs, 1990.

Notes: "The 1950s brought on an age of extravagant opulence in design and fashion. After many desolate years during World War II, the world was ready for luxury again. Christian Dior, the leading Parisian couturier of the time, introduced a new female silhouette that was curvy and flowing, tailoring the clothes to the body. Many designers were quick to follow in this style and so too did jewelry design. The jewels of the 1950s had a sense of movement and lightness to them and incorporated naturalistic themes. Precious and semi-precious stones were set in gold that was worked like fabric by pleating, twisting, and weaving it into cloth-like patterns. The fashion of parures, matching sets of three or more items, came back into vogue, which then inspired the creation of the demi-parures, sets of two items. Having earned himself a reputation of being a master jeweler during this time, Sterlé created jewels that perfectly accented the new female form and incorporated his innovative design elements.

"For this demi-parure, Sterlé found inspiration from nature and made a necklace and bracelet that epitomizes the 1950s style. The necklace is of graduated wreath design divided into four sections of curved leaves set with pear-shaped citrines of various hues all with diamond centers. The matching bracelet is further enhanced by fil d'ange, gold fringe, dripping with diamonds that move gracefully when worn. The beauty of these pieces is seen in the representation of nature as Sterlé imagined it. Both the necklace and bracelet come to life and express the dynamic movement of nature with the twisting and bending of the leaves like they have fallen to rest in this arrangement.

"In the mid twentieth century, Pierre Sterlé's creations were equal to those of Van Cleef & Arpels and Cartier. Continuously challenging conventional jewelry techniques, Sterlé was able to create bold and innovative designs implementing his unique manipulation to metal. This necklace and bracelet demi-parure surpasses the ordinary and reflects the quality and originality of a unique designer."
Photos, description and significance essay of the featured demi-parure are all courtesy of Siegelson