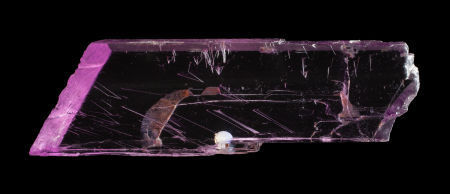 SPONDUMENE var. KUNZITE with IMPORTANT HISTORIC PROVENANCE. Photo Heritage Auctions.
The jewelry firm of Tiffany and Company needs no introduction. It has provided jewels to the aristocracy, stained glass and art glass to collectors, medals to the military, and enough other items to make the turquoise blue "Tiffany" box instantly recognizable by millions of people worldwide. During the 160 years that Tiffany & Co. has existed, Tiffany employees sourced many of the exotic jewels incorporated in the their jewelry. That select group of experts included two gentlemen intimately connected by the Kunzite specimen of this lot. The most famous of the pair was George F. Kunz: self-taught mineralogist, collector, author, research curator, special agent for the U.S. Geological Survey, Vice President of Tiffany, and other achievements too numerous to mention. The pink gem variety of Spodumene was named for him, and it is this specimen of Kunzite, presented by Kunz to his Tiffany co-worker, George Wild, that is up for auction in this lot.
According to accompanying documentation, the Kunzite of this lot was mined about 1905 at the Pala Chief Mine in San Diego County, California. It was presented to Mr. Wild during the period 1909-14 while both of these gentlemen were working for Tiffany. It was later sold to author and collector Dr. Peter Bancroft of Fallbrook, California, probably around the 1975 date of a letter about the specimen, signed by George Wild. Included in this lot is a 35 mm slide and print of the same, taken by Dr. Bancroft that shows Mr. Wild holding the specimen. The Kunzite crystal matches, both in size and appearance, the one Mr. Wild is shown holding in that photo.
Physically, the crystal is 10.88 inches (27.5 cm) in length and 3.31 inches (8.46 cm) in width. Maximal thickness is 1.80 cm (just under ¾ inch). The overall shape is that of a flat blade with a diagonal termination with a combination of beveled and straight sides. All surfaces with the exception of the 'bottom', show surface growth features indicating that they are crystal faces and not cleavages. There are a number of 'tube' type inclusions, originating within the crystal, and terminating in triangular 'etch pits' on the front and back faces. The Kunzite is so transparent it could be described as "water clear." It shows the typical variation of color, depending on orientation, with the most saturated color visible when viewing down the 'C' axis of the crystal. Two areas on one of the faces show iron staining within incipient cleavages. These match those seen in the Bancroft photos: another key authentication point. As noted before, all but the basal surfaces are original and therefore condition is at the very least: excellent if not pristine. Comes with a custom acrylic base and a lot of documents and photos addressing provenance. Offered at no reserve. Estimate: $80,000 - $100,000.
Provenance: Ex. Dr. Peter Bancroft Collection, ex. George Wild Collection, ex. George F. Kunz Collection.
Heritage Auctions. 2013 June 2 Nature & Science Signature Auction - Dallas