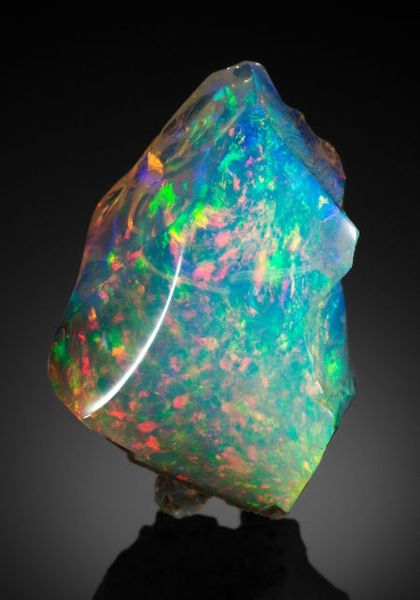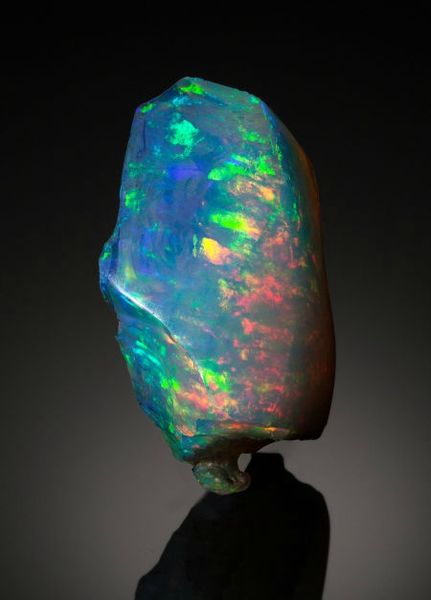 PRECIOUS OPAL with IMPORTANT HISTORIC PROVENANCE. Virgin Valley, Humboldt County, Nevada, USA. Photo Heritage Auctions.
Washington A. Roebling: chief engineer of the Brooklyn Bridge, soldier of the Union Army, devoted family man, and most important to this discussion: prolific collector of over 16,000 mineral, gem and meteorite specimens. His bridge building career included being involved with the Cincinnati-Covington Bridge, The Ojuela Mine Bridge, and the aforementioned Brooklyn Bridge. He was responsible for many technical improvements to the bridge construction industry, some of which are still in use. Roebling had a long time love of Opals from Virgin Valley. He is remembered for the famed "Roebling Opal" - a 2,585 carats Black Opal from Virgin Valley, donated to the Smithsonian in 1917. His death in 1926 resulted in the donation of his considerable mineral collection to the Smithsonian Institution by his son John A. Roebling II. In addition to the actual collection, the National Museum was endowed with a $150,000 bequest to enable additional purchases of minerals in his father's name.
This important mineral specimen is a Virgin Valley Precious Opal from the Smithsonian's Washington A. Roebling Mineral collection.This Precious Opal specimen held a special place in Roebling's vast collection according to the Smithsonian records. When his collection went to the National Museum, it was one of the very first specimens donated: as a symbol of his collection, seven specimens were brought to the museum, and this was one of the seven. The rest of the collection was later packed up in 350 shipping boxes and brought over.
This Precious Opal has stunningly lovely "fire" with an astonishing play of colors. Virtually transparent, this specimen shows flashes of fire in all of the colors of the rainbow: reds, purples, greens, blues, and golds. The type and color of the fire alters as one rotates the piece, changing from a dense pattern of predominantly red-green fire to an elongate type of 'flash' in colors of red, gold, green, blue and purple. The specimen has been kept in water, since Virgin Valley material has an unpredictable tendency to check if allowed to dry out. That we know of, no one has attempted to find out whether this is one of the ones that will tolerate drying. This flashing tribute to engineering skill and public philanthropy weighs 550 carats, is in pristine condition, and comes with the National Museum's Roebling label # R101.
The specimen measures 3.06 x 2.06 x 1.19 inches (7.78 x 5.28 x 3.01 cm). It is in a sealed glass jar that is 4.75 inches high. Offered at no reserve. Estimate: $80,000 - $100,000.
Provenance: Ex. U.S. National Museum, Washington A. Roebling Collection #R101
Heritage Auctions. 2013 June 2 Nature & Science Signature Auction - Dallas