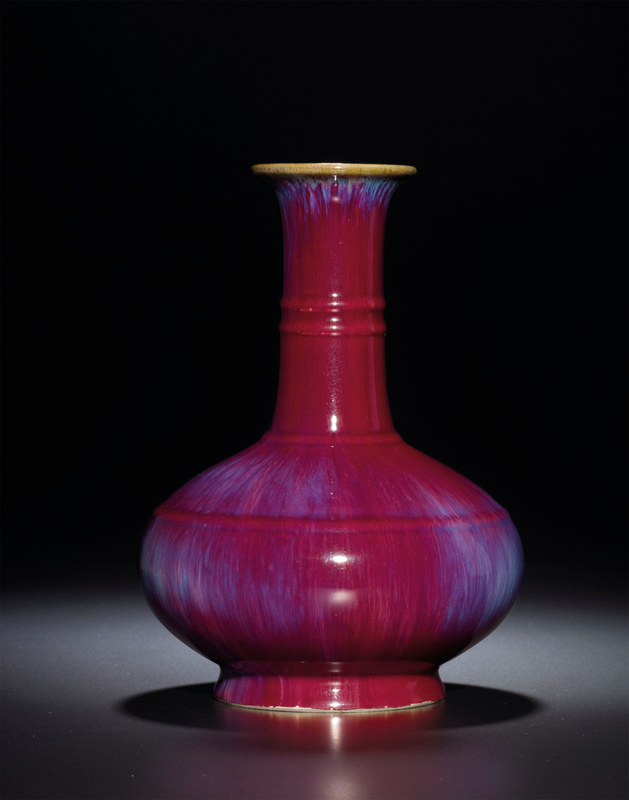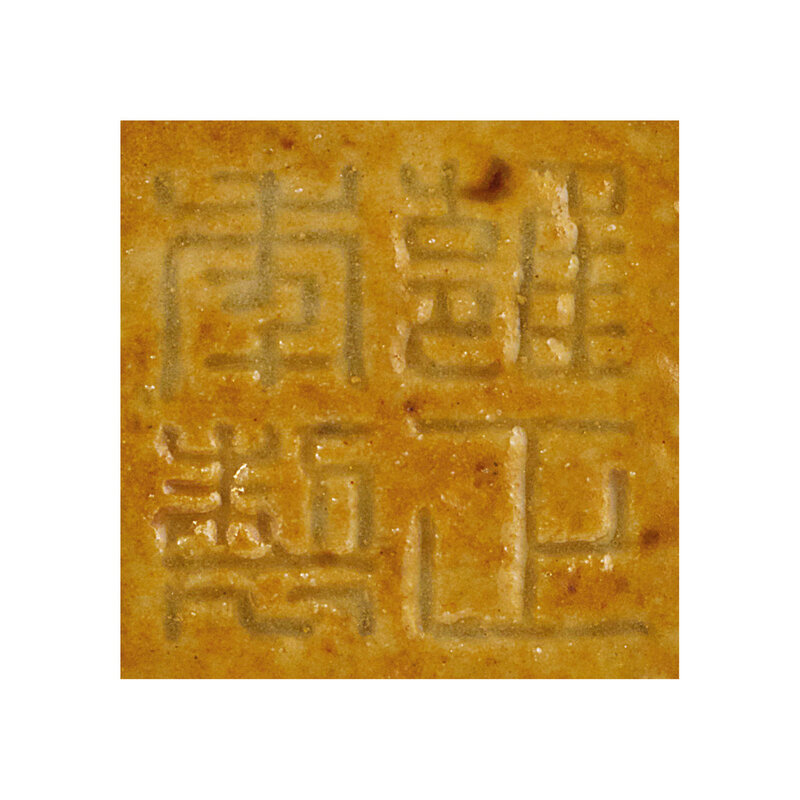 Lot 1901. A Superb Flambé-Glazed Compressed Bottle Vase, Yongzheng impressed four-character seal mark and of the period (1723-1735); 10 1/8 in. (25.7 cm.) high. Estimate HKD 1,800,000 – HKD 2,500,000. Price Realized HKD 10,230,000. © Christies Image Ltd 2013
The vase is finely potted with moulded horizontal bowstrings around the compressed globular body and columnar neck rising to a flared mouth rim. It is covered overall in a brilliant glaze of reddish-purple tone mottled with milky pale blue and lavender, draining to mushroom at the rim and milky blue suffused with lavender hues on the interior. The ring foot is unglazed exposing the biscuit body, and the base is covered with a caramel-brown wash.
Note: The present vase with its superb quality and attractive glaze colour is an exceptional example of monochrome ceramics that were produced during the Yongzheng reign. In this instance the glaze is emulating earlier Jun wares of the Song dynasty.

As early as the third (1725) and sixth year (1728) of the Yongzheng reign, the Emperor requested for the Junvessels in the Palace to be identified and requests were made for this type of glaze to be reproduced at the Imperial kilns in Jingdezhen. In the seventh year of the Yongzheng reign (1729), Tang Ying, the renowed Superintendent of the Imperial kilns, sent Wu Yaopu to Junzhou in Henan to investigate the glaze recipe of early Jun ware. Wu's mission appeared to be successful as Palace records indicated that after 1730 the Emperor frequently ordered the firing of Jun-type vessels (refer to Harmony and Integrity: The Yongzheng Emperor and His Times, Taipei, 2009, pp. 227-228).

A similar Yongzheng-marked compressed globular vase with moulded bowstrings in the Qing Court Collection, is illustrated in Monochrome Porcelain, The Complete Collection of Treasures of the Palace Museum, Hong Kong, 1999, no. 179. Another vase, covered in a similar glaze and impressed with a four-character Yongzheng seal mark, but with an ovoid body, from the Robert Chang and Zhuyuetang Collections, is illustrated in Shimmering Colours: Monochromes of the Yuan to Qing Periods, Hong Kong, 2005, pl. 176. Compare also to a Qianlong-marked flambé-glazed vase of similar shape and design, sold at Christie's Hong Kong, 1 December 2009, lot 1903.
Teacher and Mentor - Mr Yu Chieh Chen
Jonathan Stone - Chairman, Asian Art
If anyone was to ask his close friends 'who was YC Chen?' they would probably reply that Mr Chen was a modest, conservative and private man of the Chinese 'old school', stoic and mild-mannered. To the modern world, this quiet-spoken and extremely courteous man with an ever-ready smile may even have appeared slightly baffling. Behind this reserve, however, lay immense generosity, kindness and thoughtfulness. For a few privileged individuals, Mr Chen was unstinting in sharing his vast experience and extensive knowledge of Chinese ceramics. He was meticulous in how he approached and looked at ceramics and quietly studied pieces with extraordinary concentration. Often when we were privileged to have Mr Chen in Christie's offices, he would examine a single ceramic for an entire day. It was the combination of all these qualities that earned him the tremendous respect and admiration accorded him by everyone at Christie's and especially of course by our Chinese Works of Art department.

One of the last of the iconic connoisseurs of Chinese Art of our times, Mr YC Chen's experience stretched over seventy years. He witnessed remarkable changes in the world of Chinese works of art and the transformation of collecting from pre-war Republic period China to now, when a new generation of collectors has emerged and there has been a renewed recognition of Chinese Art on the international stage. Born in Yangzhou in 1922, Chen Yu Chieh was an eldest son. He became an apprentice at the age of fifteen to a well-established dealer, Zhu Heding, and it was in the world of Chinese antiques that Mr Chen found his life-long passion. His master was popularly known as Zhu Lao'er and traded under the gallery name of Jingu Zhai, 'The Studio of Flourishing Antiques'. Master Zhu was also a native of Yangzhou since it was the traditional practice of the time to select apprentices from the master's native town. The young YC Chen was given all the gallery's menial duties to perform, including sweeping the floor and cleaning his master's opium pipes. Master Zhu, who very rarely appeared out of his bed before noon, allegedly had a fierce temper and when the young YC broke a vase, it took him a week to find the courage to tell the Master. This incident remained embedded in Mr Chen's memory and he loved to recount the story to his inner circle of friends years later. Another of Master Zhu's pupils was Qiu Yanzhi, better known as Edward T. Chow. At the time of Mr Chen's apprenticeship, Chow had already established himself as an independent dealer some three years earlier. Even though the two pupils never over-lapped during their apprenticeships, they later formed a close friendship in Hong Kong.

YC Chen came to Hong Kong frequently on business trips after the War and finally settled in Hong Kong during the early 1950s. At the time, Hong Kong was a tough city and work was scarce. Mr Chen became great friends, however, with major Hong Kong based collectors such as J. M. Hu, T.Y. Chao and Ko See Kiu, who later established the Tianminlou Foundation. Mr Chen set up a gallery on the Hankou Road, which finally closed in the late 1980s. Even after the gallery closed, Mr Chen continued to buy privately and also sold privately to a number of clients in America and Singapore.

Mr Chen treasured his Chinese ceramics and works of art collection. Among the collection it is interesting to see that, true to tradition, he tried to form a collection of Kangxi month cups. Many of the pieces are clean and representative of their period such the three Qing dynasty blue and white pear-shaped vases, the pair of Qianlong famille rose bottle vases and the Yongzheng flamba©-glazed bottle vase. What surprised most of his friends about the collection are the stunning sets of zitan furniture. All of these were kept in his apartment and he had each one of a pair dismantled and the parts were disbursed throughout different rooms. When all these pairs of tables and stools were put together, we were amazed by their quality and condition, particularly the pair of zitan altar tables, which remained largely untouched probably for more than forty years.

Christie's is honoured to offer this selection from the YC Chen collections in memory of a beloved friend and mentor.
A Personal Tribute
Anthony Lin - Christie's Asian Advisory Board
Y.C. Chen, or Chen Laoshi (teacher) as he was known to us young upstarts, was the last of a generation of fully fledged dealers from Shanghai who came to Hong Kong after 1949. Having survived their exhaustive training as apprentices to famed dealers of the inter-war period, they arrived with little expectations to ply their trade in the then economically impoverished Hong Kong. Business was precarious at best for dealers who had little capital or inventory for a new start-up. The cataclysmic changes this generation witnessed growing up in a China beset with warlord rivalries, economic uncertainty and a social sea change after two millennia of Imperial rule hardened them to volatility. Their steely survival skills and instincts would stand them in good stead in Hong Kong, where Cantonese and English were the lingue franche instead of Shanghainese and Mandarin.

With the fall of the Qing Dynasty in 1911, treasures of unprecedented importance were readily available on the market. Legendary dealers like Yamanaka and C.T. Loo provided Chinese art to the West until the outbreak of World War II. Within China, the art trade flourished in Shanghai above all, where wealth and influence found their natural domicile. Here, from the 1920s, the art trade burgeoned, protected by the international community against the threat of Japanese ambitions looming in northern China. With little guarantee of security within Greater China, Shanghai quickly became the financial and cultural hub, a Chinese Art Deco and Jazz period haven of plenty and excess. The backdrop was a community of political movers and kingmakers, rich foreign traders and Chinese financiers, intellectuals, artists, White Russians, gangsters and an underbelly of dispossessed peoples from the provinces seeking to make their fortunes in a country where dysfunction ruled everywhere else. This was lao (old) Shanghai in the collective memory of its refugee communities around the world after 1949.

Chen Yu-Chieh was born in Yangzhou in 1922 and came to Shanghai in his teens to apprentice at Jingu Zhai, under the tutelage of Zhu Chiding, otherwise known by his nickname Zhu Lao'er who was famed for his holdings of Longquan celadons of the Song period. Business was conducted in utmost secrecy and cloak-and-dagger operations were routine in both acquisitions and sales. Apprentices had to demonstrate quick learning abilities, absolute discretion and above all, stoicism in the face of constant censure from their demanding master-teachers to gain a foothold into the inner sanctum. Beginning with the most menial tasks, many years would pass before they came into contact with important works of art. It was also a process of osmosis, of years of listening to half-whispered conversations and discussions, before the complex nomenclature and nature of ceramics, bronzes or paintings began to make sense. The pieces gradually fell into place only when they were finally allowed to handle the precious merchandise.

Over this period of time, Chen Laoshi came into contact with luminaries of the banking world such as Hu Bijiang (the father of J.M. Hu) and Huang Yizhu, an overseas Chinese from Indonesia who founded the China and South Sea Bank, with M.C Wang, Shen Changming, Dr. Ting Huikang and Ting Xuenong, all eminent collectors of the period. By the time he was in his early twenties, he was able to hold his own in banter with this formidable band of seasoned collectors as he gained a grasp of the essentials of his trade. Several long visits were undertaken in his youth to Jingdezhen where he spent weeks at a time to observe and question the kiln masters and craftsmen about the minutiae of clay preparation, potting, painting, glazing, and firing. In this fashion, he acquired an encyclopaedic knowledge of ceramic production that had remained largely unchanged for centuries. Knowledge was vital at a time where unlike today, opportunities to study a large variety of genuine works of art were very scarce, museum publications desultory and only available in the West, and mistakes could be ruinous.

For Chen Laoshi, the acquisition of connoisseurship was a genuine pursuit of love over and above financial consideration. Appraisals and long debates were conducted at leisure, never at will. He could not be hurried into conclusion or pronouncement. It would often take a period of several days, a week even, for him to come to a definitive conclusion. He would arrive and set out his tools of trade, his loops, magnifiers and pen lights, clean them with optical wipes with great care, then set to work. The piece would be carefully scrutinised, firstly in overall examination with touch and the naked eye, then in detail with loops and light. This would take an hour or more at a time. There would be several follow up visits where this routine would be repeated. At home, he would delve into his books and archives to get a clearer picture of similarly decorated porcelains of the period, particularly when dealing with examples that had never been published or seen before. There was a scientific and intellectual procedure in his method that was meticulous and perfectionist.

Whether the ceramic was Song Guanyao, early Ming blue and white or Yongzheng falangcai, his strategy to establish its authenticity was always painstaking. This was equally true even where other seasoned professionals had all concluded that a piece was a later copy. He never condemned anything outright before giving it the benefit of his doubt and his full treatment. One learnt as much from the best fakes as from the genuine article he would say. He often likened what he did to a medical doctor, of going through a programme of careful examination before diagnosis. In the pressurized world of the art business, this was both an unbridled luxury and a salutary example to all experts in the field.

Over the twenty five years of our friendship, Chen Laoshi never wavered in his habits or his standards. Punctiliously polite in his old world manner, he would never hang up on a telephone conversation before you did. After a dinner or a meeting, he would stand and wait for you to disappear out of sight, or into a taxi and never turned his back on you, all the while waving goodbye vigorously. Spartan in his own lifestyle, he was always more than happy to take his young friends to lunch or dinner where tales of the art world and, invariably, discussions of ceramics would run on for hours after the feast. Extremely private by nature, he was prodigiously generous in sharing his knowledge when he fell in with like-minded people.

Those of us fortunate enough to become his friends and pupils will cherish the memory of his Confucian modesty, his love of learning, and above all, his joy when confronted with unblemished perfection. His tenets of Zhen, Jing, Xin (authenticity, pristine beauty and pristine condition) came together rarely, but it was a privilege for those of us, coming several generations later into the field, to learn from his love of his vocation, and to catch a glimpse of a prideful and leisurely era that vanished with him in an instant.
Christie's. IN PURSUIT OF REFINEMENT - A LEGACY OF THE YC CHEN COLLECTION. Hong Kong, 29 May 2013.