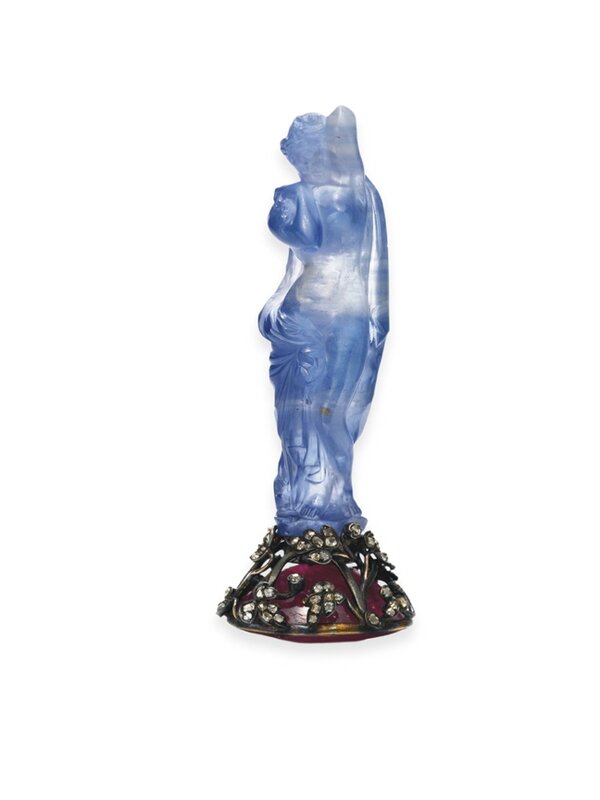 Lot 1205. An Antique Sapphire, Spinel And Diamond "Blue Venus" Sculpture, circa mid-19th century. Estimate USD 300,000 - USD 500,000. Price Realised USD 554,500. Photo Christie's Image Ltd 2009

Designed as a sculpted light blue sapphire depicting Venus, carved from a single light blue 11-cm-long sapphire, enhanced by a rose-cut diamond openwork foliate base, encasing a carved oval red spinel seal, depicting the profile of a Strozzi Medusa head, circa mid 19th century, 4¼ ins., in a black leather fitted case.
Provenance: Prince Youssoupov
Notes: Prince Felix Youssoupov was the son of the fabulously wealthy Princess Zenaide Youssoupova and was infamous for his role in the assassination of Grigori Rasputin. The Youssoupovs at the time of Felix's birth in 1887 had accumulated a fortune that was beyond comprehension, possessing such vast amounts of property that even they themselves were unsure of their own worth. Among the Youssoupov's string of residences were a sumptuous palace on the banks of the Moika in St. Petersburg and an Empire-style chateau at Arkhangelskoe on the outskirts of Moscow, both of which served as settings for the immense and spectacular family collections of paintings and objets d'art, as well as store houses for a fortune in jewels. Princess Zenaide's own personal collection was considered second only to those in the imperial vaults, owning a number of historically significant and priceless jewels, such as the Polar Star diamond, the famous La Regente Pearl and the extraordinary La Pelegrina Pearl. During the unrest of 1917, many of these jewels and objets d'artwere hidden by Felix in both the Moika Palace and the Moscow house, only to be later discovered by the Bolsheviks. An impressive number, however, were actually taken out of the country by Felix when he fled to Paris and were eventually sold to various jewelers in order to sustain his new life in exile. Though the pieces represented a miniscule portion of the immense Youssoupov fortune, they would have been regarded, by any standard, as a trove of riches. Among these objects was a 4-inch-tall sapphire statuette of the goddess Venus perched atop a large spinel intaglio with a depiction of Medusa on its underside. One version of the figurine's history suggests that Catherine the Great gave the piece to her alleged lover, Prince Nikolai Youssoupov (Felix's great-great-grandfather); however, no official documentation exists to confirm how the sculpture-dubbed the Blue Venus-came into the Youssoupov family's collection.
Provenance: Hans Nadelhoffer, Cartier: Jewelers Extraordinary, Harry N. Abrams, New York, 1984, page 287
Prince Felix Youssoupoff, Avant L'Exil, 1887-1919, Paris, page 64
Exhibited: Catalogue de Vente de Brilliants et Autres Pierres, Precieuses, (The Duke of Brunswick Sale), Paris, 1860, page 174
Christie's. Rare Jewels and Objets d'Art: A Superb Collection, 21 October 2009, New York, Rockefeller Plaza