Superb Tyrannosaurus rex Maxilla with Seven Teeth - A Recent Discovery. Tyrannosaurus rex, Cretaceous, Hell Creek Formation, Montana. Sold for $86,500; Est. $70,000-90,000. Photo: Courtesy of T. Lindgren/Bonhams.
LOS ANGELES, CA.- A Tyrannosaurus rex maxilla (upper jaw) from Montana achieved the top-selling spot in Bonhams auction of Natural History, May 22 in Los Angeles. The maxilla, featuring seven teeth - with five mature teeth and two emerging teeth seen, sold well within its $70,000-90,000 estimate, bringing $86,500.
Highlights of the 145-lot sale went on to include a rare and exceptional jurassic crocodile of Poseidon Shale, Holzmaden, Germany, which brought $84,100 and a gigantic Megalodon teeth in jaw reconstruction, (photo courtesy Bonhams, left) whose deep ocean teeth were primarily found at Offshore Cape Fear, Wilmington, North Carolina, which achieved $74,500 - surpassing a $50,000-60,000 estimate. Featuring a superlative collection of original megalodonteeth, this jaw reconstruction contains an accurate three-row-deep dentition including 24 horizontal positions in the upper jaw and 22 horizontal positions in the lower, totaling 138 tooth specimens in all. The majority of the teeth utilized in this reconstruction were found offshore Cape Fear, Wilmington, North Carolina in over 100 feet of water. Not to be confused with the coastal "South Carolina River Teeth" which have made up the majority of jaw reconstructions in the past, these tooth specimens are "Deep Ocean Teeth." As many of the tooth specimens were located in small concentrations on the sea floor, it is possible that many are "associated" specimens belonging to an individual shark.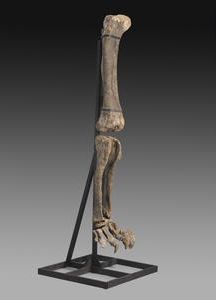 Also notable in the auction was an immense dinosaur specimen from a recently discovered undescribed species, comprising a mounted femur, tibia, fibula and foot, Diplodocus sp., (photo courtesy Bonhams, right), possibly Amphicoelias, from the Morrison Formation, Wyoming, that brought $31,350; and a research quality cast replica of the Tyrannosaurus rex skull of "Duffy," discovered by Stan Sacrison in 1993, from Hell Creek Formation, Harding County, South Dakota, that realized $13,750, past a $7,000-9,000 estimate.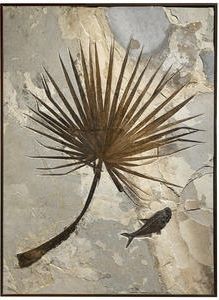 A selection of fossils also sold impressively in the sale. From the Green River Formation, Lincoln County, Wyoming, was a rare Palm Frond mural (photo courtesy Bonhams, left), that sold for $43,750; a Palm Flower Mural, prepared in high relief and seen with three fossil fish specimens, that realized $18,750; and an incomparable Palm Flower Part and Counterpart, in "positive/negative" presentation, that fetched $21,250, topping its $15,000-20,000 estimate. Additional notable fossils on offer included a 100-million-year-old Rhombopterygia Guitar Fish from Hgula, Byblos, Lebanon - thought to be the largest of its species ever discovered - that brought $17,500; and a Jurassic Sea Lily fossil of Holzmaden, Germany, in an attractive vertical presentation on the rich gray-black matrix of the famous locality from which it originated, that sold for $16,250.
Tom Lindgren, Co-Consulting Director of Natural History at Bonhams, commented, "I am pleased with the continued and growing interest that surrounds important fossil specimens."
Ammonites of note in the auction included a 101-million-year-old, exceptionally large, Colossal Texas Ammonite, from Duck Creek Formation, Texas, that brought $32,500 and a 71-million-year-old, Canadian Ammonite in Matrix from Bearpaw Formation, Alberta, Canada, displaying brilliant red and golden coloration, that took in $17,500.
The next auction of Natural History at Bonhams is scheduled to take place November 19.

Exceptional Jurassic Crocodile Steneosaurus bollensis, Poseidon Shale, Holzmaden, German. Sold for US$ 84,100. Photo: Courtesy Bonhams.
Teeming with marine life during the Jurassic Period, 200 to 146 million years ago, in the area now known as Germany, the warm shallow seas supported abundant sea life including apex predators such as ichthyosaurs, plesiosaurs and the primitive crocodile, Steneosaurus bollensis.
The skull of Steneosaurus was very light and narrow compared to modern crocodiles, with large openings and a long, narrow snout. The nostrils were at the tip of the snout and connected to the throat by a long bony tube. Evidencing its carnivorous habit, it possessed countless sharp teeth, which were probably used to eat fish. A successful genus,Steneosaurus, ranging through South America, Europe and North Africa.
A rare find, the present Steneosaurus bollensis specimen was excavated by Bernard Hauff and ultimately given to the Hauff family architect as a payment for services rendered. Preparation of specimens
from this locality is arduous, as the density of the stone from the Poseidon Shale is similar to that of the fossils. Measures 54 x 18in.