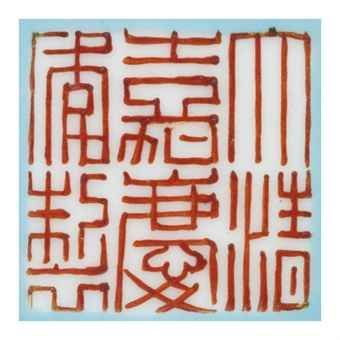 A very rare lime-green-ground famille rose bottle vase, yuhuchunping, Jiaqing iron-red six-character seal mark and of the period (1796-1820). Photo Christie's Image Ltd 2013
The pear-shaped vase is well-enamelled around the bulbous body with four large stylised Indian lotus blooms each enclosing a Ji character, and growing fruits of 'The Three Abundances' - peach, finger citron and pomegranate, below four Shou characters in gilt around the shoulder, amidst a network of scrolling tendrils bearing other minor blooms, all reserved on a lime-green ground and between a band of pendant ruyi heads around the rim and upright lotus petals around the base. The interior and the base are enamelled turquoise. 11 in. (28 cm.) high, Japanese box. Estimate $336,541 - $453,037

Provenance: Formerly in the Collection of Asano Souichiro (1848-1930), and illustrated in the catalogue of the collection (fig. 1)
Notes: Asano Souichiro was an influential entrepreneur at the turn of the 19th 20th century in Japan. He came from a small doctor's family in a village near Mt. Fuji but had become one of the wealthiest person in Japan by the time of his death, founding one of the fifteen largest Zaibatsu in Japan. He was an avid collector of Chinese Art, in particular Qing Imperial porcelains.

This rare vase with lime-green ground is replete with auspicious symbolism. The Ji and Shou characters convey the meanings of auspiciousness and longevity. The Sanduo or 'Three Abundances' is represented by the peach, finger citron and pomegranate, and conveys a wish for an abundance of blessings, long life and many sons.

No other vase with this shape and decoration appears to be published. For a Jiaqing-marked meiping with lime-green ground, decorated with Indian lotus amidst Shou and Fu characters, from the Qing Court Collection, see Porcelains with Cloisonne Enamel Decoration and Famille Rose Decoration, The Complete Collection of Treasures of the Palace Museum, Hong Kong, 1999, p. 195, no. 172. Another comparable example is a Jiaqing-marked lantern vase with exotic flowers on a lime-green ground, op. cit., pl. 173. A baluster vase example with panels of imperial poems was sold at Christie's Hong Kong, 30 May 2012, lot 3999.

Christie's. THE YIQINGGE COLLECTION OF CHINESE CERAMICS. 29 May 2013. Hong Kong