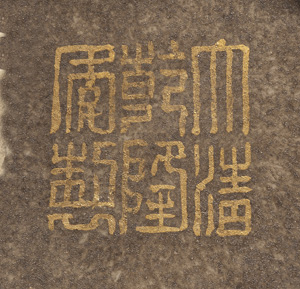 Vase de forme bouteille posé sur un socle en porcelaine décorée en émaux polychromes de la famille rose. Marque et période Qianlong (1736-1795). Photo Piasa
d'un coq avalant un insecte et posé sur un rocher fleuri de pivoines, au revers des iris. Le col orné de papillons au vol. Les anses en forme de dragons stylisés en émail brun et or. Au revers de la base, la marque à six caractères en zhuanshu en émail or sur fond brun de Qianlong. Hauteur : 19,7 cm. Diamètre : 9,5 cm, Usures de l'or sur le bord - Estimation : 60 000 / 80 000 €

Provenance : Antiquaire Duval - Bruxelles, le 16 décembre 1946

CHINA - QIANLONG Period , (1736-1795), A fine 'famille rose' rose vase. Qianlong mark and of the period.
Piasa. Lundi 10 juin 2013. Drouot Richelieu - Salle 4 - 9, rue Drouot - 75009 Paris - http://www.piasa.fr/