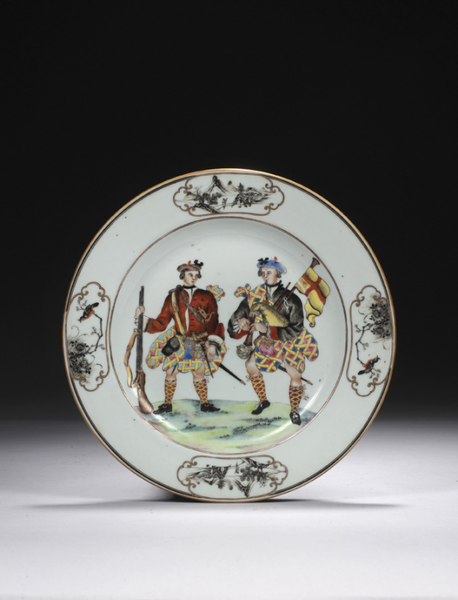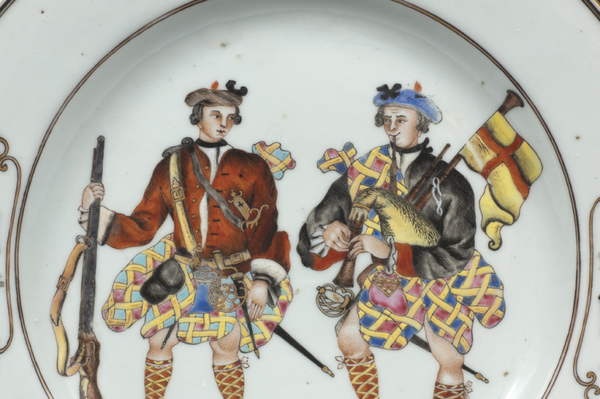 Assiette en porcelaine décorée en émaux polychromes de la famille rose au centre de deux écossais. Vers 1745, période Qianlong (1736-1795). Photo Piasa.
vêtus de leur kilt, l'un tenant un fusil, l'autre jouant de la cornemuse. L'aile décorée de quatre réserves lobées d'oiseaux et fleurs, et paysages montagneux. Diamètre : 23 cm - Estimation : 30 000 / 40 000 €

Le joueur de cornemuse a été copié d'après une gravure de George Bickham pour A short history of the Highland Regiment et publié par John Bowles de Cornhill. Sur la gravure de Bickham, le joueur de cornemuse a été inversé.
Ici est reproduit le 42e régiment d'infanterie. Ce régiment fut ordonné à se présenter à Londres en 1743 afin d'être inspecté par Georges II et d'être enrôlé pour la guerre de la succession d'Autriche. Une grande partie du régiment se mutina et rentra en Écosse . Les chefs de régiment furent exécutés à Londres, dont l'un connu sous le nom de Macdonnel, joueur de cornemuse, et l'autre sous le nom de Farquhar Shaw.
D'après David Howard, dans Chinese Porcelain of the Jacobites, Country Life, January 24, 1973, pp. 243 and 244, une vingtaine de plats de ce genre serait connue.

Référence : Pièce identique reproduite dans Hervouët et Bruneau, La porcelaine des compagnies des Indes à décor occidental, Flammarion, Paris, 1986, n° 9.90, pp. 224-225.
Une autre reproduite dans Catherine Coleman Brawer, Chinese Export Porcelain: From the Ethel (Mrs. Julius) Liebman and Arthur L. Liebman Porcelain Collection, Madison, Wisconsin, 1992, n° 77, p. 103.
Une conservée au Musée Guimet, et illustrée dans Michel Beurdeley, Porcelain of the East India Companies, London, 1962, planche couleur XIX, p. 99.
Une autre au Zeeuws Museum Middleburg, illustrée dans D. F. Lunsingh Scheurleer, Chinese Export Porcelain, London, 1974, fig. 205, , p. 221.
Une autre dans le National Museum of Scotland, illustrée dans Susan Leiper, Precious Cargo, Scots and the China Trade, 1997. Couverture.

Provenance : Antiquaire Giroux - Bruxelles, le 26 novembre 1949

CHINA - QIANLONG Period , (1736-1795). A fine and rare 'famille rose' scottsmen plate.
Piasa. Lundi 10 juin 2013. Drouot Richelieu - Salle 4 - 9, rue Drouot - 75009 Paris - http://www.piasa.fr/