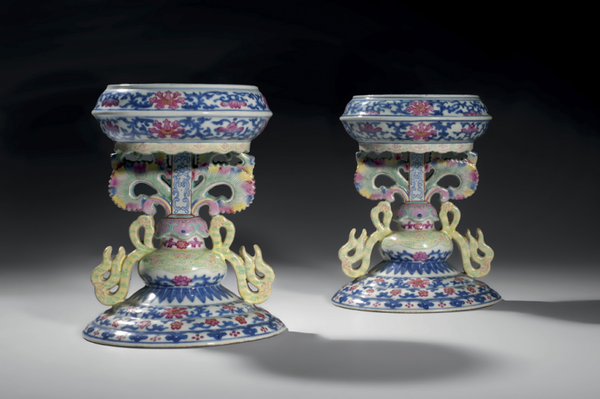 Paire de supports de cérémonie bouddhique. Marque et période Qianlong (1736-1795). Photo Piasa.
en porcelaine décorée en bleu sous couverte et émaux polychromes de la famille rose sur les bords de fleurs de lotus dans leur feuillage, la partie médiane à décor d'un nœud de rubans noués. Au revers de la base, la marque à six caractères en zhuanshu de Qianlong. Hauteur : 18 cm. Petits manques d'émail sur l'un - Estimation : 12 000 / 15 000 €

Référence : Des supports du Musée Impérial de Chengde faisaient parties de l'exposition "La Chine Impériale", The living Past, Art gallery of New South Wales, Sydney, 1992, Catalogue n° 78

Provenance : Antiquaire Finck - Bruxelles, le 11 juin 1940

CHINA - QIANLONG Period , (1736-1795). A pair of 'famille rose' buddhist stands. Qianlong mark and period.
Piasa. Lundi 10 juin 2013. Drouot Richelieu - Salle 4 - 9, rue Drouot - 75009 Paris -http://www.piasa.fr/