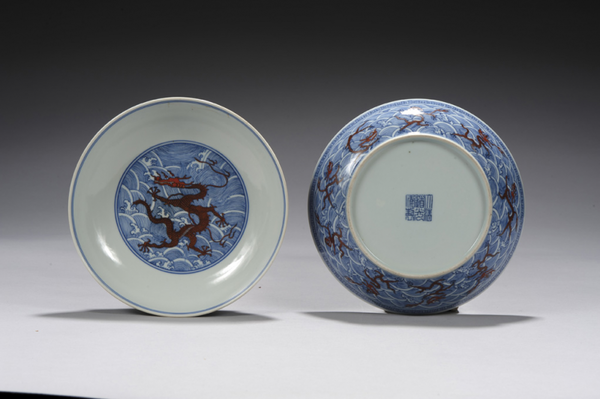 Paire de coupes en porcelaine décorée en rouge de fer au centre d'un dragon lové au-dessus de vagues écumantes en bleu sous couverte. Marque et période Daoguang (1821 - 1850). Photo Piasa.
L'arrière décoré de neuf dragons en rouge de fer sur fond de vagues en bleu sous couverte. Au revers de la base, la marque à six caractères en zhuanshu de Daoguang. Diam.17,5 cm. Estimation : 12 000 / 15 000 €

Provenance: Galerie Moderne - Bruxelles, le 18 décembre 1961.

CHINA - DAOGUANG Period (1821 - 1850). A pair of 'iron-red" decorated blue and white dragon saucer dishes. Daoguang mark and of the period.
Piasa. Lundi 10 juin 2013. Drouot Richelieu - Salle 4 - 9, rue Drouot - 75009 Paris -http://www.piasa.fr/