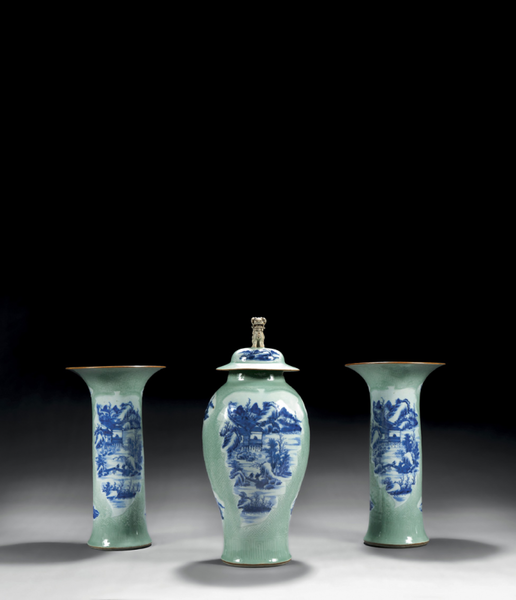 Partie de garniture. Époque Qianlong (1736-1795). Photo Piasa.
composée d'une potiche couverte de forme balustre et deux vases cornet en porcelaine décorée en bleu sous couverte de réserves en forme de feuilles de pipal ornées de paysages lacustres sur fond émaillé céladon et décoré sous la couverte de svastika stylisés. La prise du couvercle de la potiche en forme de chimère assise. Hauteur : 48 cm. Estimation : 10 000 / 15 000 €

Provenance : Antiquaire Giroux - Bruxelles, le 12 mai 1957

CHINA - QIANLONG Period , (1736-1795). A blue and white and celadon glazed three pieces garniture.
Piasa. Lundi 10 juin 2013. Drouot Richelieu - Salle 4 - 9, rue Drouot - 75009 Paris -http://www.piasa.fr/