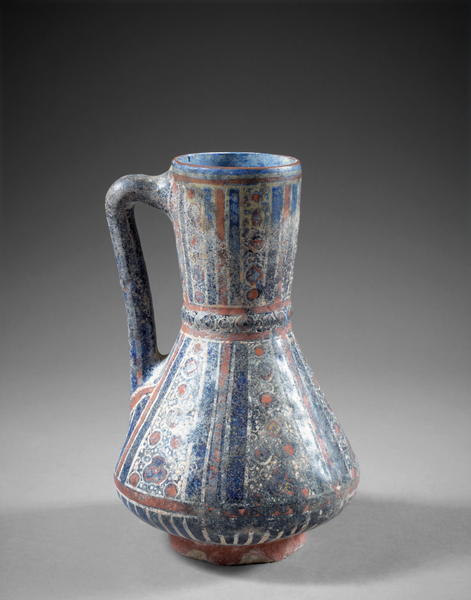 Vase à anse en lajvardina. Iran, XIIIe-XIVe siècle, Dynastie Ilkhanide. Photo Boisgirard et Associés
Céramique à décor blanc, or et rouge peint sur glaçure cobalt - technique lajvardina. Hauteur : 17 cm. (restauration au col ; on y joint le couvercle d'une autre pièce). Estimation : 2 000 / 3 000 €

Ce précieux vase à décor rayonnant et pointé est réalisé dans la technique du lajvardina. Elle tire son nom du persan lajvard qui signifie « lapis-lazuli ».
Une première cuisson était destinée à faire tenir la glaçure de couleur turquoise ou bleu foncé, puis le décor or et polychrome était apposé sur la glaçure, et enfin la pièce était cuite une seconde fois.

Provenance : Achat 1967 succession de Madame Amos par l'étude de maître Maurice Rheims, ancienne collection privée française, acquis avant 1980, dans la même famille par descendance

Référence : Deux vases de même technique et de même typologie sont conservés dans les collections du Metropolitan Museum of Art de New York (31.15) et du Victoria and Albert Museum (Inv. C. 183-1928).
Boisgirard et Associés. Mercredi 5 juin 2013. Drouot Richelieu - Salle 4 - 9, rue Drouot - 75009 Paris. Tel: +33 (0)1 47 70 81 36.