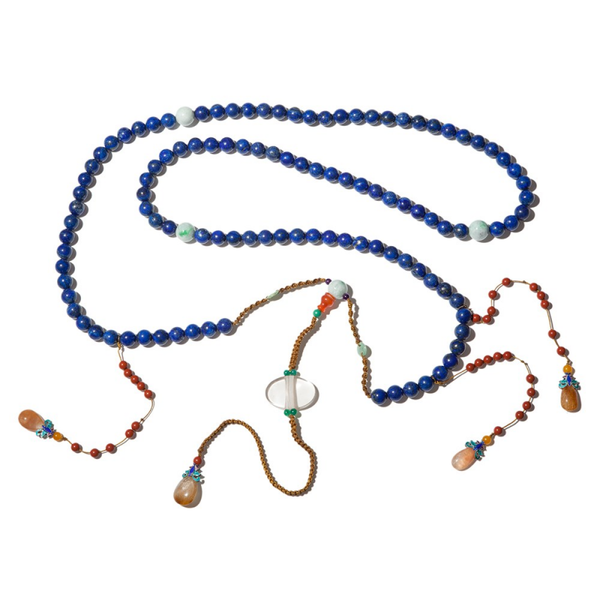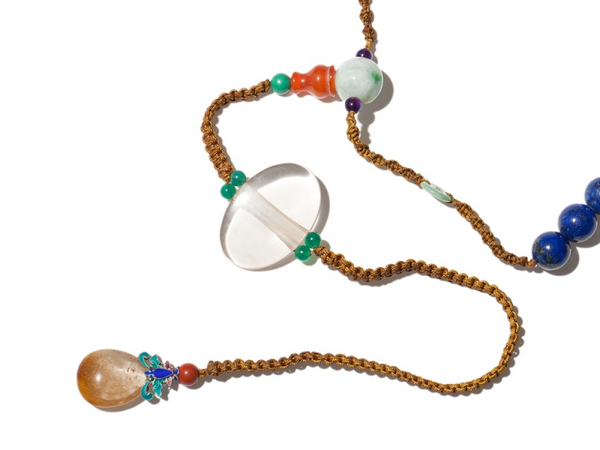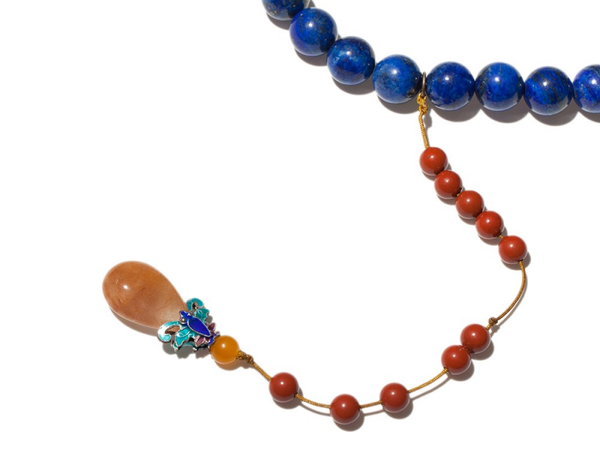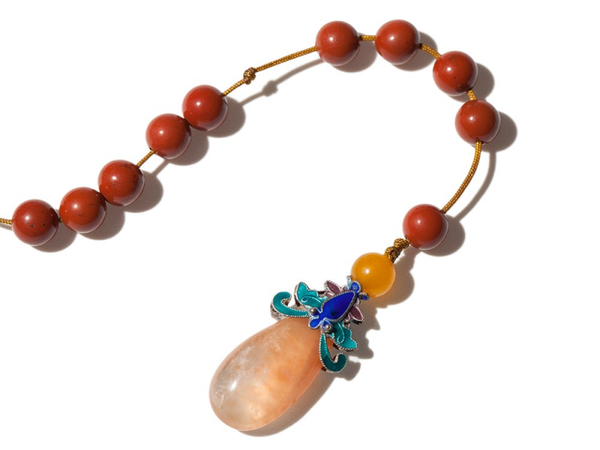 Chinese Mandarin Court Necklace with Lapis Lazuli, China, late Qing Dynasty (1644-1912). Photo Auctionata - Berlin

Lapis lazuli, semi-precious stones, jasper, silver and enamel. Splendid courtly necklace. Beautiful blue lapis lazuli. With four pendants. Extremely fine enamel work. Total length: 170 cm. Very good condition. Estimation : 1 600 / 2 000 €

Provenance: from a Canadian private collection

This fine courtly lapis lazuli necklace from China dates to the late Qing Dynasty (1644-1912). It is composed of 108 pearls, among which are lapis lazuli in deep blue, jasper, quartz and many other semi-precious stones such as jade or rutile needle quartz. The drop-shaped stones on the pendants have beautiful natural inclusions. They are set in multi-coloured enamel ornamentation. The lower part of the necklace is composed of silk brocade, which holds the pendants.
Necklaces such as this one were worn for centuries by people of the Chinese court; a symbol of their elevated social position. The number 108 is a traditional Chinese lucky number. The necklace is in very good condition with only minimal traces of age and wear. The stones as well as the silk brocade are almost flawless. The length of the necklace (measured when worn and including the pendant) is 170 cm.
Mandarin Court Necklaces Mandarin court necklaces are called 'Chao Zhu' in Chinese. They were worn by honorary members of the court and officials of the Qing Dynasty to indicate the rank of its wearer. Such jewellery presented an opportunity to express one's status and one's taste. The number of gem stones and semi-precious stones usually carry symbolic weight.
Auctionata - Berlin. Vendredi 14 juin 2013. Franklinstrasse 13, 10587 Berlin. Contact: Victoria Mäder-Duhn vma@auctionata.com