Durnuvo Jewel Casket, Firm of Ovchinnikov, Russia, 1889, silver gilt, enamel and lapis lazuli. Photos: © Giovanni Lundardi Photography, courtesy Bowers Museum
SANTA ANA, CA.- The Bowers Museum hosts The Tsars' Cabinet, which highlights two hundred years of decorative arts under the Romanovs, from the time of Peter the Great in the early eighteenth century to that of Nicholas II in the early twentieth century. Many of the more than 230 objects in the exhibition were designed for public or private use of the tsars or other Romanovs. Others illustrate the styles that were prominent during their reigns. The Tsars' Cabinet is on view at the Bowers Museum from June 8 until September 1, 2013.
Porcelain, glass, enamel, silver gilt and other alluring materials make this extensive exhibition dazzle. The items demonstrate the evolution of style from the European Classicism of the court of Catherine the Great, to the rich oriental motifs of mid-nineteenth century Russian Historicism of the Kremlin and Grand Duke Constantine Nicholaevich services and the enamel work of Fedor Ruckert and the firm of Ovchinnikov.
The exhibition includes many pieces from significant porcelain services made by the Imperial Porcelain Factory, from the reign of Empress Elizabeth and Catherine the Great to Nicholas and Alexandra. Visitors will see items featured at state banquets at the Kremlin and other Imperial Palaces, as well as items designed for the tsars' private use aboard the Imperial yachts. Among the rare items are two pieces from a service Catherine the Great ordered for her grandson, Grand Duke Constantine Pavlovich, as well as pieces from services presented by Augustus III of Saxony and Frederick the Great to the eighteenth century Russian tsarinas.
The Tsars' Cabinet also features two hundred years of glassware, from a beaker from the time of Peter the Great to a vase made by the Imperial Glass Factory that the Dowager Empress Maria Fedorovna kept on her desk in Denmark after the Russian Revolution. Russian enamels from the late nineteenth century include a major jewel casket made by the Ovchinnikov firm and presented to Tsar Alexander III's Minister of the Interior, as well as the work of Fedor Ruckert and the work masters of the Faberge firm.
The objects exhibited provide a rare, intimate glimpse into the everyday lives of the tsars. The collection brings together a political and social timeline tied to an understanding of Russian culture. In viewing The Tsars' Cabinet, one is transported to a majestic era of progressive politics and dynamic social change, as we celebrate the 400th anniversary of the Romanov reign.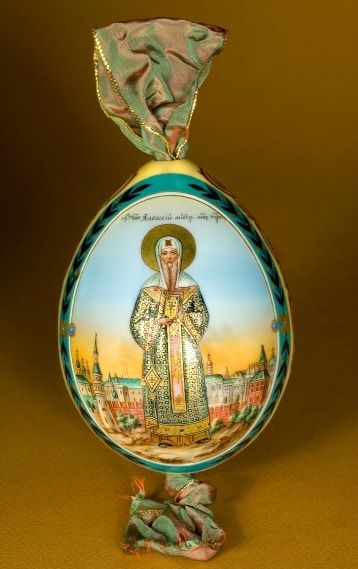 'Egg,' Imperial Porcelain Factory, Russia, c. 1890, porcelain. Photos: © Giovanni Lundardi Photography, courtesy Bowers Museum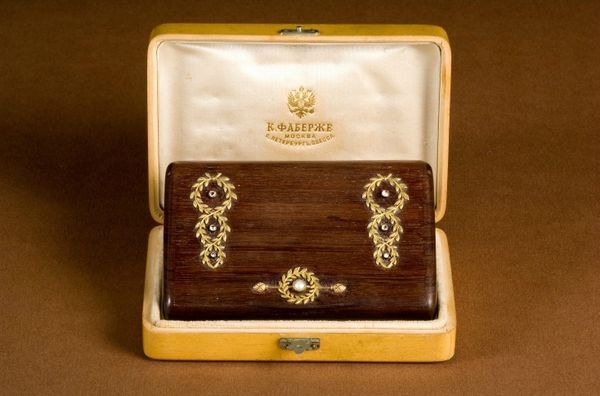 Cigarette case, Fabergé, Russia, c. 1900, palisander (rosewood), two-colored gold, diamonds and pearls. Photos: © Giovanni Lundardi Photography, courtesy Bowers Museum

'Figures of Teleutan Tartar Woman, Man from Kuril Islands, Samoyed Woman, Samoyed Man, Man from Lapland, Finnish Woman, and Finnish Man,' Imperial Porcelain Factory, Russia, c. 1785-1800, hard-paste porcelain. Photos: © Giovanni Lundardi Photography, courtesy Bowers Museum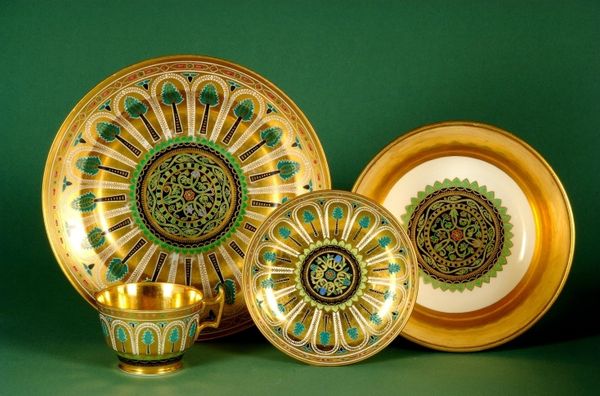 Charger, cup and saucer and bowl from the Kremlin Service, commissioned by Nicholas I in 1837. Intended for 500 people, the service included 2,000 dinner plates, 1,000 soup plates and 1,000 dessert plates and was the first time artists drew upon Old Russian motifs from the 17th Century for inspiration. The set took 10 years to complete. Photos: © Giovanni Lundardi Photography, courtesy Bowers Museum
Imperial Porcelain Factory, Russia Two Eggs, c. 1900, Porcelain. Photos: © Giovanni Lundardi Photography, courtesy Bowers Museum
Imperial Porcelain Factory, Russia Reverse detail of Plate from Raphael Service showing crowned monogram of Alexander III, 1884 Gilt Photo © Giovanni Lundardi Photography. Photos: © Giovanni Lundardi Photography, courtesy Bowers Museum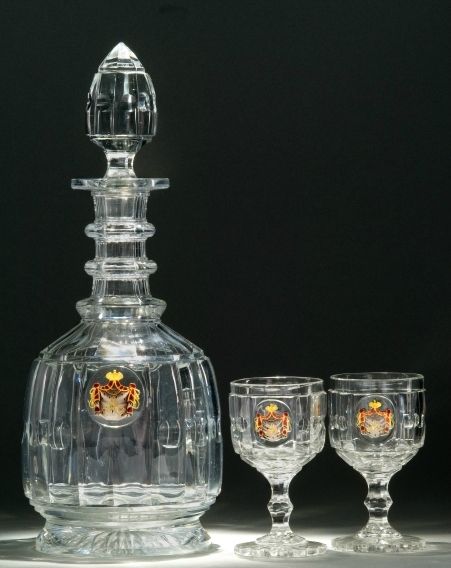 'Decanter and Six Cordials from the Banqueting Service,' Imperial Glassworks, Russia, Second quarter of the 19th c., glass. Photos: © Giovanni Lundardi Photography, courtesy Bowers Museum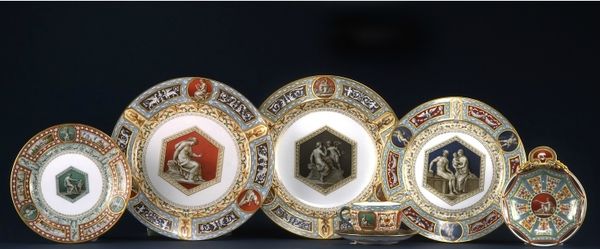 'Plates, cup and saucer from the Raphael Service,' Imperial Porcelain Factory, Russia, 1894. Photos: © Giovanni Lundardi Photography, courtesy Bowers Museum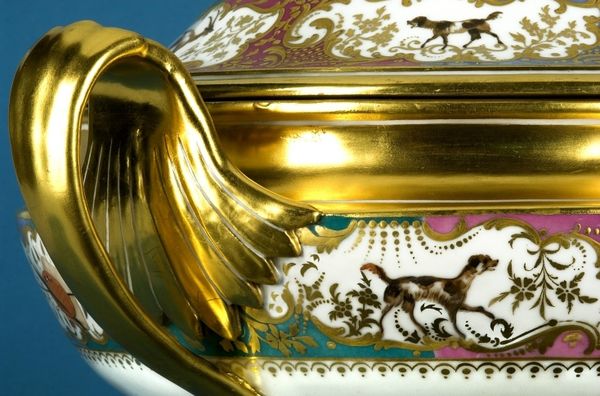 Imperial Porcelain Factory, Russia Detail of Tureen from the Grand Duchess Ekaterina Mikhailovna, c. 1840 Porcelain. Photos: © Giovanni Lundardi Photography, courtesy Bowers Museum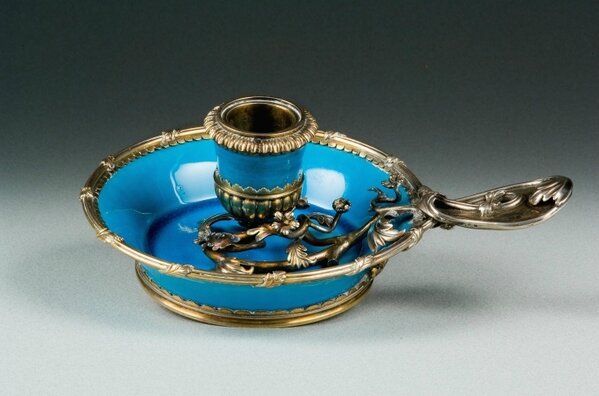 Faberge, Moscow, Russia Chamberstick, 1896-1908. Photos: © Giovanni Lundardi Photography, courtesy Bowers Museum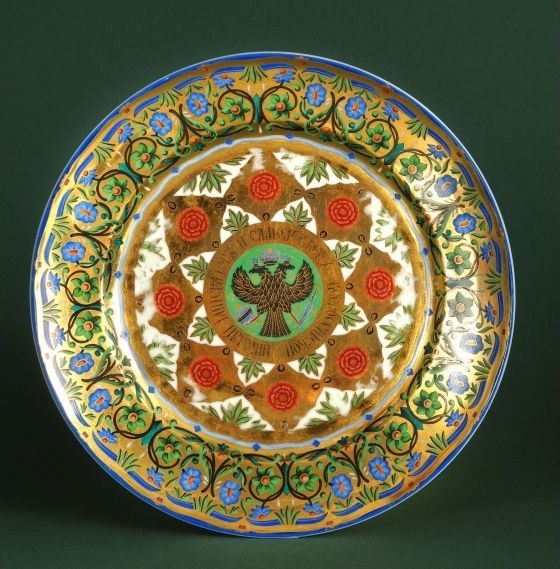 Imperial Porcelain Factory, Russia Dessert Plate, Two Plates, Soup Plate, Butter Plate, Cup and Saucer from the Raphael Service, 1884 – 1903, Porcelain. Photos: © Giovanni Lundardi Photography, courtesy Bowers Museum
A porcelain tureen from the Imperial Porcelain Factory, Russia, circa 1860. Photos: © Giovanni Lundardi Photography, courtesy Bowers Museum