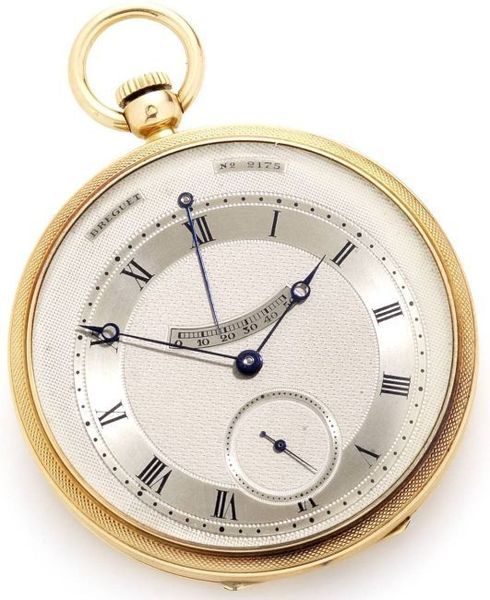 Breguet. A fine and rare 18ct gold open face automatic pocket watch with power reserve, made for the Designer and Illustrator, Paul Iribe, together with Breguet Extract from Archives stating the watch was sold to him for the sum of 10,800 francs. Sold for £26,250. Photo courtesy Bonhams
LONDON - The Bonhams auction of Fine Watches and Wristwatches in New Bond Street, London, on Tuesday 11th June exceeded expectations, with many lots selling well above estimate.
Among the highlights was a pocket watch made for the French illustrator and designer Paul Iribe – one-time lover of the legendary fashion designer Coco Chanel – which exceeded its £15,000 to £20,000 (€17,700 - €23,700) estimate to sell for £26,250 (€30,953).
The 18ct gold open-face automatic Breguet pocket watch was sold to the Frenchman in 1933, the year he collaborated with Chanel on an extravagant jewellery collection, for 10,800 francs.
Paul Iribe (1883-1935) is acknowledged as having been a leading influence on Art Deco style. First known for his political caricatures in Parisian journals and satirical newspapers, Iribe then spent a number of years in Hollywood working on film sets before returning to Paris in the early 1920s, where he met Coco Chanel (1883-1971), founder of the iconic Chanel brand of clothing, jewellery and fragrance.
Iribe's affair with Chanel is widely thought to be behind the break-up of the artist's second marriage, to heiress Maybelle Hogan, in 1928. Many of his subsequent drawings and political publications would feature Chanel's likeness, re-imagined as Marianne – the symbol of French freedom. Although Chanel was known to have had a number of romances during her early career, her relationship with Iribe was said to have been one of the most significant of her life.
In 1933 – the year Iribe bought this watch – the pair collaborated in the design of an extravagant jewellery collection commissioned by the International Guild of Diamond Merchants. The Bijoux de Diamants Collection was executed almost entirely in diamonds and platinum, and inspired by the triple themes of knots, stars and feathers. When exhibited in Chanel's home in the Rue du Fauborg-Saint-Honoré in Paris, it drew enormous crowds.
Sadly Iribe would pass away just two years later, collapsing while playing tennis at Chanel's villa on the French Riviera in September 1935.
Strong Performance from Rolex
Elsewhere in the sale Rolexs performed strongly, with Lot 378, a stainless steel manual wind Rolex chronograph wristwatch, exceeding top estimate to sell for £97,250. Meanwhile Lot 328, a stainless steel manual wind Rolex 'Paul Newman' 'Daytona' chronograph bracelet watch offered by its original owner, also exceeded top estimate at £46,850. Lot 357, a rare stainless steel cushion shape military divers wristwatch made for the German navy c.1940 sold above its £18,000 to £22,000 estimate at £38,450.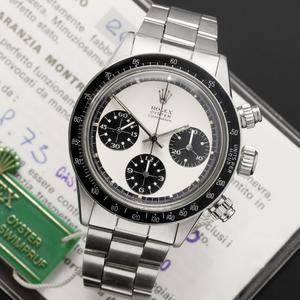 Rolex. A fine and rare stainless steel manual wind chronograph wristwatch together with fitted box and original guarantee booklet. Photo courtesy Bonhams
Ref:6263/6239, Serial No.265****, Sold 2nd August 1973
17-jewel Cal.727 manual wind chronograph movement adjusted to three positions and signed on the bridge, two-colour matt cream dial signed Rolex Oyster Cosmograph, sunken engine turned black subsidiary dials with printed white divisions with square ends, outer black scale with white printed seconds and square hourly divisions and luminous dots, steel baton hands with luminous inserts, white tipped arrow chronograph hand, brushed and polished case with screw on back numbered 6239, screw down Oyster crown flanked by two screw down Oyster chronograph pushers, fixed bezel with black tachymetre scale insert, fitted Oyster bracelet with 1971 datecode, numbered 7835 19 with 271 end pieces, together with fitted Rolex box and outer card, guarantee booklet and original spare crowns, case, dial and movement signed; 37mm. Sold for £97,250
Rolex. A rare stainless steel cushion shape military divers wristwatch made for the German Navy. Photo courtesy Bonhams
Ref:3646, Case No.260739, Circa 1940
17-jewel Cortebert nickel plated lever movement, matt black dial with luminous baton markers and quarter Arabic numerals with closed 6 and 9, luminous baton hands, water-resistant type patented case with later crown, case back stamped 3646, 260739, polished wire lugs, case and movement signed - 47mm. Sold for £38,450

This watch is known as the "Kampfschwimmer" as the German military divers used them during activities in the Second World War. The Ref:3646 was produced in various versions from 1938 until the 1950's. It is not documented exactly how many of these watches were delivered to the German "Kriegsmarine" (Navy). The Ref:3646 initially utilised a Rolex dial, also called the "California Dial" which had one half with Arabic indices and the other half with Roman. Panerai later replaced these dials and began using the self-illuminating dials with Radiomir/later Luminor material.

Provenance: This watch was given to the current vendor's father by a German prisoner of war in Italy in 1944, while serving in the Royal Engineers bomb disposal unit.
Single-owner collection
An impressive single-owner collection of 130 pocket watches and eight clocks was 97 per cent sold, and doubled its pre-sale estimate to realise a total of £489,900. The private English collection, which was amassed between the 1930s and 1962, spanned a period in watch and clock-making from the early 1600s to the mid-19th century.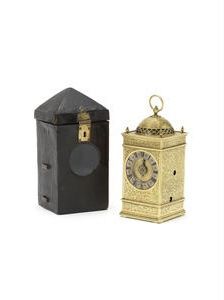 Top-selling lot was a 430-year-old Flemish gilt brass travel clock (Lot 62). The 19cm-high clock – a very rare survivor of the 16th Century – sold for £44,450 against a pre-sale estimate of £7,000 to £10,000.
A very similar instrument was made by Hans de Vals, clockmaker to the Royal household and to Philip II of Spain between c.1558 and 1598. He supplied clocks to the Spanish court which were used as diplomatic gifts, including an example given to the first Tokugawa Shogun in 1611 for the hospitality shown by the Japanese to survivors from the Spanish galleon San Francisco which was carrying the acting Governor of the Philippines. That clock is believed to have been the first mechanical clock in Japan.
A president's gift
Meanwhile Lot 188, a very rare 14ct gold keyless wind full hunter Waltham pocket watch gifted to the Captain of the British tug boat Champion in 1919 by Woodrow Wilson, the 28th President of the United States, sold for more than double its estimate at £5,000. Henry William Webster was awarded the watch by the President in recognition of his ship's assistance of the US vessel Piave when it ran aground on Goodwin Sands in the English Channel on 31st January 1919. The watch was presented in a polished case with United States of America Presidential insignia, and commemorative engraving.
Paul Maudsley, Head of the Bonhams Watch Department, said: "The first of our two annual Fine Watch and Wristwatch sales at New Bond Street was a resounding success, with many international bidders, both on the telephones and in the packed sale room. We also had the most live internet bidders for a sale in New Bond Street.
"We now look forward to our next sale in Knightsbridge on 3rd September, and of course our end-of-year sale at New Bond Street on 18th December."