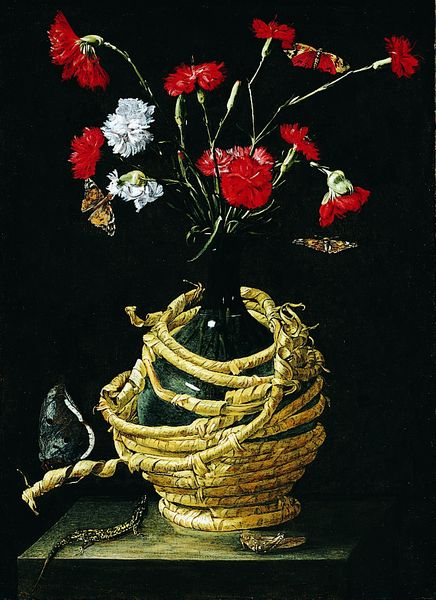 Anonymous (Active first quarter 17th century), Still Life, ca. 1600 - 10, oil on canvas, 65.7 x 48.3 cm (25-7/8 x 19 in.) © 2013 Timken Museum of Art.
The selection of subjects for this painting and the way they are depicted indicate that the artist may be commenting on the brevity of life. The straw on the wine bottle is broken and uncoiled. The flowers are wilted. The butterflies, like the flowers, are also short-lived.
Confirming this interpretation are the mutually destructive relationships implied: the locust and moth, as well as the butterfly, feed on the flowers, and the lizard would likely consume the locust. The painting relates to similar works in Boston and Forli, Itlay, but none are by the same hand.
Provenance: Frederick Mont, New York
Acquired by the Putnam Foundation, 1971