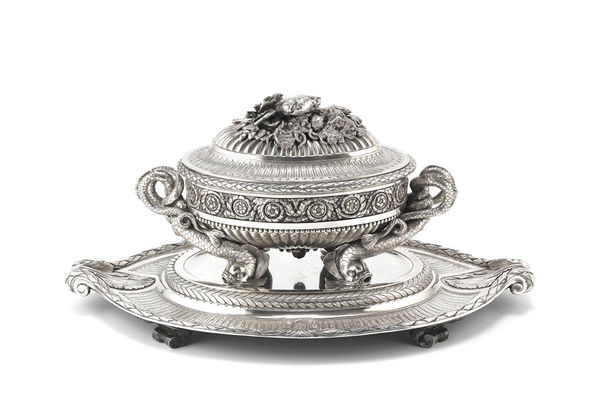 The Sachsen-Teschen Tureen doubled its pre-sale estimate, which was £200,000. Photo: Bonhams.

LONDON - A spectacular and rare silver soup tureen - a survivor of the fabled Taschen-Saschen silver service given as a wedding present to Marie Antoinette's estranged sister Maria - 'Mimi' - Christina, exceeded all expectations when it sold for £433,250 at Bonhams this morning after a lengthy bidding war. The silver tureen doubled its pre-sale estimate, which was £200,000. A fine collection of the 7th Duke of Wellington's boxes also performed well, fetching a total of £250,000. The sale overall secured in excess of £1.4m.
The striking soup tureen was a wedding gift from Empress Maria Theresa of Austria, the mother of Maria Christina and Marie Antoinette, to Archduchess Maria Christina and her husband, Prince Albert Casimir. Weighing 27 pounds, the tureen is supported by entwined dolphins and the finial (cover) is topped by a crab nestling on a bed of seaweed, coral and shells. From its huge depths, steaming fish stews and bouillabaisse would have been served.
The innovative French Baroque design and quality of the tureen reflects the deep love Prince Albert and Maria Christina shared for craftsmanship and the arts. Prince Albert's fortunate marriage to Maria Christina gave him the opportunity to realise his zeal for the arts, as they couple spent their lives collecting and promoting Austria's most important artists and goldsmiths. Their collection went on to form the Albertina Museum (named after Prince Albert), which now holds one of the largest collections of artworks in the world. The palace Prince Albert and Mimi created is now the seat of the Belgian Royal Family.
Michael Moorcroft, Director of Bonhams Silver Department, commented after the sale: "We are honoured to sell such a distinguished piece of historic silver. This beautiful 27 pounds of silver has emerged from the shadows of the past and carries with it an astonishing provenance, which patently assisted it in achieving the remarkable price that it did today."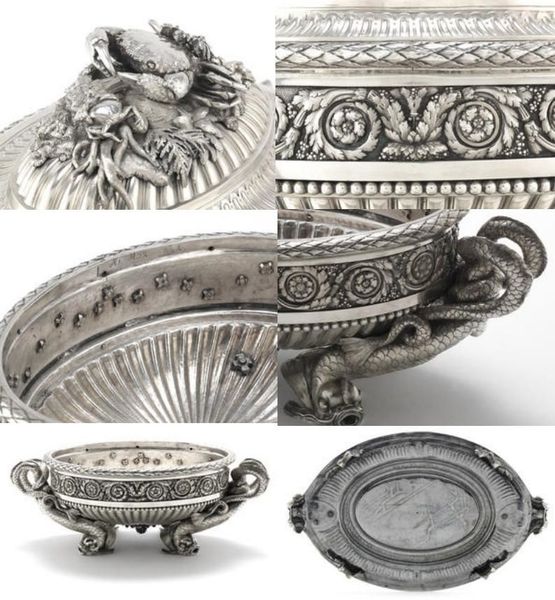 The Sachsen-Teschen Tureen, An important late 18th century Austrian silver soup tureen and stand, by Ignaz Josef Wurth Vienna 1781, stand and liner 1780, and early 19th century Austrian control marks. Photo: Bonhams.

Oval and raised on elaborate entwined dolphin supports, the lower section fluted with cast acanthus rosette underneath, bold "pearl" border and a cast band of scrolling foliage and berries terminating in flowerheads of alternate design, over-lapping border of laurel leaves forming a lattice-work pattern, domed cover surmounted by a cast and detailed finial formed as a crab resting on rocky bed of seaweed, coral and shells; oval stand with integral acanthus leaf handles, leaf borders, and raised on asymmetical scroll supports. Tureen engraved to inside rim "N1. M.32.=2.2". Stand engraved underneath "N2 M.13.7.2=" and "VII", height overall 31cm, height of tureen 25.2cm, length of stand 66cm, length of tureen 45cm, weight (12,659kg) 407oz. Sold for £433,250
Provenance: Albert Casimir (1732-1822), 6th son of Elector Frederick August II of Saxony, created Duke of Teschen on his marriage in 1766 to Archduchess Maria Christina of Austria (1742-1798), 4th daughter of Emperor Franz I and Empress Maria Theresa and sister to Marie Antoinette.
Their nephew and adopted son, Archduke Charles of Austria (1771-1847), field marshal of the Empire, 3rd son of the Holy Roman Emperor Leopold II, who married in 1815 Princess Henrietta Alexandrine of Nassau-Weilburg.
Their son Archduke Albrecht of Austria (1817-1895), Duke of Teschen, who married in 1844, Princess Hildegard Louise, daughter of Ludwig I King of Bavaria.
Their nephew and adopted son Frederick (1856-1936), Duke of Teschen, supreme commander of the Austro-Hungarian forces in the Great War, who married in 1878 Isabella Hedwig (1856-1931) daughter of the 11th Duke of Croy.
Their son Albrecht (1897-1955), his morganatic marriage resulting in the dispersal of the Teschen inheritance.
Sold Galerie Fischer, Luzern, 6th May 1947: Tafelsilber aus einem fürstlichen Hause, Arbeiten des Hof goldschmiedes I. J. Wurth, um 1780.
Private European collector, purchased from the Private Collection of Count Martignone.
Literature: E. W. Braun, Das Tafelsilber des Herzogs Albert von Sachsen-Teschen (Vienna, 1910)
Wolfram Koeppe, Vienna circa 1780, An Imperial Service Rediscovered (Metropolitan Museum, 2010)
Similar tureens: Collection of Paul Weller, sold Gros & Delettrez 7th April 2011, Vegetable finial, body M.40.2, No 1, stand M.18.13 =2, No 1 (though previously engraved 3), 68.5cm long. 16,790kg, Fischer lot 33.
Sothebys Geneva 15/5/95
Vegetable finial, body M.40.7 = 2, No 2, stand M.18.6 = 3, No 2, 70cm long, weight 16,416kg, Fischer Lot 32.
Vegetable finial, body M.41.7 = 31, No 2, stand M.19.10 = 3, 67cm. weight 16,990kg, Fischer Lot 31, now in the Sterling and Francine Clark Collection.
French Private Collection
Lobster finial, body No 3, stand 66.8cm, weight 12,300kg, Fischer Lot 35.
Fish finial, body No 4, stand 70cm, weight 12,440kg, Fischer Lot 36.
Archduchess Maria Christina is said to have been Empress Maria Theresa's favourite daughter. She shared her birthday with her mother and was affectionately known as 'Mimi.' Unlike her twelve siblings, she was allowed to choose her own husband; her sister Maria Antoinetta was married off to King Louis XVI of France. Prince Albert Casimir, son of Frederick Augustus II (elector of Saxony and King of Poland) and a cousin of Maria Theresa, was not an obvious choice for Maria Christina as he was sixth in line to an impoverished title. However, the Empress was fond of her cousin Albert and assisted with his suit against the wishes of Emperor Franz I. Soon after Franz' death, the engagement was announced. It is interesting to note the number of mourning dresses in the painting by Johann Karl Auerbach of the couple's engagement ball.
Albert was given the Duchy of Teschen and the vast dowry of four million guilders as well as a commitment from the Empress to subsidise the newlyweds' household. He was also appointed Governor of Hungary which came with a significant stipend. The couple immediately began the accumulation of pictures, drawings, porcelain and objects that would become the core of the Albertina Museum, housed in their palace in Vienna.
When Maria Theresa died, in 1780, the couple were sent by Emperor Josef II to take up their posts as governors of The Netherlands. Here they created their dream palace: Schönenberg, now called Laeken, still seat of the Belgian Royal family. They were forced to flee from Napoleon in 1793 and, five years later, Mimi died of typhus. The Duke spent the next twenty-four years consolidating his art collection. His heirs were left with sufficient wealth to ensure that the silver service by Würth largely stayed within the family until the middle of the 20th century, despite the recall of silver by the Austrian mint in 1810 to fund the Napoleonic wars.
Maria Christina's dowry had included a Viennese silver service in a restrained and simplified Rococo style, mostly created by Franz Casper Würth in 1748, the short period of engagement meant that there had not been time to order a new suite. However, it was always the Empress's intention to give the couple a suitably grand service. It was not surprising that Würth's son, Ignatz Josef, was given the commission; they had already built a reputation that put them in the same rank as the great Germain dynasty in Paris.
The extent of the service is not absolutely clear though the weight has been estimated at 680kg. Braun's survey, in 1910, listed 16 tureens, 8 ewers, 16 covered dishes, 12 candelabra, 32 candlesticks, 39 serving dishes, 15 salts and 240 dinner plates. As astonishing as this list is, it is not complete; he counted only two of this type of large oval tureen (see image b) and yet there were eight in the Fischer sale of 1947.
The tureens in the service were designed for Service à la Française, where food was placed on the table for dinners rather than being served in the sequential manner of Service à la Russe. There was a prescribed shape of tureen or serving dish for each stew or sauce; the finial providing a further clue to the contents of the tureen, varying from vegetables to crustacea.
The large oval tureens would have been the first part of the service to be completed. Their rôle was not merely to serve food but to serve as sculptural decoration on the table when guests sat down. Food was brought later in the fitted liners, so there was no need for elaborate centrepieces. The presence of the tureen is enormous. The exquisitely complex blend of detail ranges from the realistic sea creature finial on the cover, through the bold fluting and gadrooning interrupted by the acanthus guilloche band, to the powerful dolphin feet; all presented on a simple stand incorporating laurel to reflect a victor's crown.
Bonhams are indebited to the research and assistance of Wolfram Koeppe, Marina Kellen French Curator at the Metropolitan Museum, New York.
7th Duke of Wellington Boxes
The 7th Duke of Wellington's remarkable collection of snuff boxes also featured strongly in the Silver sale, making a total of £250,000. The collection of 58 valuable hard stone and gold boxes was assembled by the 7th Duke during his time in Rome. He would scour the campagna with his wife, seeking out valuable objects. The Duke reflects: "We used to fill sacks with shining Porphyry, Verde Antico and Gioallo Antico". To the annoyance of their nanny, the couple used their son's pram to transport the treasures, this early exposure to collecting ensured that the 8th Duke also became a keen collector of boxes and hard-stones.
The highlight lot from the collection was an 18th century Louis XV lapis lazuli and gold mounted snuff box, signed by Daniel Gouers, which sold for £55,000. A similar box can be found in the State Hermitage Museum in St Petersburg. The design of the box is almost identical to those given by Louis XV as diplomatic gifts to Geneva.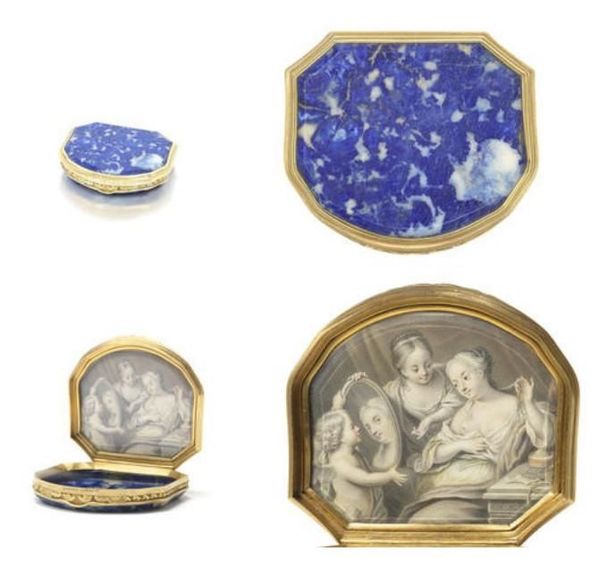 A Louis XV lapis lazuli and gold mounted snuff box, engraved Gouers À Paris to the rim and with the discharge mark of Charles Cordier 1722-27, by Daniel Gouers, the miniature by Gustav Klingstedt (1657-1734). Photo: Bonhams.
Cartouche form, the facet-cut lapis lazuli cover with ogee gold mount and scrolling thumbpiece, the sides chased with a pair of doves flanked by wave-scrolls, bell husks and lattice panels all on a matted ground with conforming lapis lazuli base, the underside of the cover with miniature on vellum of Venus at her toilette painted en grisaille as an 18th century noble woman, cupid holds up an oval looking glass with a maid in attendance, she sits at a dressing table with similar lattice detail to that found on the gold mount, on the table is a pearl necklace, a powder puff and ribbons, length 7.8cm. Sold for £55,250
For a similar box in the Hermitage, see Kenneth Snowman,Eighteenth Century Gold Boxes of Europe (London 1966), plate 179, page 109, it has an agate rather than lapis lazuli cover but the same engraved signature to the rim and decoration to the gold sides. It is interesting to note that the glazing and framing of the miniature is of the same style as that on the box given by Louis XV to Louis Le Fort of Geneva in 1727, illustrated in plate 176.

Snowman writes extensively on Gouers and illustrates several of his boxes still extant. His boxes are now rare despite the fact that he appears to have carried out a lot of Messonnier's designs and there are many diplomatic gifts with his poinçon recorded in the Régistres des presents du Roi from 1726 to 1735. He held the titles of Orfèvre ordinaire de la Reine and Marchand orfèvre de leurs Majestés.
It is worth pointing out the difference in spelling of the masters name. He is registered as Govaers rather than Gouers, like other immigrants he altered the spelling. Daniel Govaers was received as master in 1717, see Nocq Les Poinçon de Paris, page 272ff for a more extensive entry than usual. The reason for this is his inclusion of information regarding Gouer's brankruptcy in 1737.
The works of Klingstedt depicting racy scenes are quite often to be found on the interiors of boxes of this date, see a tortoiseshell and gold mounted example sold these rooms, 4 July 2007, ex lot 42.
A Ducal Collection of Hardstone Boxes: Collected by the 7th Duke of Wellington.