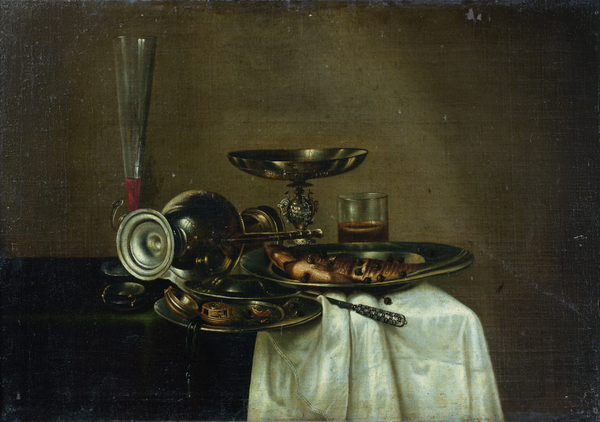 Cornelis Mahu (Anvers 1613 – 1689), Nature morte au pichet, sel et pâté & Nature morte au verre de vin et assiette de poisson. Photo ARTEMISIA auctions

Paire de toiles; 60 x 85 cm. L'un est signé sur la lame du coteau C. MAHU. L'autre est sans cadre. Estimation : 20 000 / 30 000 € la paire

Les deux tableaux sont des reprises de Willemsz Claes Heda dont on connait d'autres versions soit par Mahu soit par Gerrit Willemsz Heda (voir N.R.A. Vroom, A modest message as intimated by the painters of the 'Monochrome Banketje', Schiedam, 1980, n° 239, reproduit en couleur, n° 278, n°360b, 360c reproduites, n°360d, n°360e et 360f reproduites).

Nous remercions Fred Meijer d'avoir confirmé l'attribution de nos tableaux.
ARTEMISIA auctions. Lundi 24 juin 2013. Drouot Richelieu - Salle 14 - 9, rue Drouot - 75009 Paris