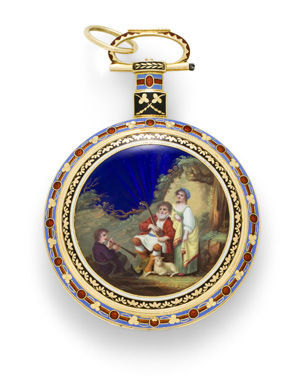 Ilbery, London. A fine enameled gold duplex watch for the Chinese market, No. 6195, first quarter 19th century, 58mm. Sold for US$ 86,500 inc. premium. Photo: Courtesy of Bonhams.
NEW YORK, NY.- Global online bidding fueled Bonhams June 18 Fine Watches & Wristwatches auction, which registered more live internet bidders than any other watch auction held at the Madison Avenue salesroom. The auction, which was simulcast at Bonhams San Francisco, was sold 80% by lot. US bidders were the slight majority, with the UK, Europe, the Middle East, East Asia, South Asia, and South America all represented. Telephone bidders and focused attendees on both coasts competed vigorously with the unprecedented online interest.
"Fine watches and wristwatches are highly desirable all over the world, so it makes sense that bidding via the internet would be exceptionally popular," explained Jonathan Snellenburg, Bonhams Director of Fine Watches & Clocks. "We are very pleased to be connecting so effectively with our international clientele."
The auction saw strong results for the large selection of pocket watches on offer, proving the market for these classic timepieces remains solid. The auction's top lot was an Ilbery enameled gold pocket watch, which sold for $86,500, more than double its pre-auction estimate. Made for the Chinese market at the beginning of the 19th century, the pocket watch will be headed home to China after being purchased by a private buyer in Beijing.
Ilbery, London. A fine enameled gold duplex watch for the Chinese market, No. 6195, first quarter 19th century, 58mm. Sold for US$ 86,500 inc. premium. Photo: Courtesy of Bonhams.
Gilt chased and partly skeletonized bridge caliber movement, standing barrel with blued stopwork, duplex escapement, three arm balance with tapered steel weights, flat spring, diamond endstone, engraved gold cuvette, white enamel dial with roman chapters, subsidiary seconds, gold arrow hands, bezels of the case chased and enameled with running leafy scrolls and paterae, the back with well painted pastoral scene of family musicians in rustic setting; 58mm.
A 17th century English verge pocket watch from Isaake Symes also doubled its pre-auction estimate, realizing $30,000. Made circa 1620, the pocket watch was engraved at some point in the 18th century with the name of the gruesomely executed last Abbot of Glastonbury, Richard Whiting, and fraudulently dated 1536. No doubt the private American buyer who took home the pocket watch will appreciate both its exceptional age and colorful provenance.
Isaake Symmes, London. A remarkable silver and gilt early English verge watch, Circa 1620, engraved with the spurious date 1536. Photo: Courtesy of Bonhams.
Octagonal gilt gut fusee movement with engraved border, tapered baluster pillars, four wheel train, ratchet and pawl mainspring set up, floral pierced pinned cock, two arm steel balance, the gilt dial chased and engraved with cockatrices flanking the similarly chased and engraved roman chapter disc, blued steel baluster hand, molded gilt case band, the silver lids chased and engraved with panels of figures and foliage; 32mm by 47mm excluding pendant. Sold for US$ 30,000 inc. premium
Notes: Isaac Symmes is one of the earliest recorded watch makers working in London. Born in 1580, he was apprenticed in 1594 in the Goldsmiths' Company. (The Worshipful Company of Clockmakers would not be granted a charter until 1631.) He finished his apprenticeship on 27 January 1603/04 and two months later, married Emma Howe. He made an elaborately engraved gilt watch shortly thereafter, with alarm and one-at-the-hour striking, which is now in the Collection of The British Museum. He died in 1622, but not before he signed the unsuccessful first petition by the clock and watch trade to King James I to establish a City livery company for clock and watch makers.
The present watch is noteworthy not only for its early date of manufacture, but also for being an antiquarian fraud dating to the 18th century.
At some point in its history, the watch lid was engraved with the name of Richard Whiting, last Abbot of Glastonbury, and with the date 1536. Whiting had been gruesomely executed by Henry VIII in 1539 when the King confiscated church lands. Clearly, no one at the time knew that the watch had been made almost a century after the death of the Abbot.
The watch was acquired in 1783 by a certain Reverend John Bowen of Bath, whose wife, Elizabeth, claimed descent from the unfortunate Richard Whiting.
When Bowen bought the watch from a watchmaker named Howe, he was told that the watch had belonged to a Reverend Mr. Paine "who had lived to the advanced age of one hundred years...a tradition was preserved that the watch had been successively worn by himself, his father, and his grandfather, and that it had been purchased by an ancestor of the latter at the sale of Abbot Whiting's personal property after his execution and the dissolution of his monastery."
Bowen added a further inscription to the watch:
"Repaired By order of the Rev. J. Bowen of Bath 18 Nov. 1801 who married Elizth. Dr of 'Wm Jeanes of Shroton Dorset Esq. who was lineally descended from Jno Jeanes of East Tennard who married Eliz. sister of R' Whytinge, the last Abbot of Glastonbury."
A drawing of the watch and Bowen's story was published in the 1826 An History of the Abbey of Glaston. by Richard Warner. This story is repeated in Curiosities of Clocks and Watches from the Earliest Times. by Edward J. Wood, an early collectors' handbook, published in 1866.
After the death of Mr. Bowen the watch entered the collection of Prince Augustus Frederick, Duke of Sussex (1773 -1843), sixth son of George III. His collection of clocks and watches was dispersed at auction by Christies in 1843.
In all of this, it would seem that no one relating the tale has examined the watch and no mention is made of the maker, Isaac Symmes.
By the end of the 19th century, it was apparent that the watch could not be as old as claimed. However, the watch and its remarkable story still appeared in collectors' literature. To his credit, when a skeptical F. J. Britten reproduced Warner's drawing, he noted "... I confess I do not believe such a watch was made so early as 1536."
Literature: Britten, F. J. Old Clocks and Watches and their Makers, Third Edition, 1911. Reprinted 1977 with additions, fig 190.
Thompson, David. The History of Watches. The British Museum (2008) pp 26-27.
Warner, Richard. An History of the Abbey of Glaston; and of the Town of Glastonbury. Bath (1826).
Wood, Edward J. Curiosities of Clocks and Watches from the Earliest Times. London, (1866)
A private single-owner collection of American pocket watches performed extremely well, selling 94% by lot. A Bonhams specialist spotted the rare group by chance in Portland OR, saving it from being sent to a gold refinery. A notable highlight was a Waltham anchor presentation pocket watch that realized $8,750. Bonhams will offer a second portion of this remarkable collection in the Fall.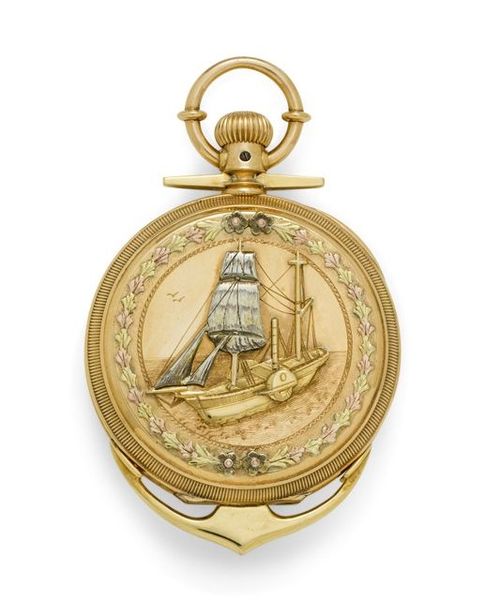 Waltham. A very fine and rare 18K multi color gold hunter case presentation watch. Signed Am'n Watch Co., Movement No. 871864, the case by American Watch Case, Co., inscribed 1877. Sold $8,750. Photo: Courtesy of Bonhams.
16-jewel M1872 16 size nickel finished lever movement with jewels in gold settings, bimetallic balance with flat spring, cam regulator, also signed Woerd's Patent, gold cuvette, signed white enamel dial with roman chapters, blued steel spade hands, subsidiary seconds, the case representing a ship's anchor, the lids with applied multicolored gold wreath enclosing an applied multicolor paddle wheel steamer under sail, the reverse engraved with a lighthouse; 51.5mm
Notes: The inner lid of the case is inscribed:
"Presented to
CORNELIUS L. KELLY
Superintendent at Mechanics Mill
By his
Employees as a memento of their
Esteem and high appreciation
Of which he is held by them.
Fall River Mass.
Mar. 10th 1877"
Cornelius L. Kelly served as Fall River City Councilman from 1870 to 71 and in 1882.
Wristwatches also performed well, with excellent results achieved by a variety of esteemed makers, including Patek Philippe, Rolex, and Breguet. A Rolex fine 18 karat gold automatic center seconds diver's watch and bracelet was one of the many fine examples purchased by a live online bidder in the auction, selling for $20,000, more than double its pre-auction estimate.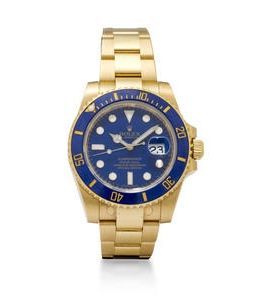 Rolex. A fine 18K gold automatic center seconds diver's watch and bracelet, Submariner, Ref:116618, Case No.V527578. Sold for US$ 20,000. Photo: Courtesy of Bonhams.
31-jewel Cal. 3135 self winding movement adjusted to temperature and five positions, blue dial with luminous dot and baton numerals, date aperture, luminous skeleton hands, tonneau case with unidirectional rotating calibrated blue bezel, screw down back and crown, gold Oyster bracelet with locking deployant clasp, case, dial and movement signed, accompanied by display box, tag and outer packaging; 40mm.

Also of particular note from the wristwatches section, an A. Lange & Söhne platinum wristwatch achieved $17,500, more than double its pre-auction estimate. The Lange, called the "AUF and AB" model in German, featured a special power reserve that warns the wearer if the watch needs to be rewound based on the position of the hands.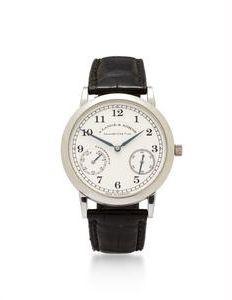 A. Lange & Söhne. A fine platinum wristwatch with power reserve, "1815", Case No.130670, Movement No.20747, 1990's. Sold for US$ 17,500. Photo: Courtesy of Bonhams.
27-jewel ¾ plate manual winding position adjusted movement, gold chatons, shock resistant suspension to monometallic balance, swan's neck precision regulator, circular silvered dial with arabic numerals, subsidiary seconds at 4 o'clock, 48 hour winding indicator at 8 o'clock, blued steel hands, conforming case with glazed back secured by six screws, maker's leather strap (worn) and platinum buckle, case, dial and movement signed. 36mm
Notes: The German name of this Lange is "AUF and AB" in accordance with the inscription on the power reserve indicator. When the hands point to "AUF", the mainspring of the watch is fully wound. When the hands point to "AB", this warns the wearer that the watch needs to be rewound. The UP and DOWN display has a long tradition at Lange and Söhne, as seen in their pocket watches, marine chronometers and finally in their "Pour le Mérite Tourbillon."
"We had some very fine wristwatches on offer, which attracted fierce global bidding driven by the excellent online participation," said William Rohr, Bonhams Consulting Specialist for Fine Watches & Wristwatches. "It's a very positive indication for the market going forward."
Bonhams next New York auction of Fine Watches & Wristwatches will take place in December.