Sir Peter Lely (1618-1680), Portrait of a Gentleman, late 1640s. Oil on canvas.
LONDON.- Philip Mould & Co have curated an exhibition of previously unseen and re-discovered works by the master of British restoration portraiture Sir Peter Lely (1618-80) to mark this year's Master Paintings Week, a collaboration between twenty leading galleries and three auction houses in the heart of London's Mayfair. The exhibition will run form 28 June to 5 July 2013 at Philip Mould, 29 Dover Street, London W1S 4NA.
Described by the celebrated diarist Samuel Pepys as 'a mighty proud man and full of state', Peter Lely arrived in London from Holland in 1641, and quickly enjoyed the most prestigious patronage, including the Duke of Northumberland by 1647 whose collection of Old Masters he studied thoroughly. It wasn't long before the more sombre Dutch-influenced tones of Lely's portraits were replaced by a flamboyant palette practiced and championed by the late Van Dyck (1599-1641), who Lely later succeeded as principal painter to Charles II.
Portrait of a Gentleman (illustrated above) is an excellent example of Lely's early style and technique, and can be dated to the late 1640s. The picture is similar in tone and style to Lely's best known early masterpiece, 'The Concert' (Courtauld Collection, London) with its use of soft tones of brown and black redolent of the Dutch palate. His flamboyant, Royalist compositions and colouring that made him so popular and Van Dyke's undoubted heir did not materialise for a few years.
Although once thought to be John Milton, the present sitter is unknown. It may well have been someone amongst Lely's notable artistic and literary circle at the time, which included figures such as the celebrated poet Richard Lovelace. Recent cleaning by Philip Mould & Company has revealed that the picture is in extraordinarily good condition for an 17th Century English portraiture.
Portrait of a Gentleman was painted in the mid-1660s, and is an excellent example of Lely's style during the early Restoration years. By this point Lely's confidence was higher than ever, and the seemingly effortless strokes seen here in the foreground of the drapery make no attempt to disguise his flamboyantly bold approach. The portrait is listed as showing an unknown sitter in a 1952 inventory of the collection of the Earls of Shrewsbury at Ingestre Hall. However, the sitter shares a close likeness to William Brouncker, 2nd Viscount Brouncker (1620-1684), a prominent English mathematician and first president of the Royal Society. Brouncker's likeness is mostly known through a series of larger copies after a lost Lely original, in the Royal Society, and it could be that the present portrait was worked up into a larger format for wider circulation. The Royal Society was founded in 1660 under the patronage of Charles II 'for improving natural knowledge' and was very much a circle in which Lely moved. The painting was at Ingestre Hall, Staffordshire, (former home of the Earls of Shrewsbury and the Talbot-Chetwynd family) and remained in the family until its recent discovery by Philip Mould and Bendor Grosvenor.
Also of interest is a work that perfectly illustrates Lely's broad-brushed early style, a delightful and early double portrait of a Study of Two Children, painted c. 1650. Possibly showing a brother and sister, the sitters of the portrait are unknown.
The success of Lely in establishing himself is perhaps best reflected in his prices; in the 1650's he charged £5 for a head and £10 for a half-length but by 1660 he was charging £15 and £25 respectively. His portraits therefore also provide an invaluable glimpse into the opportunities for budding entrepreneurs following the Restoration, Lely himself employing a team of assistants which despite charging more for work, churned out portraits on a mass-scale.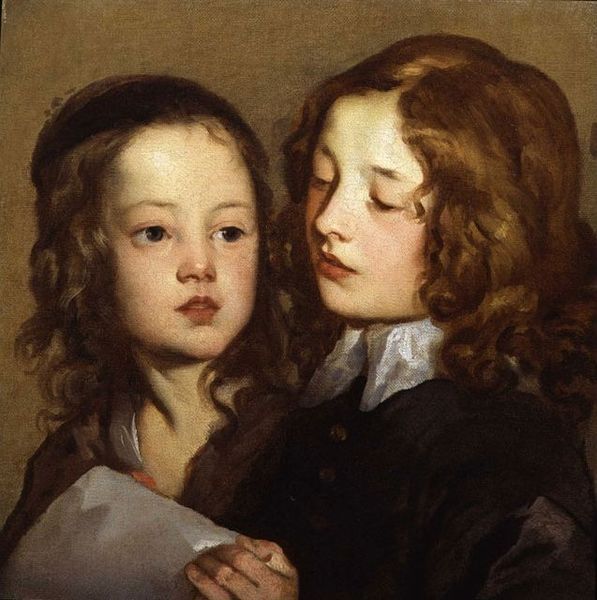 Sir Peter Lely, Children Singing.