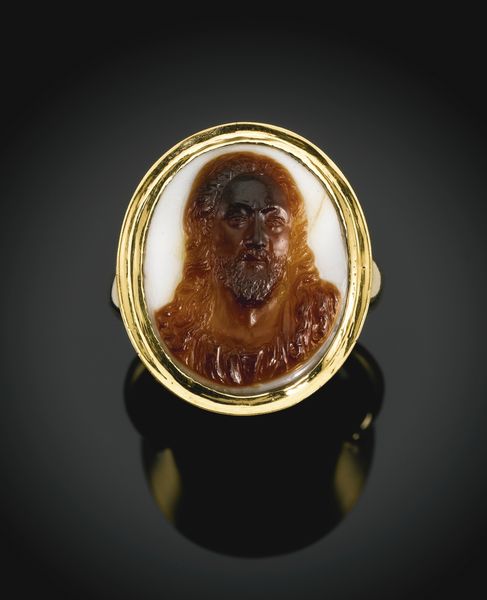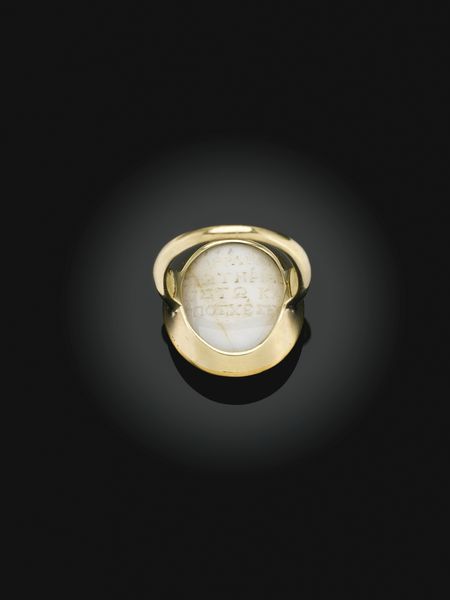 French or Italian, circa 1600, Cameo with a bust of Christ. Photo courtesy Sotheby's
inscribed:APPAETHPIAET KAOXEE; sardonyx, set in a later gold ring; cameo: 24mm., 1in.ring: 18mm., 11/16 in. inside diameter. Estimate 3,000-5,000 GBP
NOTE: The presence of a Greek inscription on the back of this finely carved cameo, translated as "let me be your salvation and your promise", is unusual. Greek inscriptions can be found on a small number of carved gems, such as the cameo of the Emperor Commodus now in the Metropolitan Museum, New York, and formerly part of the Marlborough gems. Three other gems with Greek inscriptions mentioned in the Alsdorf collection catalogue (op.cit.) are in the gem collections of Paris, Florence and Munich. Further cameo bust portraits of Christ attributed to 16th-century Italy are in the Museo degli Argenti of the Pitti Palace in Florence and the Kunsthistorisches Museum, Vienna. This cameo wouldoriginally have formed part of a devotional pendant or object, as one included in the pax kept in the Treasury of Friuli Cathedral.
The conception of Christ is very close to Antonio Abondio's bust of Christ of circa 1591, which is in the Royal Castle, Warsaw (Bialonowska, op. cit.p. 335, fig. 42). Antonio Abondio (1538-1591) was an important Renaissance sculptor who worked on a small scale; he is particularly celebrated for his wax portrait reliefs.
RELATED LITERATURE: E. Kris, Renaissance-Kleinkunst in Italien. Gefasse, Gemmen, Schmuckstucke und Skulpturen in Bergkristall und Edelstein, Leipzig, 1935, figs. 614, 617 and 620-622; I. Wardropper (ed.), Renaissance Jewellery in the Alsdorf Collection Catalogue, cat. The Art Institute of Chicago, 1999, pp. 60-62, no. 2; R. Gennaioli, Le gemme dei Medici alMuseo degli Argenti, Florence, 2010, no. 427; M. Bialonowska (ed.), Andrzej Stansilaw Ciechanowiecki. Kolekcjoner, marszand i mecenas, Lublin, 2010, p. 75, fig. 42
We would like to thank Diana Scarisbrick for her assistance in cataloguing this lot.
Sotheby's. European Sculpture & Works of Art: Medieval to Modern. London | 02 juil. 2013 www.sothebys.com